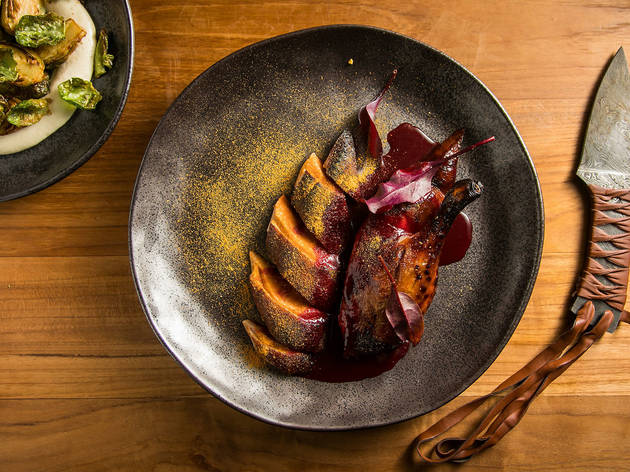 1/17
Photograph: Anna Kucera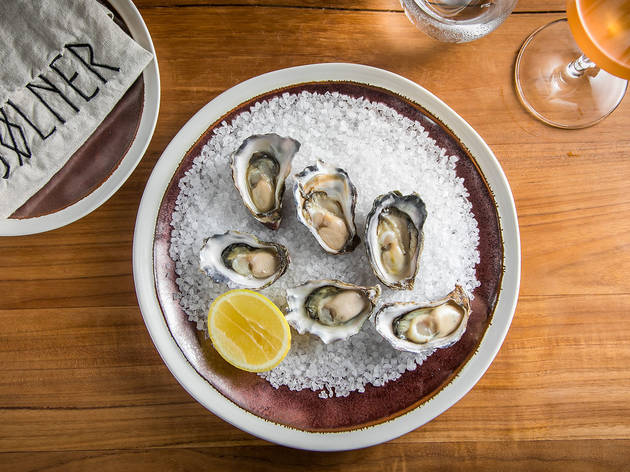 2/17
Photograph: Anna Kucera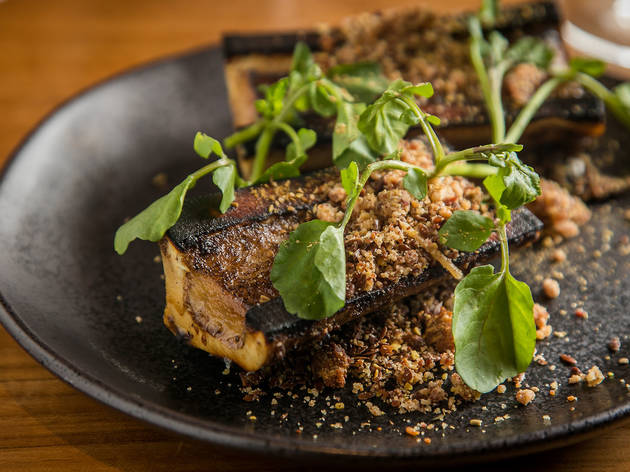 3/17
Photograph: Anna Kucera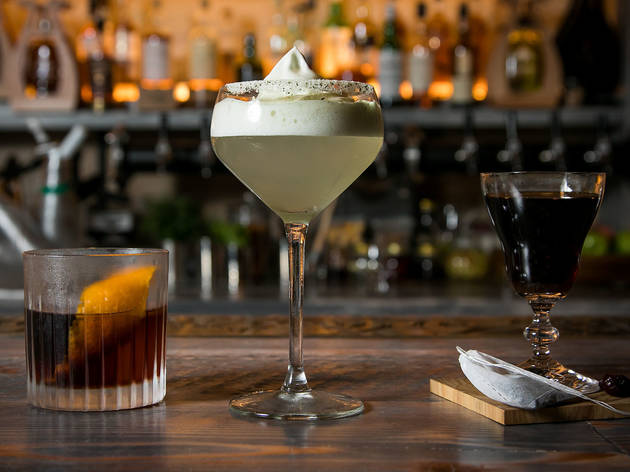 4/17
Photograph: Anna Kucera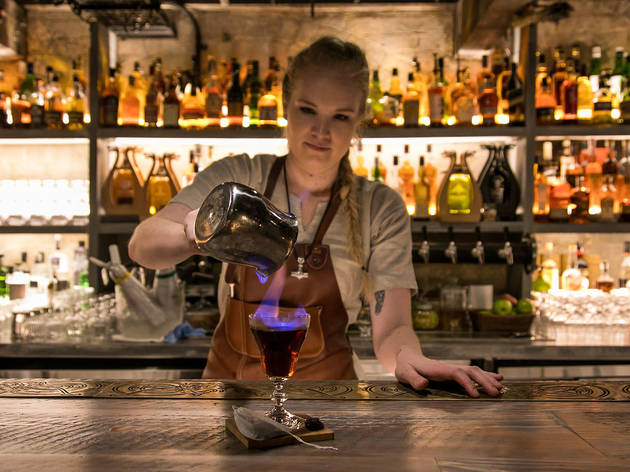 5/17
Photograph: Anna Kucera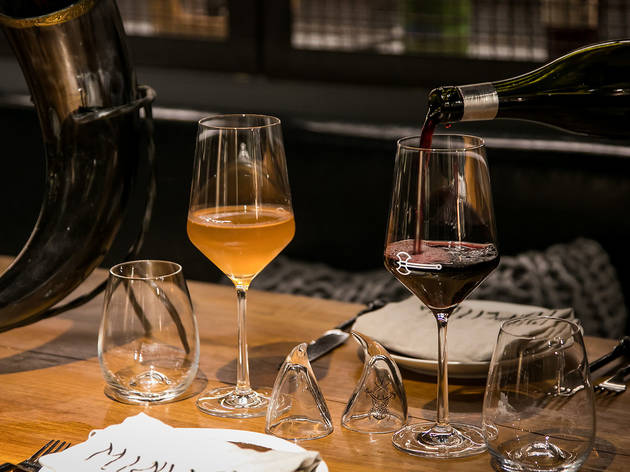 6/17
Photograph: Anna Kucera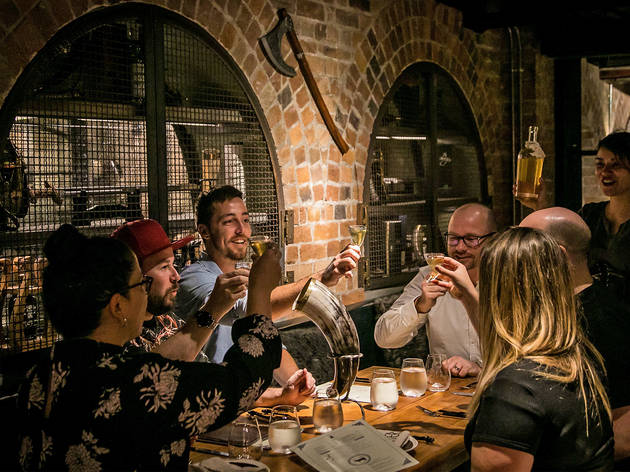 7/17
Photograph: Anna Kucera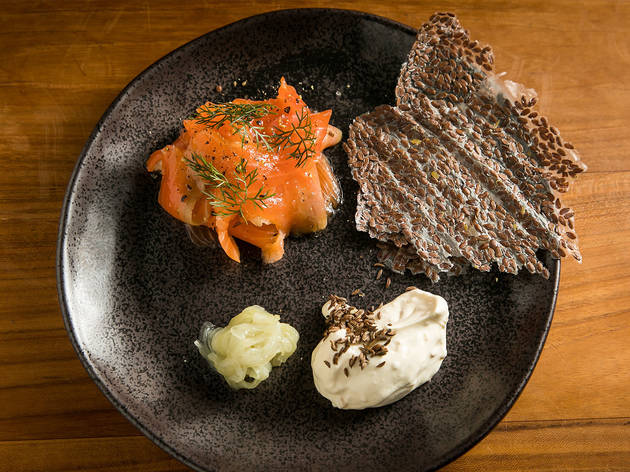 8/17
Photograph: Anna Kucera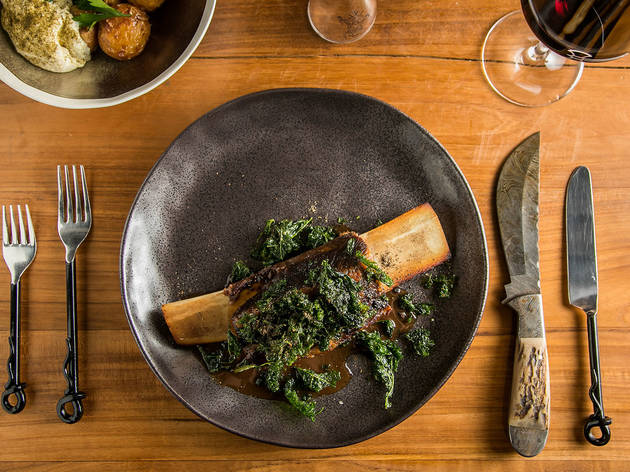 9/17
Photograph: Anna Kucera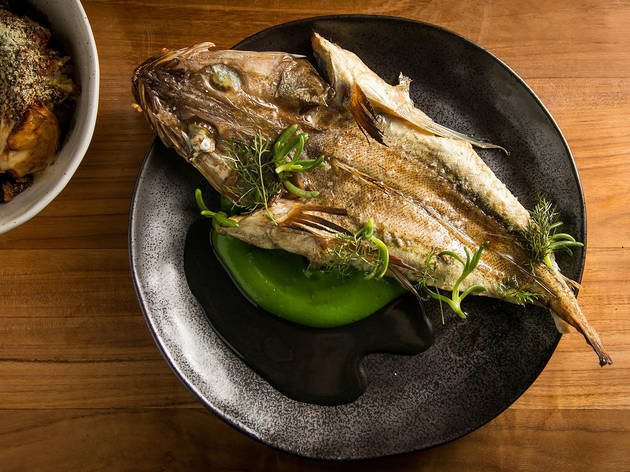 10/17
Photograph: Anna Kucera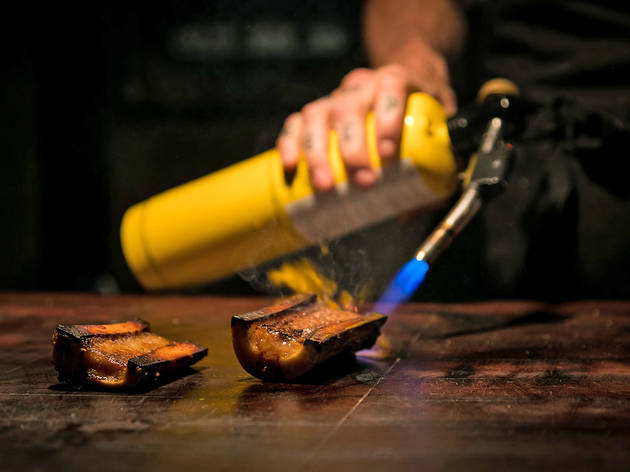 11/17
Photograph: Anna Kucera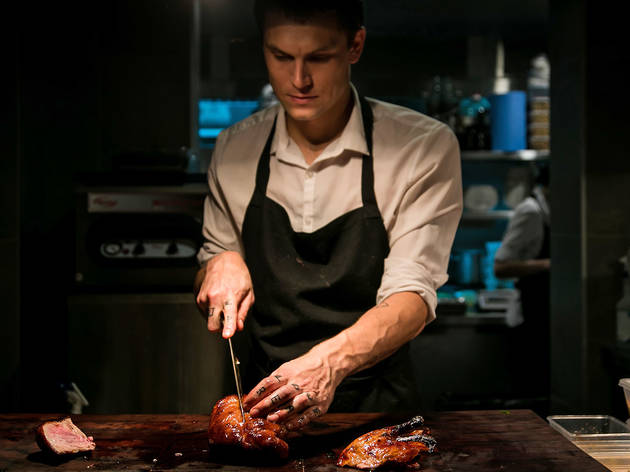 12/17
Photograph: Anna Kucera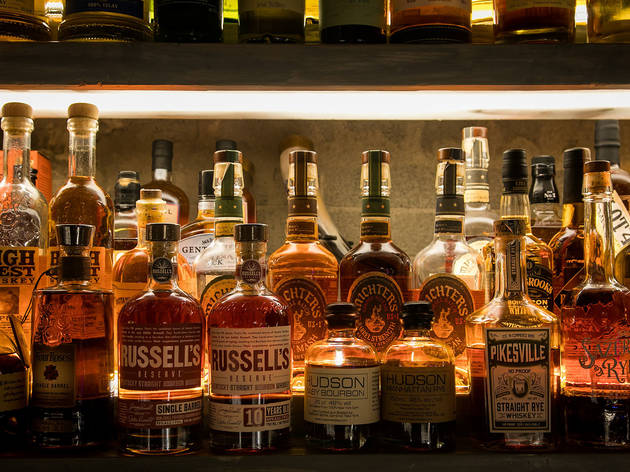 13/17
Photograph: Anna Kucera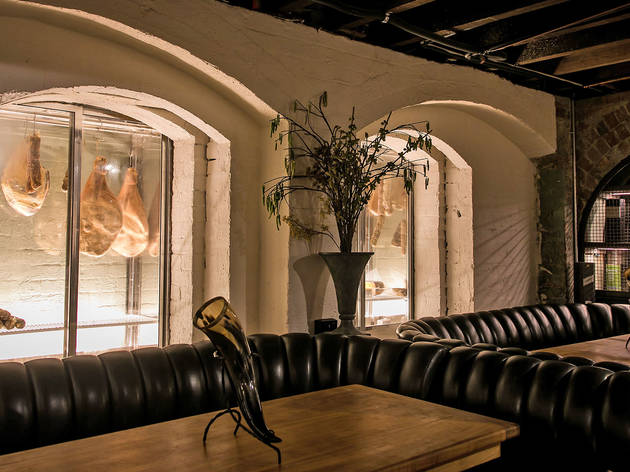 14/17
Photograph: Anna Kucera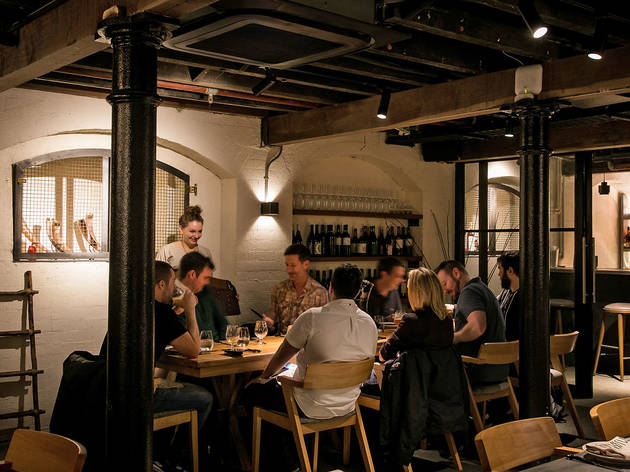 15/17
Photograph: Anna Kucera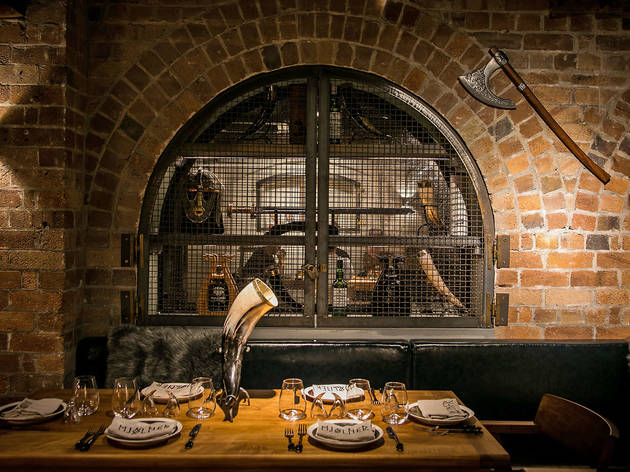 16/17
Photograph: Anna Kucera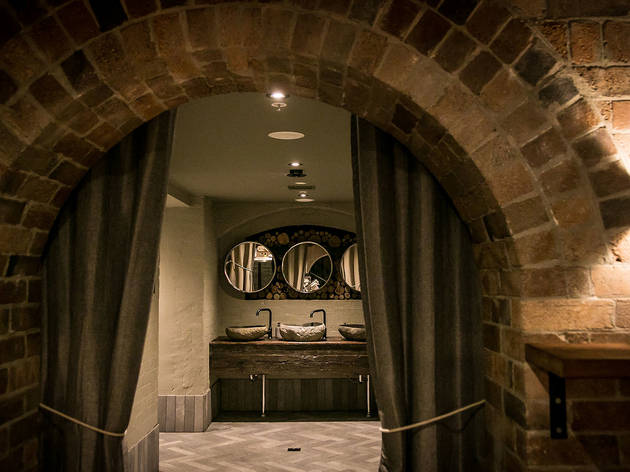 17/17
Photograph: Anna Kucera
Time Out says
We can now add 'Viking carvery' to Sydney's list of themed dining fun
The Norse god Thor's mighty hammer Mjølner was his weapon of choice for a little casual mountain crushing, and at the subterranean restaurant in Redfern bearing the mythological hammer's name, they also favour blunt instruments. This is a place that attacks your hunger with huge chunks of meat, hefty plates of vegetables and drinks that could hold their own in a bar fight.
Mjølner is the first straight-up restaurant from the Speakeasy group, who own the theatrically inclined bars Eau De Vie (Sydney and Melbourne) plus a Melbourne whisky bar (Boilermaker House) and an Art Deco cocktail lounge in Potts Point (the Roosevelt).
This is not a crew that half-arses a theme, so they've gone full Asgard on the space with Viking helmets in display cases, shields on the walls, little glass horn cups to drink your welcome mead from, and a glass-fronted display case of charcuterie up the back that really amps up the dungeon vibes. The only problem is, it's a bit nice. We want it to be somewhere where you would throw off your bloodied armour and tear meat from bone, flinging the bare rib over one shoulder to be fought over by the hounds. Instead, it's actually an elegant dining experience that registers very low on the danger scale – the leather roll of knives that you choose from are more safety scissors than deadly weapon.
Meat is undoubtably the star. Beasts of land, sea and sky are roasted until bronzed and glistening in the rotisserie, and the air is fragrant with a deeply savoury, gravy aroma.
The opening number is a serve of jewel-toned salmon that is supple and slippery with crème fraîche and brightly acidic thanks to a side of threaded pickles. Three marrow bone halves get the full Hades treatment care of a blowtorch that caramelises the tops of the unctuous marrow before being generously salted and sprinkled with savoury granules that turn out to be charcuterie ends, frozen solid with liquid nitrogen and then blitzed into a seasoning.
Your whole flathead arrives deboned and fragrant with lemon, sorrel and just the faintest suggestion of smoke, and a whole duck comes portioned up and dressed in a beetroot and orange sauce that plays a surprisingly restrained hand. You expect it to be sweet but it throws in a bitter curve ball via an orange zest powder. And if we only had a second stomach we would have ordered up the fat, juicy, dripping beef ribs that are coming out thick and fast from the open kitchen.
A bowl of tender tatties with dill, parsley and a hot horseradish cream is the obvious pick as a side, and at this point fried Brussels sprouts are the new hot chip – they're on every menu. But our blue ribbon goes to the roasted celeriac – crunchy on the outside and meltingly soft inside with a concentrated celery salt flavour and a dressing of crunchy mixed grains.
The Speakeasy crew's long lineage of high class booze provision is echoed in a cocktail list that doesn't dilly dally with gateway wines but comes out punching with the extra grippy and complex Cloud Walker pinot grigio from NZ that's as dark as apricot juice and a tastes like a walk through a fruit orchard. Need a red with all this meat? The Telmo Rodriguez Mencia Valdeorras is equal parts juicy and volcanic. They do a whole menu of cocktails with brine in them for the taste of the sea, but we land on safer terrain with the Battleaxe. You might expect it to feel like a swift blow to the head, but this cocktail is a sneak attack. The rich, muted sweetness is a Trojan horse for its boozier qualities.
Here's the rub. Mjølner is a bit of fun, but it's probably not somewhere we'd put on a high rotation list. It's an experience to seek it out, head underground and feast as if you'd just defeated the Anglo-Saxons in battle, but it's also heavy going and very rich. It's perfect if you're about to set off on the high seas for riches and glory, and an equally good idea on a cold winter's night.
Details
Address:
267
Cleveland St
Redfern
Sydney
2016

Contact:
Opening hours:
Tue-Say 5-11.45pm; Sun noon-10pm
Best selling Time Out Offers