Nine reasons why you'd be mad to miss the 2020 Time Out Bar Awards
It's the night of nights for Sydney's bar scene, and you're invited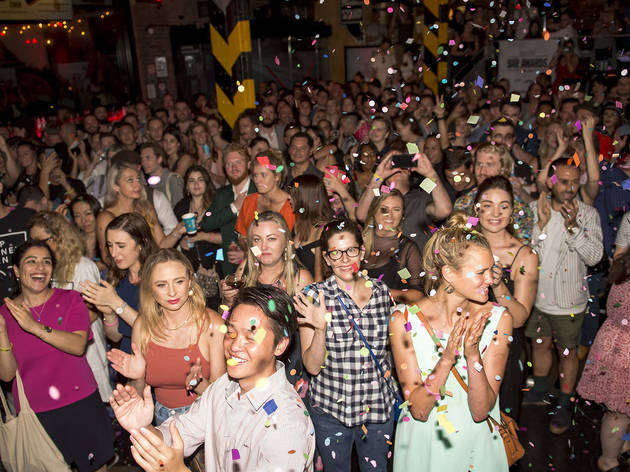 It's Bar Awards time, people! And whilst we know you don't need much excuse to party, we've pulled together a list of reasons why you'll have a serious case of FOMO if you don't come out and celebrate Sydney's incredible bar scene with us on December 9 at the Powerhouse Museum.
1. You'll be the first to find out the Bar of the Year, Best Cocktail Bar, Best Bar Team, and Best Pub in Sydney, along with the winners in a host of other categories.
Over the past few months, our team of critics, led by acting food and drink editor Matty Hirsch, have sipped, supped, and sampled the best and brightest creations of Sydney's elite mixologists, bartenders and publicans. The tabs have been paid and the tallies taken, and from our shortlist of red hot finalists, you'll be the first to hear which are the best of the best.
2. You'll rub shoulders (and shake your groove thang) with Sydney's best bartenders, industry insiders and the cream of our city's bar crop.
As well as the whole Time Out Sydney team. Once the winners are crowned, the Powerhouse Museum will be transformed into the biggest dancefloor in the city. Disco masters the Dollar Bin Darlings will be spinning some old skool bangers, so all you need to do is break a few shapes, crack a few cold ones, and enjoy the party.
3. You'll laugh your arse off at Australian comedian Matt Okine.
The Aussie stand up star is our illustrious master of ceremonies, but given he's a bit of a loose unit, don't expect him to be on his best behaviour. You'll be copping more than a few zingers to the face during the course of the night, so prepare your sides: they're about to be split.
4. All drinks are included in the ticket price.
There will be beer, wine, bourbon and shots of Fireball whisky. There will be cocktails and perspiring glasses of amber nectar. There will be delicious wines and sophisticated spirits. It's a party after all.
5. The fabulous Imperial Hotel Drag Queens will be performing.
YASSS gawd! Expect glitter, sequins, heels, several kilos of make-up and some outrageously camp shenanigans. The Time Out Bar Awards are not just about boozing it up. It's also a celebration of this city's diverse night life, and the art of the female illusionist has been part of the bedrock of Sydney's after-dark subcultures for decades. So all hail the queens, huntys!
6. Retrosweat will be bringing the cool with an '80s-tastic dance performance.
Dust off those leg warmers, dig out that spandex and throw on a crop top: it's time to get physical. This aerobics class-meets-nostalgic-time-warp will squat, squeeze and shimmy its way onto the Bar Awards dance floor with a mix of keep-fit and neon sass. For those who want to, you can feel the burn with the Retrosweat crew. In fact, we're pretty sure this will be the only party where you'll be leaving in better shape than when you arrived.
7. There are tons of food trucks slinging some of the best of Sydney snacks all night.
We're not just experts in awesome bars. Food is our passion at Time Out, and because we want you to love what we love, we'll be serving up unlimited grub from our pick of the best street eats and food truck vendors in the city. And best of all, it won't cost you a dime: all food, all night, will be free. Have a quick nibble, a massive pig out or simply graze the night away; when it comes to the tucker, it's a choose-your-own-adventure type deal.
8. It's at the Powerhouse Museum, one of Sydney's major cultural hubs.
The Powerhouse is a fun day out, but it's also a shrine to innovation, a place where engineering and creativity are celebrated in equal measure. This is the first year our annual Bar Awards have had the honour of taking over this incredible space, and we're certain you're going to enjoy it every bit as much as we will.
9. It's only $55 to celebrate the best of Sydney's nightlife
Not only will you eat and drink like a king, rub shoulders with legends, shablam with drag queens, hip thrust with Retrosweat and generally have an awesome time, but you also won't break the bank doing it. For the price of a couple of cocktails, you can experience a whole evening of the finest times Sydney has to offer. Yes we know, you're welcome.
Time Out thanks our sponsors Asahi Premium Beverages, Two Suns, Winterhalter, Buffalo Trace, Fever Tree and Willie Smiths as well as venue partner the Powerhouse Museum for making these awards possible.