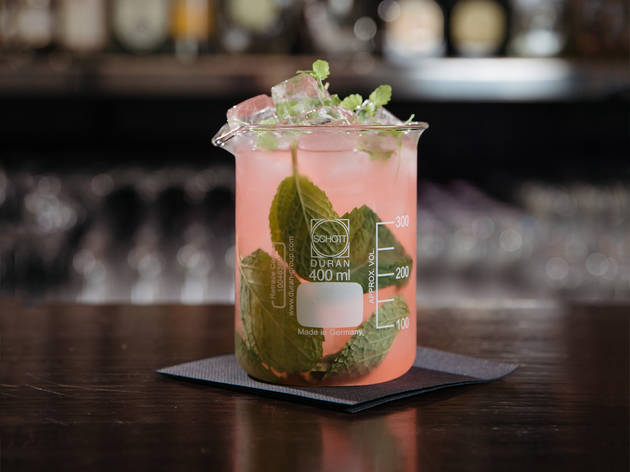 The Beat Down Tonic
By John Toubia, Supper Club
Ingredients
•10 leaves of mint
•1 tspn Pernod Ricard
•50ml Tanqueray 10 Gin
•20ml Campari
•Raspberry syrup
•40ml white grapefruit juice
•Dash of tonic
Method
Add all ingredients apart from the tonic to a beaker glass filled with ice. Stir ingredients with a bar spoon until mixed. Finish with a dash of tonic water and garnish with mint leaves.
Meet the bartender
Up on level 31 of the InterContinental, the lights are dim, the views are stunning and the tunes are great. For six months, this impressive place has been John Toubia's office. "I love being a bartender," he says. "The speed of it, the customers, and the art." His golden hour starts at 11pm ("a little crazy tends to come to life at this time") and he finds himself pouring a lot of Taittinger Champagne and classic cocktails. For our competition, John came up with "a fresh version of the classic Cuban Mojito, designed to cure the blues. It's a drink that showcases gin as an uplifting spirit, which is not how it's always perceived. I kept in mind that the drink needs to be replicated in a busy cocktail bar. For this reason, the drink respects simplicity but is still complex on the palate."
More Hotel Bars
There are some amazing bars and ace hospitality talents tucked away in our city's finest hotels, so Time Out set out to discover the best hotel bars in Sydney.
Best selling Time Out Offers