Untold stories
Bartenders from seven top Sydney bars have created Untold Spiced Rum cocktails that express their unique stories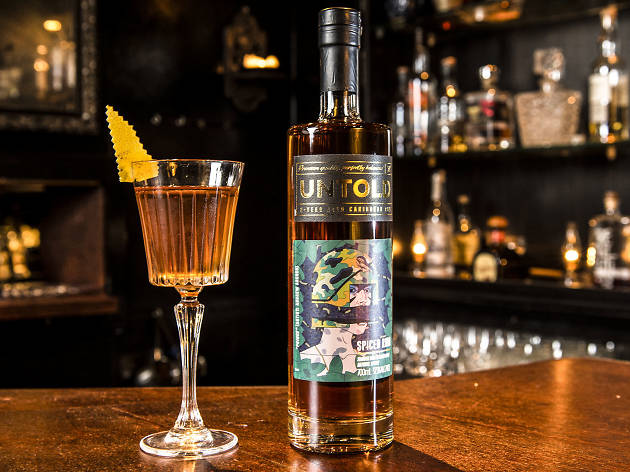 Untold Rum was born of a passionate collaboration between leading Australian bartenders and spirits experts. A range of subtle spices is added to a unique blend of smooth, two- and three-year aged golden rums; the result is a distinctive, full-bodied spiced rum that is made to mix.
Untold Rum's makers believe that our experiences are what enrich and define us. So we at Time Out invited seven Sydney bartenders to tell us a story about the life of their bar and to invent an Untold Rum cocktail that conveys the essence of that story.
Sydney's bartenders have lived through interesting times over the last four years, and they understand that life is a journey. Inspired by Untold Rum, here's what they came up with. You can enjoy their Untold cocktails and share stories with their makers from July 10 to August 25, 2018.
To hear more about the stories and watch filmed interviews with the bartenders, check out @UntoldRum.
---
THE COCKTAILS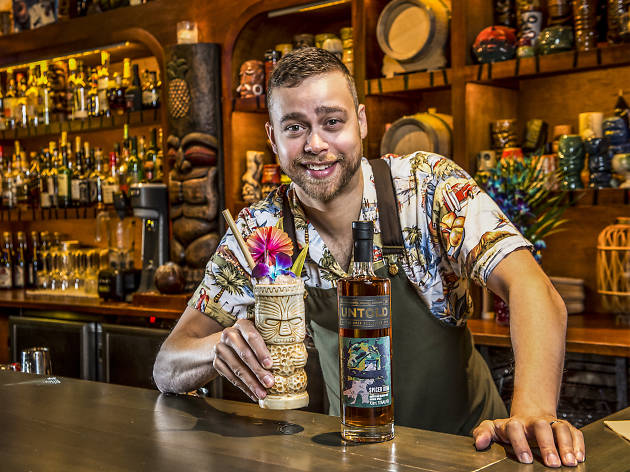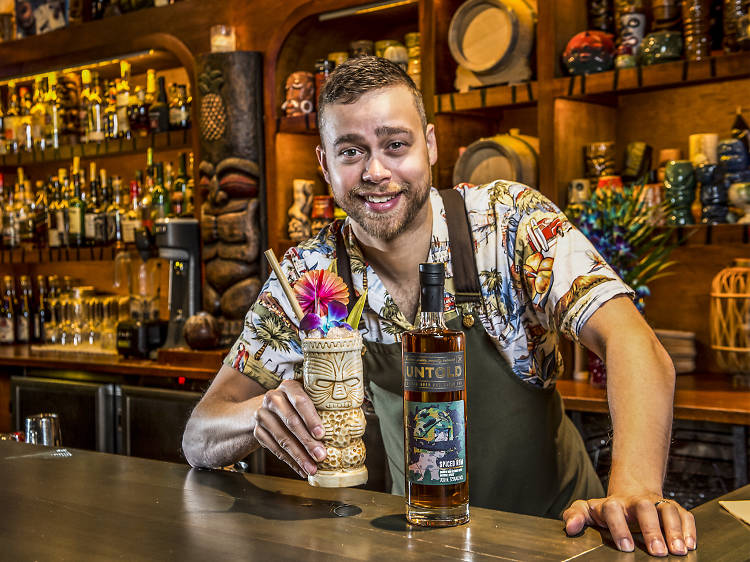 Photograph: Cassandra Hannagan
When you're trying to open an award-winning tiki bar in Enmore, you can feel like you're drowning in bureaucracy
---
Cocktail: UNder the Sea
Ingredients:
60ml Untold Spiced Rum
20ml guava
20ml pineapple
20ml lime
15ml toasted ghee orgeat
Edible orchid
Method:
Pour ingredients into a shaker, shake, strain into a tiki mug and garnish with an edible orchid.
---
Adrian's story
"The UNder the Sea cocktail is based on the Captain Nemo's Electric Gun cocktail that we serve here at Jacoby's. Instead of using coconut rum we used Untold Spice Rum. It adds cinnamon and vanilla notes, a spicy layer.
"The cocktail is a tongue-in-cheek reference to our time building the bar when at times we felt submerged in development hell. We started off strong, dotted the i's and crossed the t's, got everything turned in to Council – and then the trouble began. What should have been a two-month process dragged out to six months. We felt like we were underwater, slowly climbing our way out.
"It literally halted everything. We had these custom couches made for us for our booths, and because the delay happened we had to find somewhere to store them. We called it 'boothgate'. We'd find a place to store them, then something would happen and we'd have to move them again. When we finally got them installed we sat down on them and had a beer immediately. It was a long, tough slog, but we got through it, and can now look back and laugh at the journey."
---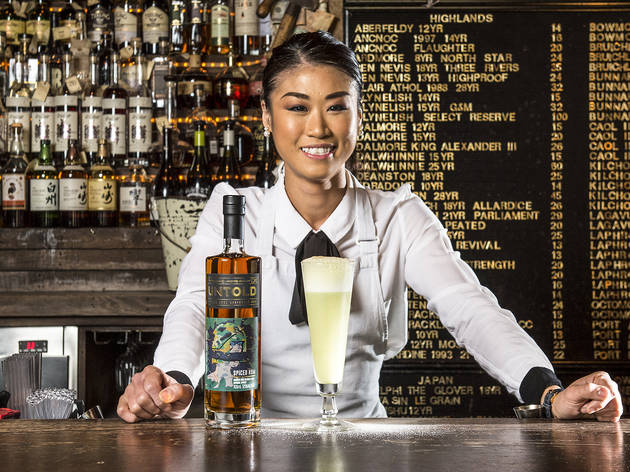 Photograph: Cassandra Hannagan
Sydney's hidden basement whisky bar takes on the spiced rum challenge
---
Cocktail: UNchained
Ingredients:
50ml Untold Spiced Rum
15ml lemon juice
15ml lime juice
25ml kefir
30ml mint and lime sherbet
Rose dust (dried rose petals blitzed with sugar and salt)

Method:
Combine all ingredients in a blender with crushed ice and pour straight into a glass. Garnish with rose dust.
---
Priscilla's story
"At Baxter Inn we might take our whiskies, cocktails and service expectations seriously, but we don't consider ourselves an elitist whisky bar. The UNchained cocktail is a tribute to the raucous fun that hides behind closed doors in our basement bar. Just because we have rules to abide by doesn't mean we can't still have fun.
"This drink is like an adult version of a spider. Kefir is fermented milk, like unsweetened yogurt; it has a creamy texture that is lightened by aeration in the blender, and the citrus cuts through it. It brings forward complexity from the rum, which has the beautiful chocolate spice flavours.
"It's technically advanced, like an old-school cocktail, but it's also really fun. When you drink it you don't think about the drink too much. For us, when we make drinks, it's not about having the focus of attention on us, it's about helping people to enjoy themselves. It's not about the bartender!"
---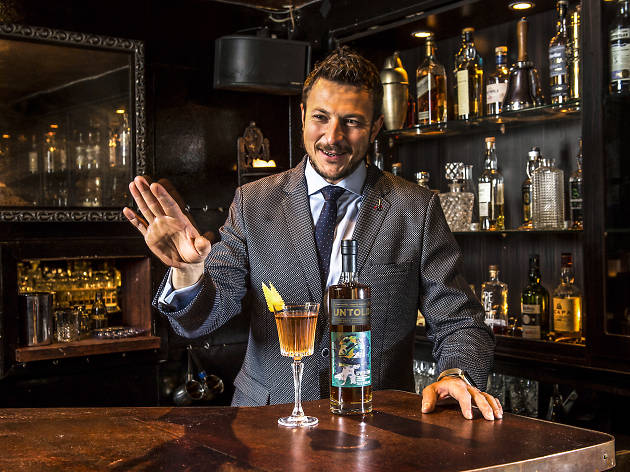 Photograph: Cassandra Hannagan
The love Eau de Vie's manager has for his bar has withstood time – among other tests
---
Cocktail: UNtainted Love
Ingredients:
60ml Untold Spice Rum
30ml Oloroso sherry
5 dashes Peychaud's Bitters
Whole lemon peel

Method:
Add all ingredients into a shaker with ice and throw. Strain in a chilled glass and garnish with lemon peel.
---
Francesco's story
"This cocktail refers to my history with Eau de Vie. I was offered a job as soon they opened, back in 2010, but I was on my way to London. I said that I would be back in six months to get the job, because I loved Eau de Vie. Well, I spent seven years in London, and I worked with a lot of great bars, and I even spent a couple of months in New Orleans.
"I learned a lot in London. I met a lot of great people who are my friends now, but the quality of life in Australia is way higher. So I returned to Sydney. They needed somebody at Eau de Vie, and then the bar manager moved within the company, so now I'm running the show.
"When I left, Kings Cross was a buzzing place, very busy, way before the lockouts killed Kings Cross nightlife. But I could see why Eau de Vie survived: a team of talented people in the bar and behind the scenes, a killer cocktail list, and an awesome whisky selection.
"The cocktail is based on a classic called the Chaparra, one of the few cocktails based on rum and sugar. I used Oloroso sherry instead of sweet vermouth: it gives a nice woodiness to the drink, a richness. It's called the UNtainted Love; it's about my love for Eau de Vie and Sydney. After many years and many miles that kept us apart, I'm back here. If that isn't untainted love, what is?"
---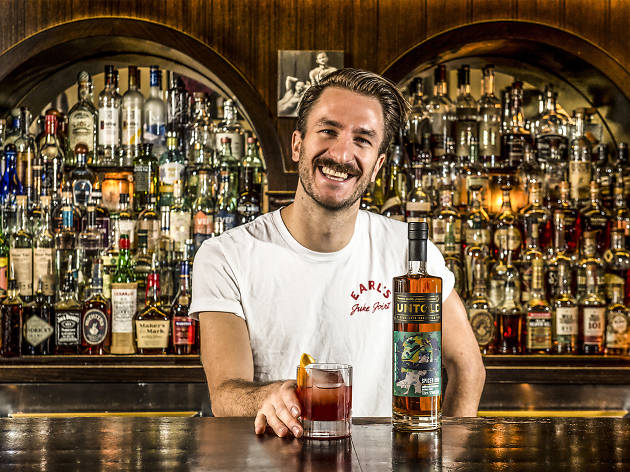 Photograph: Cassandra Hannagan
Running one of the best bars in town is about the constant pursuit of perfection – and good times
---
Cocktail: UNfinished Symphony
Ingredients:
40ml Untold Spiced Rum
20ml nuked fig (see below)
Bianco vermouth
20ml Campari
Dash of Bittermens Xocolatl Mole Bitters

Method:
To make the nuked fig, dice a fig and microwave it with Bianco Vermouth to infuse it, cool then strain out the solids. To make the cocktail, stir all ingredients in the mixing glass to dilute, then pour over a block of ice.
---
Dale's story
"This cocktail is a twist on a Right Hand cocktail, which is like a Negroni made with rum instead of gin. It's named 'UNfinished Symphony' to describe what running a venue often feels like. When you run a bar, everything you do can feel like it's unfinished, like a work in progress. You may feel the need to update the glassware or the cocktails list, even though people who don't come in that often might not notice and it's really just you and your team who worry about that stuff! The cocktail is also a tribute to 'Unfinished Sympathy' by Massive Attack, which is one of our favourite songs.
"I've worked at Earl's Juke Joint for nearly five years. I was studying architecture here in Sydney and working in hospitality, but I didn't really enjoy bar work till I started at Earl's. After a while I realised I liked it enough to do it full time. You never know who's going to rock up; celebs like Baz Luhrmann or Danny McBride. Earl's is a place with an emphasis on fun. When you work a shift from the afternoon to the evening you notice the atmosphere changes. I remember making a Martini for a guest and talking about the differences in a few gins, while noticing in the background a lady doing a handstand and twerking against the wall. That really encapsulates what this bar is about."
---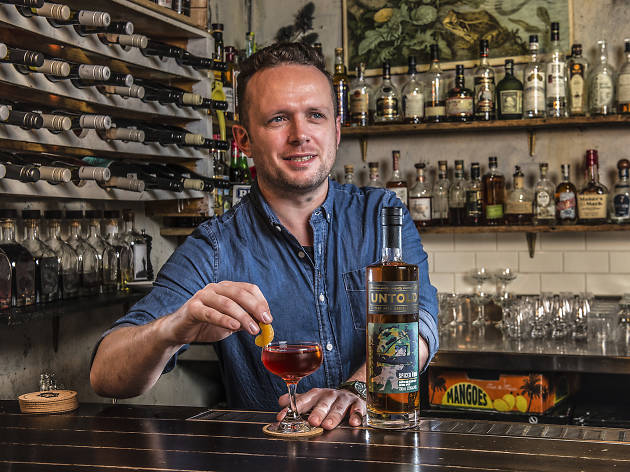 Photograph: Cassandra Hannagan
This Circular Quay cocktail haven sets itself an ambitious goal every day
---
Cocktail: An UNcomplicated Mandate
Ingredients:
30ml Untold Spiced Rum
20ml sweet vermouth infused with mandarin, date and rooibos tea
15ml 'lemon' acid solution
15ml sweetened cacao husk tea
4 dashes Peychaud's Bitters
Method:
Pour all ingredients into a mixing glass, stir over ice then strain into a cocktail glass, coupé or Martini glass.
---
Paul's story
"At Bulletin Place we create a brand-new menu of five seasonal cocktails every single day. On the face of it that might seem like an incredibly difficult process, but it's actually very simple. We let nature do the work: allowing our locality and season to dictate to us what flavours we should be using. We highlight the best of what's around us through classic technique and uncomplicated, pared-back flavour combinations.
"Australian citruses are really good during the winter months, and with an UNcomplicated Mandate, mandarin is the key ingredient. You've got a vibrant citrus from the mandarin. You
get earthy sweetness from the red tea and the dates, and bitterness coming through from the vermouth. That pairs really well with the sweet winter spices in the rum – cloves, vanilla, cinnamon. The cocoa husk tea has a dark chocolatey flavour, adding an extra dimension without being overly sweet.
"How do we create five new drinks every single day? We have four or five bartenders each doing one or two menus a week. We will keep tabs on what's in season, and what's been working for us. We make a decision on what we're going to have for the day and then at 1pm I'll come in to start prepping for service and that's when I write my menu. The trick really is understanding how spirits and produce will work together. That comes through experience."
---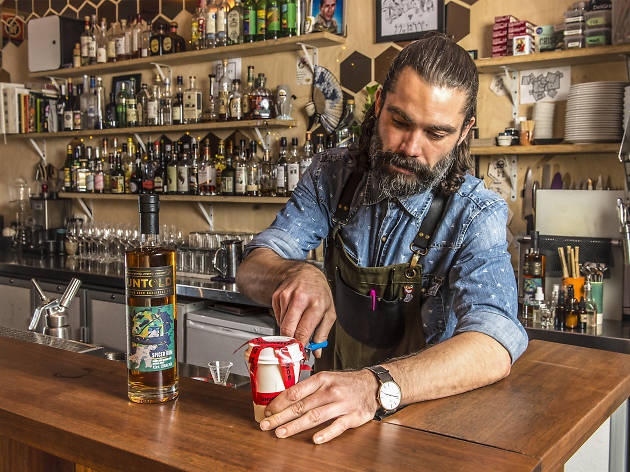 Photograph: Cassandra Hannagan
A feisty little spritzer bar just inside the lockout zone tells a story of struggle against draconian trading conditions
---
Cocktail: UNder Surveillance
Ingredients:
45ml Untold Spiced Rum
15ml Mr Black Amaro
10ml cassia syrup
80ml Mecca Single O cold drip coffee
Coconut cream
Churros batter
Method:
Shallow fry the churros batter as a disk, cool and crumble. Steep crumbs in the coconut milk for 48 hours, strain off and make into a foam. Add coffee, Untold rum, cassia syrup and amaro to a milk jug and heat. Pour into a takeaway bio cup, top with the cold foam and sprinkle with churros crumbs.
---
Luke's story
"Inspired by the lockout laws and the police-state mentality that NSW operators and patrons are subjected to, I wanted to create a cocktail that was a cheeky nod to the stereotype that the police love coffee and doughnuts. The spice notes and unctuous caramel and toffee flavours of Untold rum work especially well with coffee. Serving the drink hot with a cold coconut-and-doughnut flavoured foam provides a drink that is fun and nostalgic in flavours, but at the same time interesting and complex. We are serving it in a biodegradable cup decorated with red tape.
"We have always had a great relationship with the police and Liquor & Gaming NSW, and deeply appreciate the difficulty and complexity of their jobs. But unduly harsh conditions and restrictions are being imposed by the NSW Government on both good bar operators and the responsible drinking public.
"We recently applied for a 2am licence and submitted a petition from all our neighbours, who agreed we are good operators and would be in support of us trading later. Council, despite acknowledging we were good operators, were unable to allow us to extend our trading hours. Their hands were tied due to the legislation. Which is incredibly frustrating.
"We can only make light of the situation by poking fun at the bureaucracy that holds our city back from being one of the truly great cities of the world by both day and by night. We have to continue to fight for our right to party."

The views represented in this feature are that of the individual or venue, not Time Out or Untold Spiced Rum.

---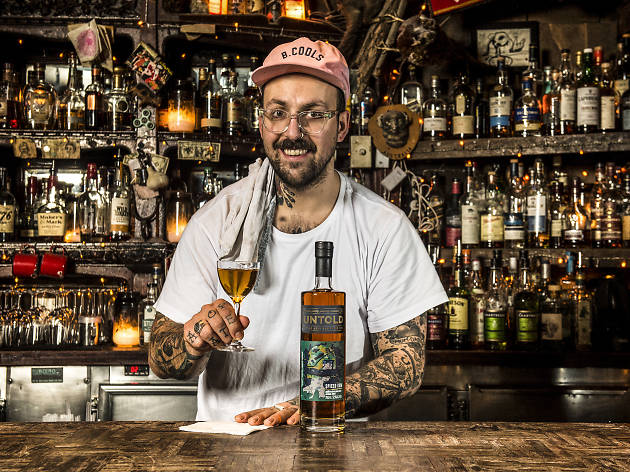 Photograph: Cassandra Hannagan
What kind of cocktail epitomises this game-changing bar? One that goes above and beyond expectations
---
Cocktail: UNbelievably Good
Ingredients:
40ml Untold Rum
25ml burnt banana spirit
15ml Italicus
3 dashes of lactic acid solution
Method:
Pour ingredients in a mixing glass and stir down. Pour into a Nick and Nora glass.
---
Alen's story
"The name of the drink expresses everything that Shady Pines is, and the first impression of the bar when people first walk in – that the bar is unbelievable. Shady Pines was one of the first small bars to open in Sydney in 2010, and it revolutionised the small bar scene. When Anton Forte and Jason Scott opened Shady Pines they wanted it to be the best bar in Australia, and it is. They are basically responsible for elevating the Sydney drinking scene to the next level.
"When they opened, there was nothing else like it. The main thing was – and to this day I focus on it – the service. We make great cocktails but our service is probably the best. We treat everyone equally. They can be famous or not, they can be young or old, they can order stupid drinks or good drinks, we just treat everyone the same. Jason and Anton drilled that into everyone, and we carried that through the whole way.
"I picked the ingredients of the cocktail to pair with the flavours in the rum. Bergamot is quite fresh, it pairs well with vanilla, and banana pairs well with cinnamon. The lactic acid makes it taste creamy without adding cream. When you taste drinks that are stirred down you expect a solid, heavy booze flavour with not much anything else, but when you taste this it's super-floral. The bergamot brings all these floral notes out of the rum. The banana thickens it out and makes it nicer. It's just unbelievably good."
---