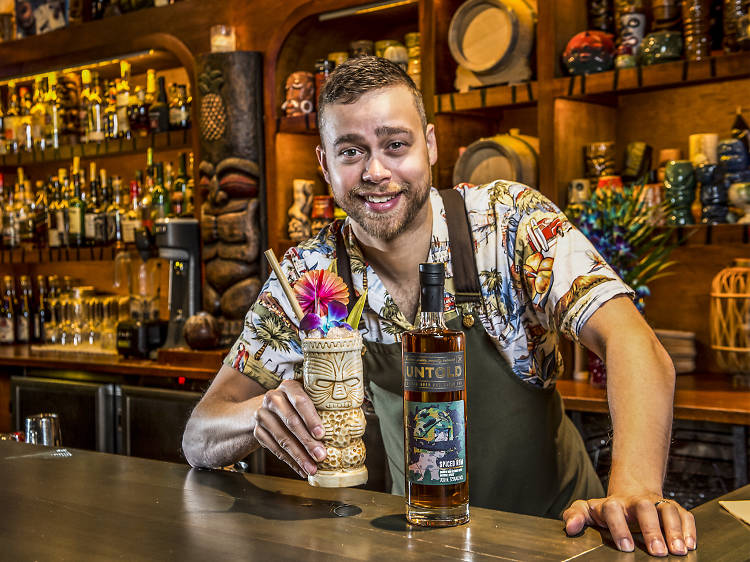 Photograph: Cassandra Hannagan
When you're trying to open an award-winning tiki bar in Enmore, you can feel like you're drowning in bureaucracy
---
Cocktail: UNder the Sea
Ingredients:
60ml Untold Spiced Rum
20ml guava
20ml pineapple
20ml lime
15ml toasted ghee orgeat
Edible orchid
Method:
Pour ingredients into a shaker, shake, strain into a tiki mug and garnish with an edible orchid.
---
Adrian's story
"The UNder the Sea cocktail is based on the Captain Nemo's Electric Gun cocktail that we serve here at Jacoby's. Instead of using coconut rum we used Untold Spice Rum. It adds cinnamon and vanilla notes, a spicy layer.
"The cocktail is a tongue-in-cheek reference to our time building the bar when at times we felt submerged in development hell. We started off strong, dotted the i's and crossed the t's, got everything turned in to Council – and then the trouble began. What should have been a two-month process dragged out to six months. We felt like we were underwater, slowly climbing our way out.
"It literally halted everything. We had these custom couches made for us for our booths, and because the delay happened we had to find somewhere to store them. We called it 'boothgate'. We'd find a place to store them, then something would happen and we'd have to move them again. When we finally got them installed we sat down on them and had a beer immediately. It was a long, tough slog, but we got through it, and can now look back and laugh at the journey."
---