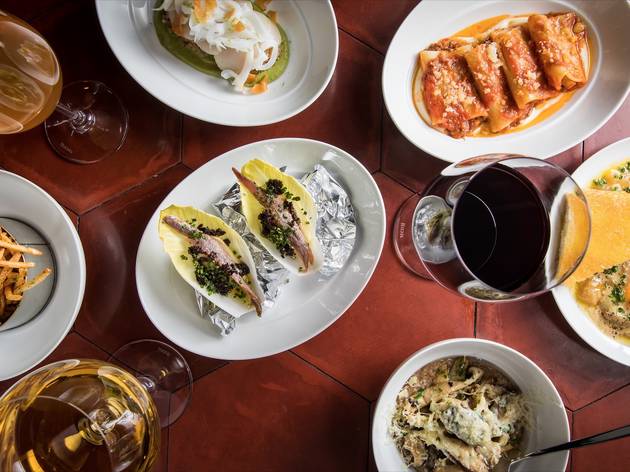 1/11
Photograph: Anna Kucera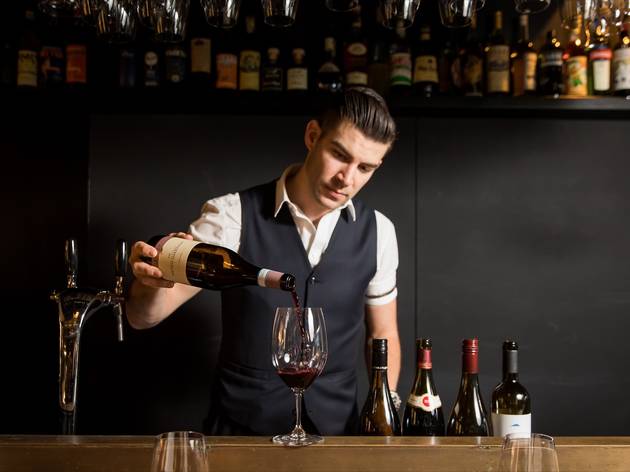 2/11
Photograph: Anna Kucera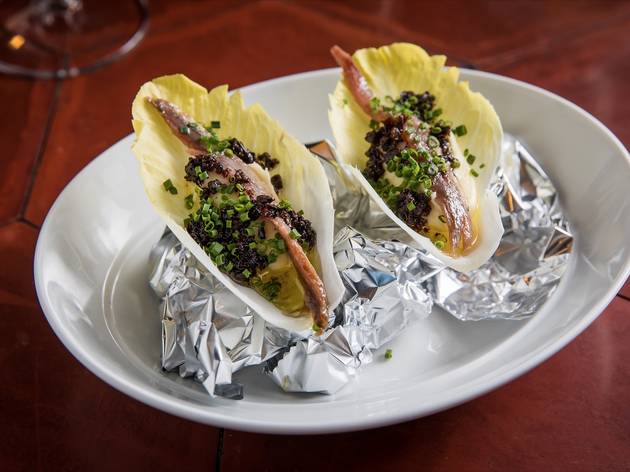 3/11
Photograph: Anna Kucera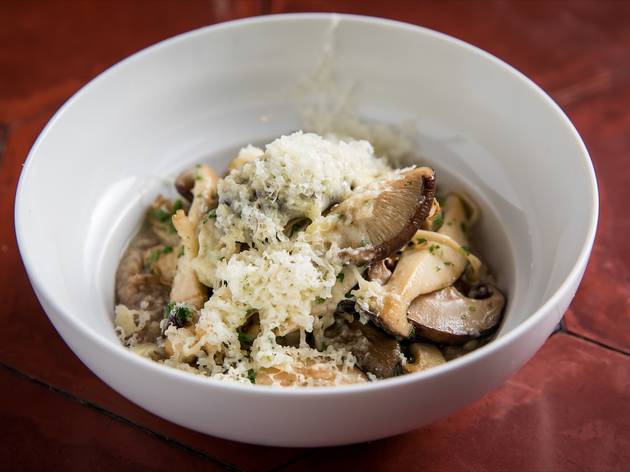 4/11
Photograph: Anna Kucera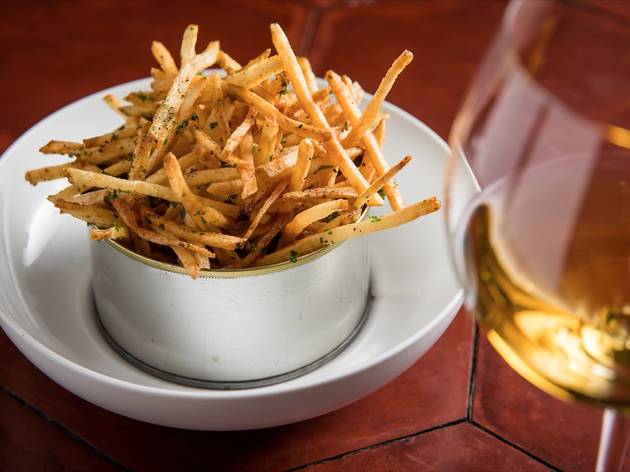 5/11
Photograph: Anna Kucera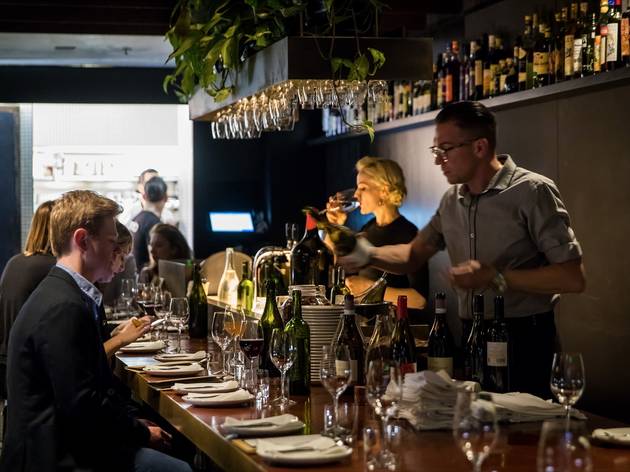 6/11
Photograph: Anna Kucera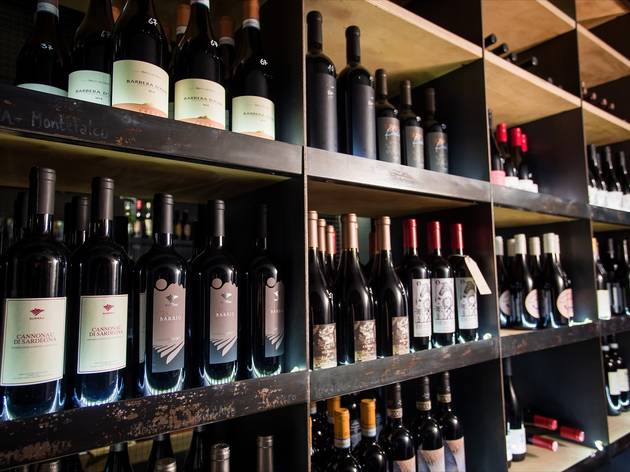 7/11
Photograph: Anna Kucera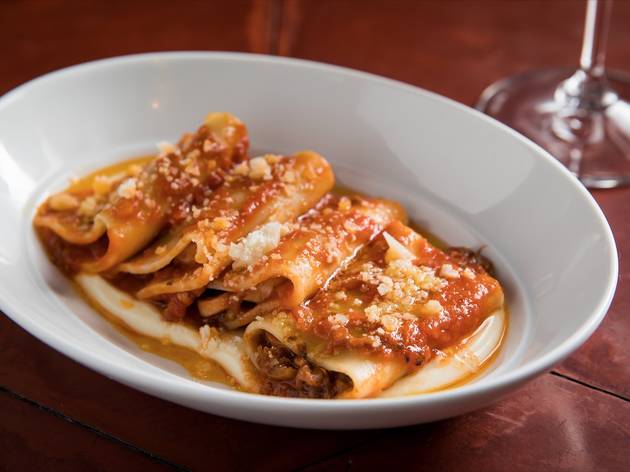 8/11
Photograph: Anna Kucera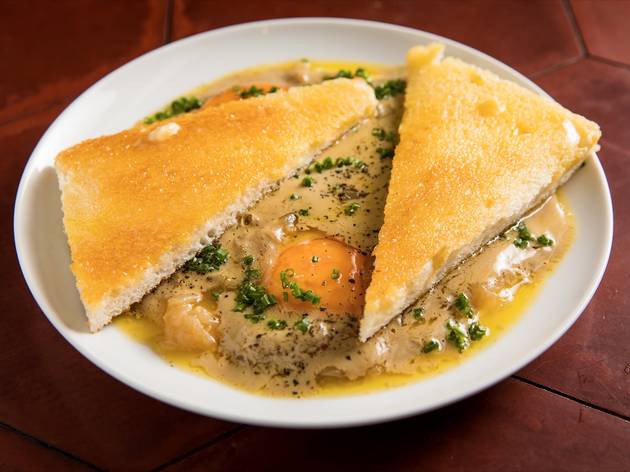 9/11
Photograph: Anna Kucera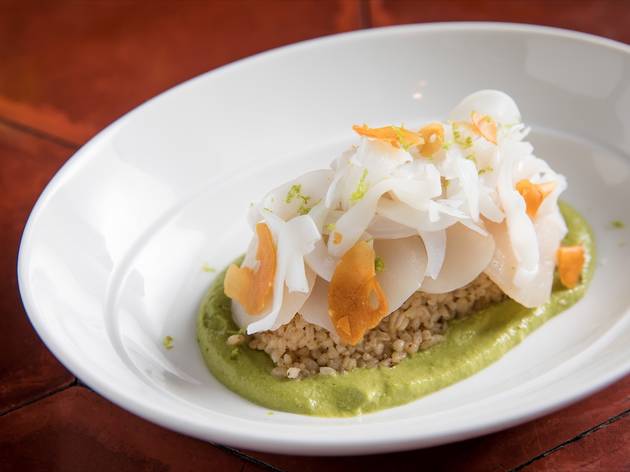 10/11
Photograph: Anna Kucera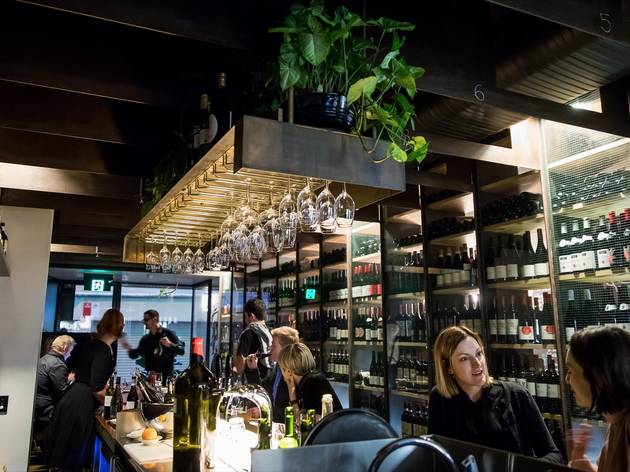 11/11
Photograph: Anna Kucera
This laneway wine bar is still the most fun place to get a little sauced in Surry Hills
You know what a guaranteed fun time used to be? Smashing wines and Italian snacks at 121 BC. You what's still fun? Smashing a slightly more international wine list and snacks at Wyno, the same-same-but-different wine bar where 121BC used to be.
The Porteno crew, whose Argentinean restaurant is on the adjoining street, took over the beloved wine bar and honestly, the only change is that there's less Italian stuff on the menu. Oh, and they gave the statement lampshade to a staff member who has hung it in their bedroom. That single, red-tiled table still takes up the majority of the floor space with people tucking in around it in ones, twos and threes. Zipping along the edges is venue manager Gavin Wright and the Porteno group's wine guru Joe Valore, pouring out glasses of Gradizzolo la Amfore, a Bolognian wild ferment wine aged in earthenware pots (amphora). It's the kind of wine whose oxidised grippiness grabs you by the lapels on the first sip, but by the third you've settled into a delicious rhythm with this savoury drop.
There're still a lot of Italian accents on the wine list, but the snacks list is a pick'n'mix of influences that mostly fall under the sub heading of salty and rich. Little plates of roasted peanuts and extra crunchy, extra fatty pork belly cracklings will keep restless fingers busy, and the slightly sweet focaccia, charred on the top and plumbed with sweet wells of roasted grapes comes with spreadable lardo for a confusing cake/bread situation that could almost pass as a dessert.
Unlike Porteno, meat is not the focus here. You're getting seafood in starring roles, like a sweet little tin of grilled sardines lavished with butter and matchstick thin fries, or the impossibly silky seafood sausages from LP's Quality Meats. They're weird but good, with an extra soft frankfurter texture made from flathead fillets, spanner crab, tarragon and cream. They're served under a thatch of spaghetti sprinkled with fish roe so that you get an ocean popping candy effect as you eat. There's even a ragu on the menu that's made from octopus – all your childhood faves get a fishy makeover.
This is the kind of place where it pays to let yourself get talked into things, like the Hermit Ram sauvignon blanc from NZ that is the opposite of what you expect from this variety and region. It's fermented on skins and has a rounded saltiness to it – no passionfruit citrus bite here. It's basically slam dunks with every glass, especially the 2006 Bressan griogio in griogio that has that sherry barrel richness to it, and which very few of us can afford by the bottle. An organic Austrian grape called Blaufränkisch results in a might fine red that paints a picture of hiking up a rocky, forest slope with pepper, stone, earth and tiny floral highs.
Opening a wine shop and bar out the back of their new digs on Holt Street was never the plan, but when 121BC came onto the market it was too good an opportunity to miss, so now Porteno owns the corner, slinging really exciting wine and experimental snacks on one side and their famous barbecued meats on the other. If it wasn't already clear that these guys are the kings of Surry Hills (their first restaurant, Bodega, is also down on Mary Street), we reckon Wyno is the final diamond in their hospitality crown.
Venue name:
Wyno
Contact:
Address:
4/50 Holt St
Surry Hills
2010

Opening hours:
Wine Shop Tue-Sat 3pm-late; Bar Tue-Sat 5pm-late