One of the most talked about stage productions next year is likely to be Neil Armfield's Hamlet – the opera. And if you want to see it, you'll have to head to Adelaide in March.
Adelaide Festival, co-directed by Armfield and his fellow Belvoir colleague Rachel Healy, will present Hamlet on the opening weekend of their 2018 festival: the same 'premium billing' spot occupied by their sell-out season of Barrie Kosky's Saul, in 2017. Both are epic operas, in terms of aesthetic and drama, and both, in Healy's words, are distinctive as "works that make sense of the opera form". Both premiered in England – despite being the brain-children of Australians.
Armfield is one of Australia's best theatre-makers, acclaimed here (for productions including The Secret River and Cloud Street) and abroad (his production of David Hare's The Judas Kiss played the West End in 2013 and the Brooklyn Academy of Music in 2016, starring Rupert Everett).
Hamlet, which features a new score by internationally acclaimed Australian composer Brett Dean (who also scored Armfield's operatic adaptation of Peter Carey's novel Bliss in 2010) and a libretto by Canadian director Matthew Jocelyn, premiered at the prestigious Glyndebourne Festival in southern England in July. The creative team includes former Belvoir artistic director Ralph Myers (set design) and Sydney Theatre Company regular Alice Babidge (costumes).
Given that it's a major new opera with an entirely Australian creative team, one might wonder why it was not funded within Australia. But it was Glyndebourne Festival, one of the world's oldest and most acclaimed opera festivals, that reached out to commission Dean, and footed the bill for not only the work (which features several truckloads of set architecture, 12 principal singing roles, a full-sized orchestra and two choruses) but also an almost-unheard-of six week rehearsal period.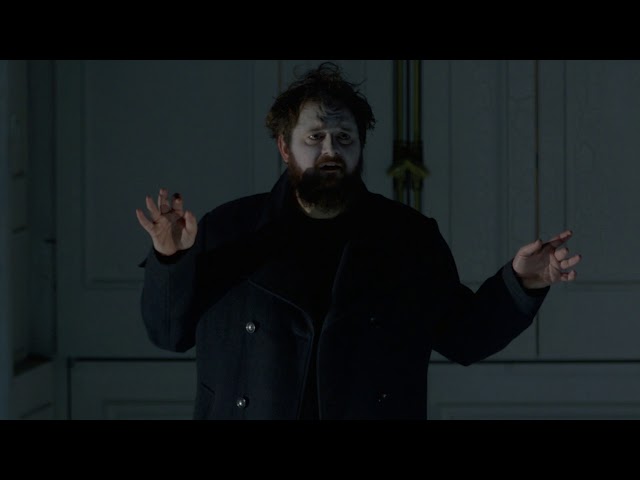 Reviews of the Glyndebourne premiere have been almost universally glowing, with The Times describing it as a "sensational production", and the Guardian praising Dean's score as being "many-layered, full of long, clear vocal lines propelled by repeated rhythmic figures in the orchestra, [with] moments of delicate beauty."
Dean and Armfield had first talked about adapting Hamlet for opera around 2012, following on from the success of their collaboration on Bliss. Armfield directed a successful production of Shakespeare's tragedy for Belvoir in 1994 (starring Cate Blanchett, Geoffrey Rush and Richard Roxburgh) that had subsequently toured to Adelaide and Melbourne – and he says that there are "echoes" of that earlier production in this new opera.
"Normally you go into a project very much in the dark – whereas I went into this [opera project] already having a sense of the mental architecture of the production," he recalls. "[The Belvoir production] was an experience that made me really love [Hamlet]."
Armfield speaks of Hamlet as the "first really modern mind in literature" from the first modern playwright. "You're always struck by the tragedy of the loss of this extraordinary character – in spite of all his peculiarities, his indecision, and his troubled relationship with women. Shakespeare puts the path of thought through the human mind at the centre of the drama – and the loss of that character is something you feel, every time you see it."
Young British tenor Allan Clayton will reprise the role of Hamlet at Adelaide Festival, alongside veteran Australian soprano Cheryl Barker as Gertrude, Helpmann Award-winning soprano Lorina Gore as Ophelia, American baritone Rod Gilfry as Claudius and British tenor Kim Begley as Polonius.
Healy, who saw Clayton's performance at Glyndebourne, says "he is astonishing; the suffering is very real. In fact all the performances are very fine performances in a theatre sense. You don't have any moment where you think 'Well yes clearly that opera singer has a fantastic voice, but she's not truly inhabiting the character.'"
Hamlet will have just three performances at Adelaide Festival, and it's highly likely to sell out before the year's end, given that Saul, which had four performances in the same venue, had sold out by December 6, 2016.
In their first year, Armfield and Rachel Healy raised the bar for Adelaide Festival, delivering a critically acclaimed program and the biggest box office takings in the event's 57-year history. Basically: Adelaide Festival is suddenly a very compelling destination for lovers of opera and Big Theatre.
Hamlet runs March 2, 4 and 6 at Adelaide Festival Centre. Tickets go on sale for Friends of the Adelaide Festival from Thursday August 17, and general public from Thursday August 31.
The full Adelaide Festival program is announced on October 24.
See what is upcoming on Sydney stages.