More than 100 Aboriginal clan groups will be represented at Sydney Opera House's First Nations festival, which celebrates arts and culture from the Indigenous peoples of many nations. The program includes Celtic folk singing, Tibetan sand art, Māori healing and many musical legends from the Torres Strait Islands and the Northern Territory. Plus, the event is free and open to everyone, whether you have a connection to an Indigenous cultures or not. Festival curator Rhoda Roberts picks an activity for every festival goer's fancy.
For soulful meditation…
"Try a traditional healing with the Te Kopere Healers. You're literally sung in. You get your head and neck massaged and if there are family groups they'll also do a stick dance – it's like tapping your head and rubbing your tummy. They do traditional things like a Hongi, which for Australians who aren't embracing each other every day can be quite confronting."
For hands-on creativity…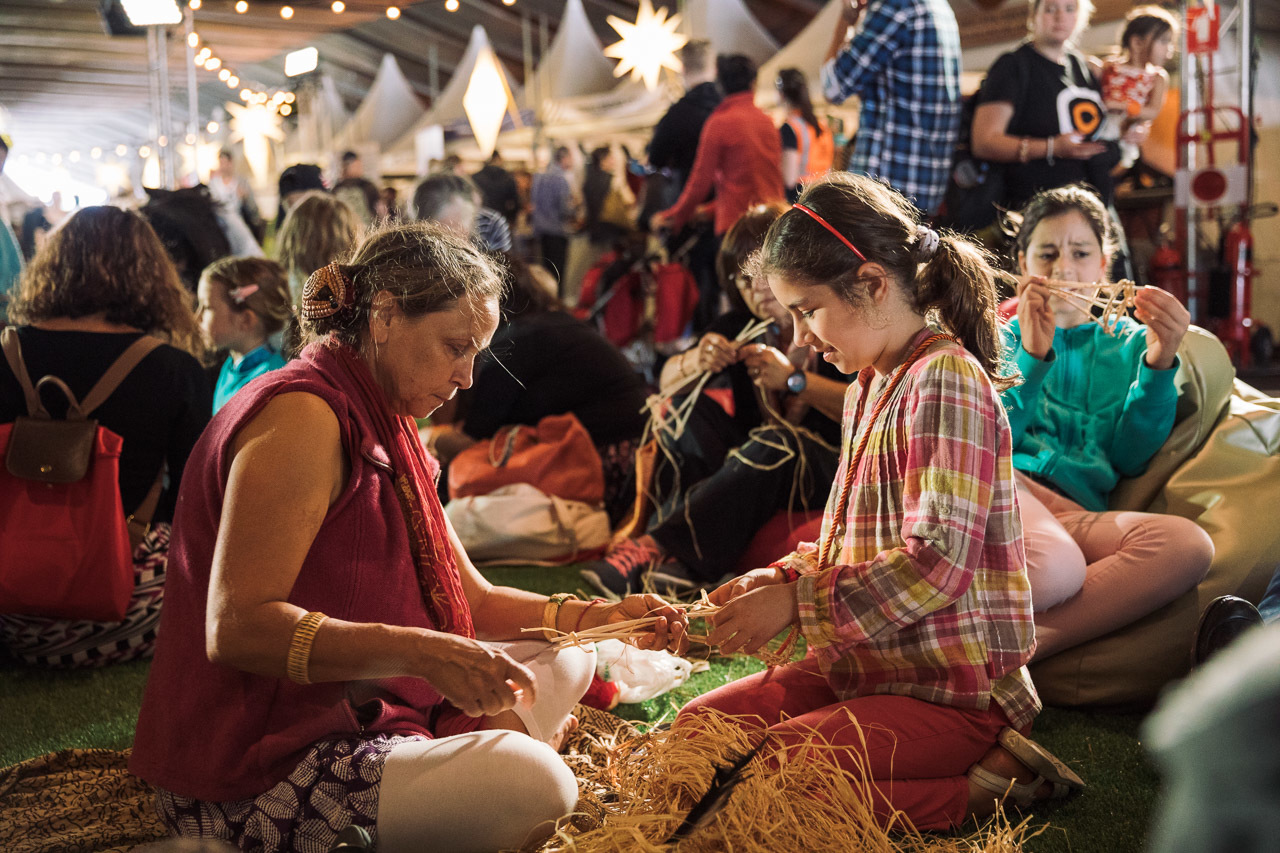 "We have a series of weaving workshops. You can sit with the old aunties doing their crafts but also hear the stories of the totems, hearing how we relate to living things on Earth. We're using recyclable materials so you learn about protecting the environment."
For a new perspective…
"Visit Winda Film Festival in a yurt. Medika Thorpe and Pauline Clague are running a film festival before and during Homeground. A 10-15 minute short film will take you on a little journey across the ditch to New Zealand."
For quiet reflection…
"We have [singer-songwriter] Tenzin Choegyal and a number of monks from Tibet creating this incredible Sand Mandala, where every sand grain, means something. It's very much a ritual and it's about getting in touch with yourself."
For cultural connection…
"Listen to our songwriters, from Kahl Wallis to Radical Son and Torres Strait Islander Mau Power. We've got the Yothu Yindi Treaty Project – the original members of the band have reformed with Yirrmal Marika (Witiyana Marika's son) replacing the late Dr G Yunupingu. For me that's really important – the Yunupingus and the Marikas are a dynasty – so there's that intergenerational transference of knowledge."
For energy and movement…
"We have Muggera, young dancers from TV show Move It Mob Style. We have performers from Fiji, we've got Jannawi dance clan and we've got an incredible group from Brisbane called Malu Kiai Mura Buai, who are an intergenerational dance company. You can also learn the haka!"
For listening and learning…
"We've got an incredible group called the Rize of the Morning Star [Sorong Samarai]. A lot of members are from Melanesian countries, and so it gives an opportunity for the West Papuans to to have a voice about the issues they face today with Indonesia controlling their land. There's lots of drumming, lots of language and lots of music. I didn't think we'd get them all – so we're thrilled."
Homeground takes place at Sydney Opera House Forecourt from Nov 25-26. Sat 11am-10.30pm; Sun 10am-9.30pm. Free.