Welcome to the 30th guest blog post of Time Out Sydney's 52 Weeks of #SydCulture 2017 challenge! August's culture selector is Ramesh Mario Nithiyendran: one of Australia's rising art stars. Every week in August, Ramesh will be telling us what he loved the week before. Think of it as your recommendations for this week, from someone who sees a helluva lot of arts and culture. Over to him.
It seemed the Archibald was all the fuss last week. Despite the mixed sentiment the event arouses within the arts community, I've always been interested. Within the three concurrent exhibitions – Archibald, Wynne and Sulman – Joan Ross's Sulman Prize-winning entry, 'Oh history, you lied to me', was one of the works that deeply captivated me.
As a scathing, yet cheekily humorous criticism of Australian colonialism, 'Oh history, you lied to me' conveys a perspective that is complex and timely. History is positioned and personified as a turbulent past lover. It's a simple yet powerful analogy, gesturing to the various agendas and power imbalances implicit in the creation of historical narratives. It's one of those works where the longer you look, the more you see. I saw little birds drawn in pencil, I heard the paper cutting when I looked at the collaged elements and I imagined the artist smiling during certain moments of its creation.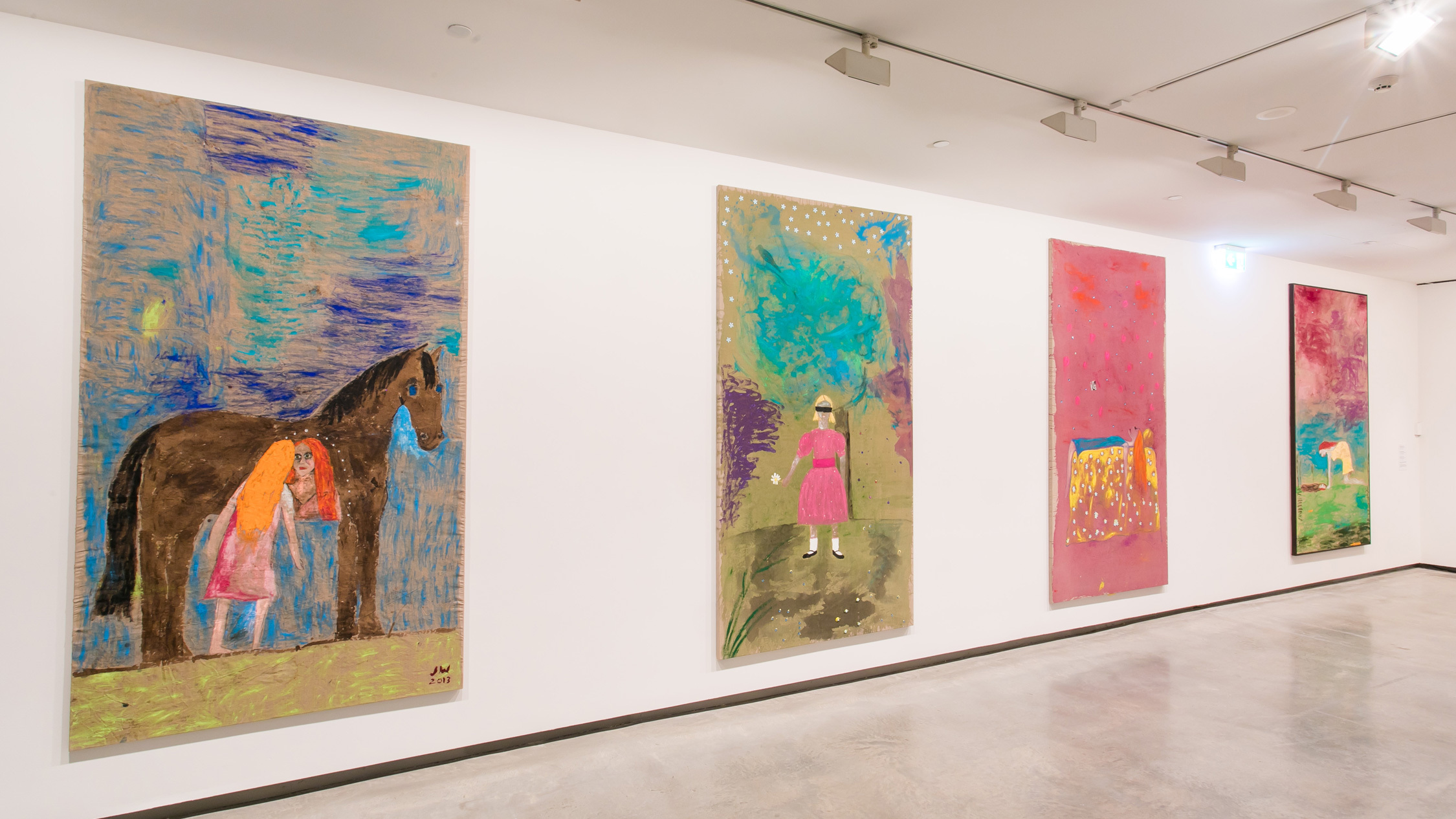 It's not often I'm engaged in this way. Yet it seemed I was having a good week of art experiences. Jenny Watson's survey at the Museum of Contemporary Art, titled The Fabric of Fantasy hypnotised me. Walking through the Level 3 galleries on a rainy Saturday, experiencing Jenny Watson en masse, I was struck by the commitment, veracity and joy in a wildly confident painter's body of work. There was an emphasis on the hand-made, and a somewhat irreverent, yet deeply personal interpretation of feminism and conceptual art, which has been evident across almost four decades of Watson's career.
On the note of irreverence, The Public Body .02 at Artspace in Woolloomooloo must be addressed. There were a range of factors that contributed to my excitement to view this exhibition. The artist list was lengthy and the information online for the exhibition was accompanied by a disclaimer that promised exciting things:
Visitors please note that this exhibition contains strong language, nudity and explicit imagery. Artspace advises that all minors should be accompanied by a supervising adult.
Once there, the thing that struck me instantly was the curation and exhibition design. The walls where one would expect paintings, photography etc. to be hung became exposed types of scaffolding in places; it was as if they were poetically nude. The skeletons were showing, and hints of voyeurism came to the fore.
The works in this exhibition are diverse, with a range of undeniably genuine sentiments that highlight the plurality of issues faced as people negotiate their bodies and sexuality in the increasingly contested realm of public space.
You can see the Archibald, Wynne and Sulman Prize exhibitions at the Art Gallery of NSW until October 22.
Jenny Watson: Fabric of Fantasy is at the Museum of Contemporary Art until October 2.
The Public Body .02 is at Artspace until October 2.
While you're here, check our 52 Weeks of #SydCulture challenge, and let us know what you're seeing/loving on Instagram via the hashtag #SydCulture.