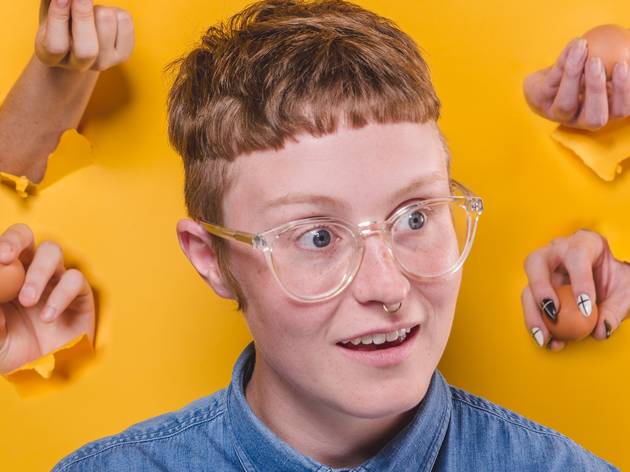 Time Out says
The comedian owns their "egg head" in an absolutely chaotic show
Scout Boxall's personality is their hair. It's a skin-tight rug that circles around their scalp, cutting off above the ear like an ill-fitting beanie – something Scout terms a 360-degree fringe. Previously, when Scout was young, they were fitted with an Amelie-inspired bob-cut and was christened by bullies as 'egg head'. Scout has made the term their own, however, thus the title of the show: Good Egg – a perfect gender-neutral term of endearment. Rest assured, Scout shows restraint in using only one egg pun in the show, and it's a deeply commendable act of self-control, considering how ridiculously easy it is to crack an egg joke.
But self-control is not exercised anywhere else in Good Egg – quite the opposite. Expect chaos. As Scout acknowledges in the very beginning, there is no through line.
There is a sense of rueful anguish that pervades the routine, but bravely Scout does it all with admirable panache, skating from skit to skit with a series of dramatic props and costumes, and an apologetic grimace. The best bits are surreal and inspired. As with everything else in Good Egg, it will not be what you expect.
Details