The Kweens of Comedy Show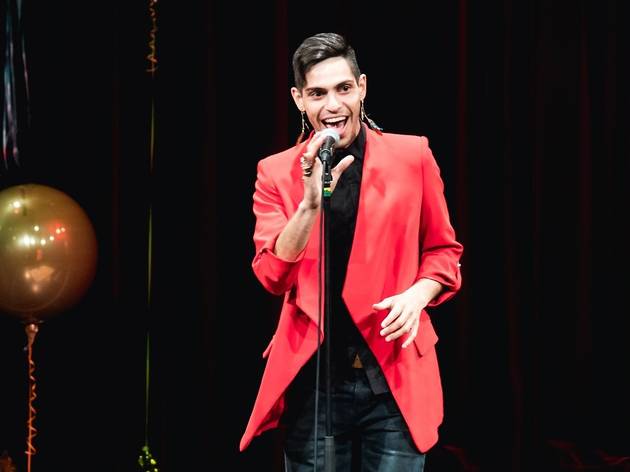 Time Out says
Catch a mixed bag of local comedians in this online sketch series
A throng of Sydney's quirkiest comedians are taking to the digital stage and letting their freak flags fly for a virtual spin on one of the city's most inclusive comedy nights.
Kweens of Comedy, a monthly stand-up and variety showcase which is usually tucked away in the cosy piano bar settings of Ginger's, above the Oxford Hotel on Taylor Square, has scored some cheeky grant funding from the City of Sydney to explore a new format in these less-than-usual times. The Kweens of Comedy Show is a brand spankin' new online series coming to a screen near you, starting from Thursday, September 17.
This three-part series will showcase a lineup of Sydney's best up-and-coming comedians, giving a platform to performers who have lost work and career development opportunities in the wake of you-know-what.
Each streamable episode includes new sketches, stories and skits involving more than 20 local comedians, writers, creatives and performers. The lineup includes local rising stars like Rosie Piper, Concetta Caristo, Jacqui Duncan, Fady Kassab, Annaliese Constable and many more.
View this post on Instagram
"The comedy industry is one of the least supported art forms and the pandemic has highlighted the few structures there are to nurture and develop emerging artists," the show's producer, host, and notably fashionable human AJ Lamarque said in a statement. "This funding has allowed not only a paycheck, but the ability to upskill and prepare for a comedy world in the digital sphere."
"There are so many incredibly talented comedians with different perspectives and from diverse backgrounds that will seldom have the capabilities or opportunities to bring their ideas to life and speak to their communities. This show has been the start of changing that for rising talent, and hopefully, will allow for a much needed diversification of the scene."
The first episode streams live on YouTube (catch it here) from 7.30pm tonight, September 17. The following episodes drop at the same time on Thursday September 24, and October 1. The series is streaming for free, but virtual tickets are available and proceeds from sales will support the production of future seasons. Follow AJ on Instagram and Facebook for updates about the show (and outfit inspo).
Ready to see some local entertainers? Check out our guide to where to see live music in Sydney right now.
Details