Magnums and Movies at Restaurant Hubert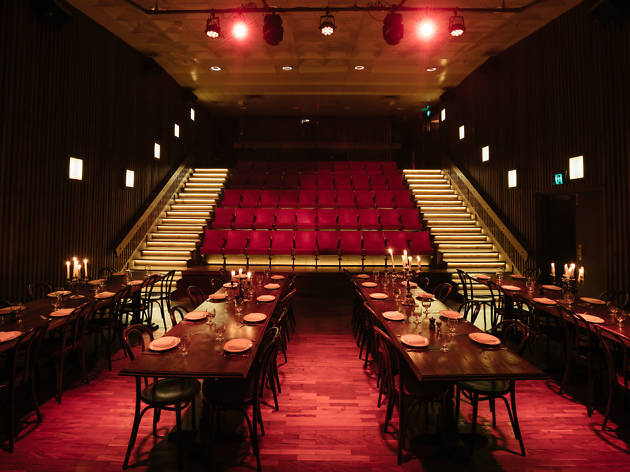 Go peak Italian with a night of cinema, wine, food and music at Hubert
Hubert has joined forces with maestro sommelier and wine supplier Giorgio de Maria for a magical night of food, wine and entertainment in the restaurant's Theatre Royale.
The theatre will be screening one of Giorgio de Maria's all-time favourite vintage Italian films (subtitled). We're not allowed to tell you what the film is, but we can tell you it's a brilliant, stylish, daring, funny and dark masterpiece that you probably have not seen before, and are not likely to forget. Take it from us: it's a fantastic, unexpected film choice.
The screening will be paired with Dan Pepperell's interpretation of Italian theatre and film foods – substantial canapés, snacks and an intermission meal.
Ashley of Two Metre Tall and Tom from Shobbrook Wines have also produced a couple of special wines (all in magnums) especially for the event: Cantina Giardino Bianco Anfora 2016 Cosa di Volpe Bianco, and Tommy Ruff Sunday 2014 Mourvèdre.
There will also be a surprise cabaret performance on the night.
Tickets are $135 each and available by emailing the restaurant on reservations@restauranthubert.com, or phoning 02 9232 0881.