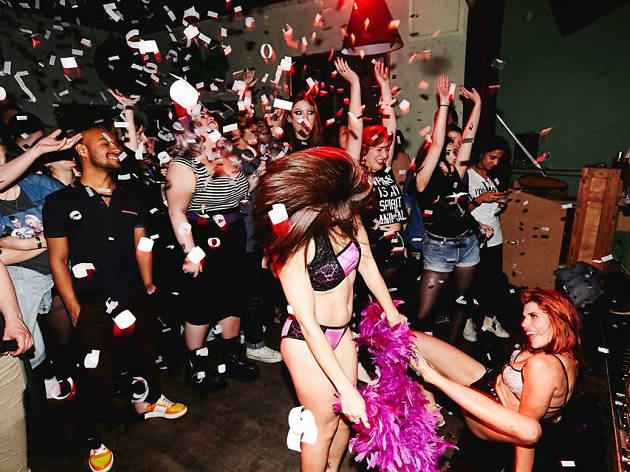 Sydney's best queer-friendly parties
Head to these inclusive events for judgement-free glee
The best places to dance in are unequivocally the nurtured safe spaces and glitter-daubed parties run by Sydney's queer communities. If you're looking for a place to be yourself while listening to Madonna's 'Express Yourself' then this rainbow of club nights, weekly ragers, and one-off freaky raves are for you.
Found yourself in a week when one of the below isn't on? Never fear, there's always LGBTQIA community fun to be had at one of Sydney's best queer pubs and clubs. And if you're in the mood for more judgement-free cheesy music appreciation, head to one of the best retro dancefloors in Sydney.
Where to find a queer party in Sydney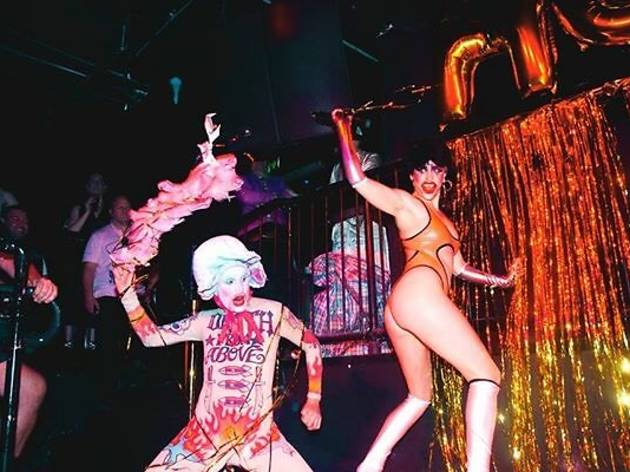 Photograph: Supplied/Honcho Disko
Since the Imperial re-opened its subterranean dancefloor space Sydney has been gifted with a new influx of parties. Honcho Disko is a local iteration of the popular Melbourne event and it's undulating downstairs at the historical pub every month. Honcho attracts an art-appreciating crowd who like their disco with an edge and their drag performances with a healthy dash of subversion.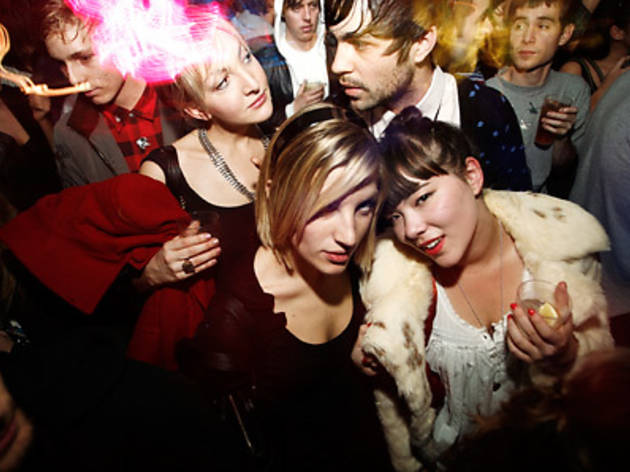 If you're seeking a breathless techno set from a Berghain veteran or want to see an underground show from rapper Le1f emerge in the middle of the dancefloor, then a party hosted by House of Mince is for you. The collective have been running dance parties around Sydney since 2011. The most regular House of Mince event is Pavlovabar every Sunday night at Club 77, a dark, crowded and pounding dance party that scratches the eyes-closed-raving itch with a joyful queer community vibe emanating from the bodies slicked with sweat and grins.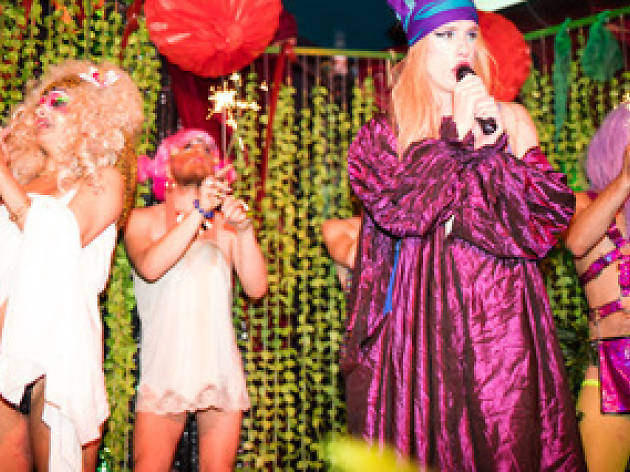 Photograph: Supplied
Come for the performances, stay for the potential for inspired dancing times around the DJ booth. The Bearded Tit isn't a club but it is one of the queer-friendliest establishments to dance in in Sydney. Gloriously soundtracked by a rotating roster of DJs, Queerbourhood is all about experimental cabaret, comedy and glamour on stage, rotating art installations, with some down-to-earth neighbourly good times in between. Queerbourhood isn't even officially a 'party' but it warrants mention as, if the mood is right, the entire bar can turn into an all-in dancing and singing jamboree.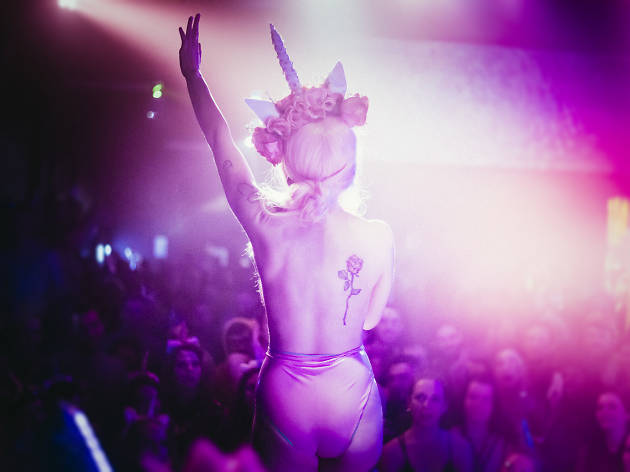 Photograph: Alexis Desaulniers-Lea
Before the unicorn reached peak zeitgeist and became a pastel latte at Starbucks, it was a symbol of beautiful otherness. Attending a Unicorns party you're likely to find a sea of rainbow club kid attire, mythical-themed performances, kissing booths and body-painting stations. It's playful and cute, but also wholly embracing of salacious dancefloor grinding. The party has also expanded into releasing their own merch with an online marketplace for exquisitely on-brand ethical, plant-based glitter.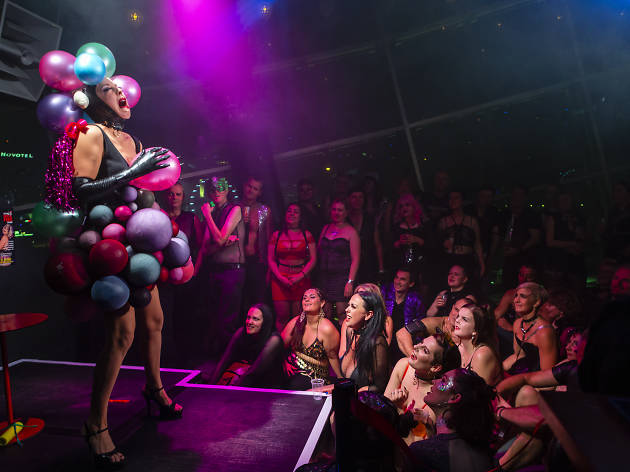 Photograph: Chantel Bann
5. The Sydney Hellfire Club
This fetish party has been tickling Sydney's curiosity for 25 years. With an exceptionally inclusive policy for all sexualities, genders, sizes, fetishes and ages (over 18), Hellfire is a safe-space trailblazer. The absolute essential requirement for entry is that you make an effort with your outfit; they don't pre-sell tickets so the door acts as a costume checkpoint, ensuring no one in boring jeans and sneakers gets in. Hellfire partiers range from BDSM and latex enthusiasts to burlesque and punk players. This is a stomping ground for playing with identity and challenging binary blandness, with exciting performances and music to boot.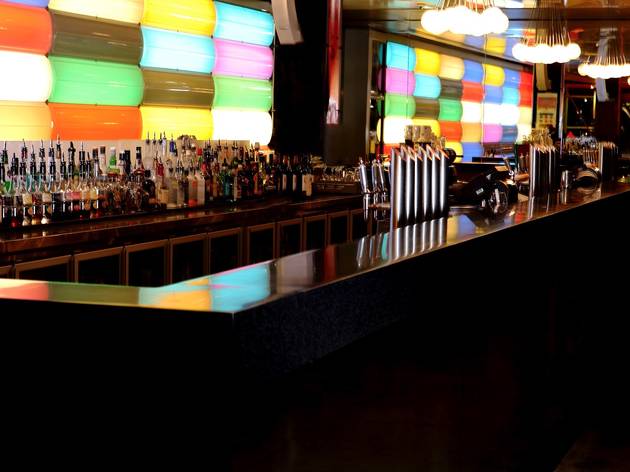 Photograph: Supplied
Kooky is a queer institution that, although semi-retired, still attracts a loyal and elaborately dressed clientele. Originally a regular night at pre-refurb 77, Kooky accepted everybody and anybody for exactly who they were. In the early '00s there was a mix of friendly older oddbods, curious art school students and those bridging the lines between sub-cultures. The music is eccentric and the crowd has a tangible kinship. Club Kooky is still kicking around at various venues, most recently taking over studio nights during Vivid, popping up at the Cruise Bar on the harbour with their signature inflatable fanged-rainbow archway, and every so often flooding Marrickville hidden spaces with eclectic devotees.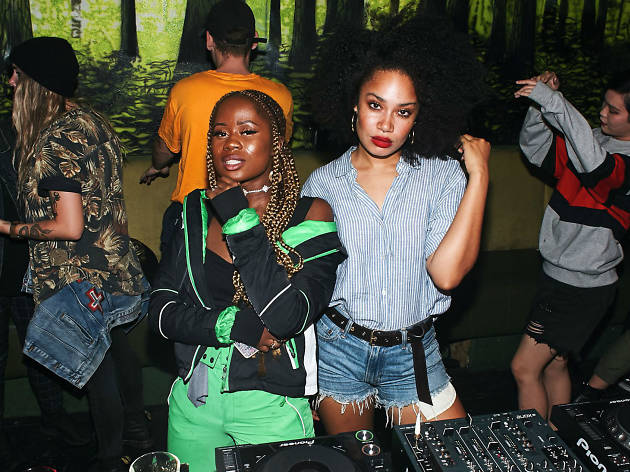 Photograph: Supplied
Wednesday night in Newtown is often known as lesbian night, and that can largely be attributed to Birdcage and its ongoing roost in the Slyfox. It has expanded to a more outwardly inclusive queer-fam vibe in recent years and is your go-to for a mid-week loud pop music injection with a beautifully kaleidoscopic crowd. This was where many young queers cut their teeth and it continues to be a fostering environment for finding your community on the dancefloor. The addition of drag and performance night Canned Fruit down the road at the Secret Garden Bar has injected a delightful stream of energetic after-party-ers in glimmering regalia.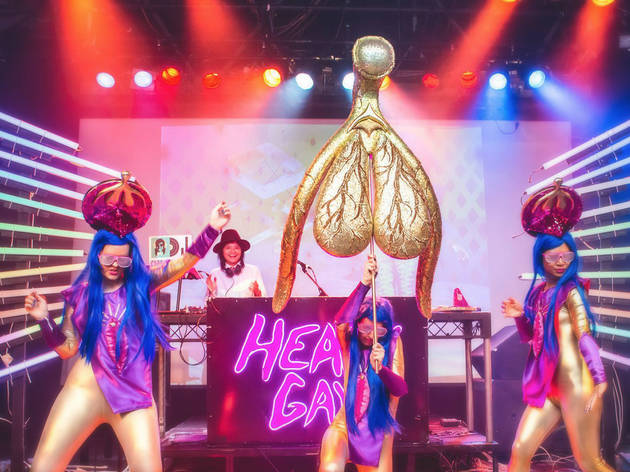 Photograph: Tim da-Rin
The party that has reached deservedly gargantuan status is Heaps Gay. What started as a small shuffle spot in the Lord Gladstone with black plastic over the windows is now a multi-faceted party monster with events as huge as a five-day festival called Rainbow Mountain taking over an entire Thredbo village. Back in Sydney, head here for 'anything goes' partying, no costumes necessary, no defining styles of music or dress or even outwardly queer alignments (it's a bit straight, not that there's anything wrong with that). It's just all about maximum fun in maximal crowds with no dickheads. You'll find Heaps Gay in the basement of the Imperial, on a float at Mardi Gras, at the Red Rattler, in shoe box under your desk, they're everywhere!
Looking for more dancefloors?
Sydney loves to party: we'll party on the roof, in the basement, by the pool, and at suburban bowling clubs. We've collected our city's best clubs and nightlife hotspots so you can make the most of Sydney's untz, untz, untz scene on your next big night out.