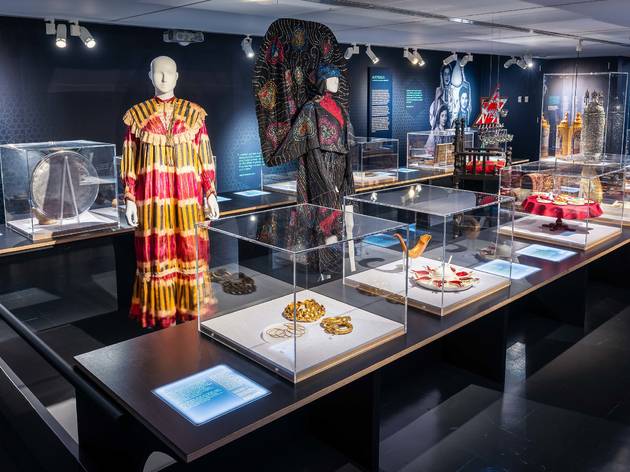 Time Out says
See intricately designed ritual objects in this exhibition celebrating Jewish culture from the Islamic region
This petite but jam-packed temporary exhibition at the Sydney Jewish Museum perfectly compliments the museum's narrative, which explores Jewish culture and history internationally and the Jewish community's existence in Australia.
Jews from Islamic Lands is centred around objects from the museum's collections as well as some sourced from local families with direct lineage from Islamic regions, including intricately designed ritual objects, such as a colourful wedding dress from Iran, an elaborately adorned Torah cover – or a tik – from India, and a Passover seder plate from Egypt.
The exhibition traces the lives of Jewish people and families from the Middle East, Asia Minor, North Africa and the Iberian Peninsula and how people from these distinct regions have dispersed around the world. One of the most thought provoking takeaways from this exhibition is that some families displaced by WWII arrived in Australia only to be divided, when the White Australia Policy deemed that only some family members and not others had a light enough skin colour to gain entry.
Another temporary exhibition currently showing at the Sydney Jewish Museum is Nostalgic Glimpses of a Bygone Era, an exhibition of paintings by Camille Fox, a Jewish artist who was born in the 'golden era' in Alexandria, Egypt.
The Sydney Jewish Museum is currently open to visitors on Wednesdays and Sundays from 10am-4pm. Pre-bookings are not required and there are no allocated time slots, however visitors are capped at 80 people at any one time. Read about our impressions from a recent visit to the museum over here.
Details