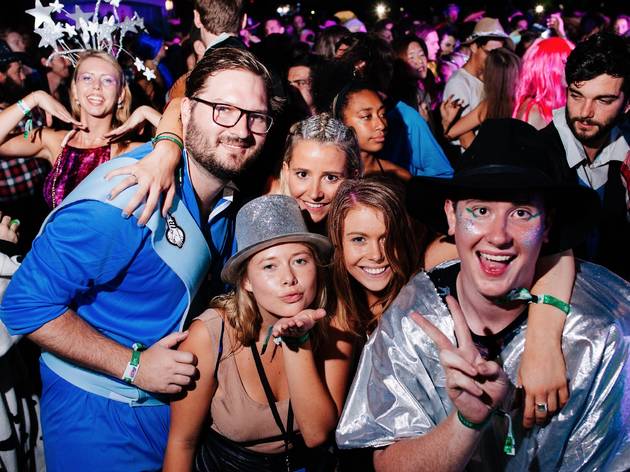 1/10
Photograph: Supplied
2/10
Photograph: Supplied
3/10
Photograph: Supplied
4/10
Photograph: Supplied
5/10
Photograph: Supplied
6/10
Photograph: Supplied
7/10
Photograph: Supplied
8/10
Photograph: Supplied
9/10
Photograph: Supplied
10/10
Photograph: Supplied
This deep forest adventure rave's attendees are so devoted, it sells out before the line-up is announced
If you've ever wanted to hide in a genderqueer glitter paradise where disco sticks tower above the crowd and lovely, jungly trees tower above the disco-sticks, then Secret Garden is the rave for you.
Why so secret? Well, the festival don't announce their line-up until tickets are already sold out. You go to Secret Garden to be surprised and learn new things about yourself, and music, not to watch a big name EDM producer play their ten thousandth Australian DJ set.
Now that the only way to secure a ticket is to volunteer at the festival, the secret's out.
Here's the full line-up, in alphabetical order:
Alex Lahey
Annie Bass (DJ Set)
The Australian Queen Tribute Show
B Wise
Bad Deep DJs
Bec Sandridge
Birdman or The Unexpected Virtue of a Tony Hawk Pro Skater Band
Body Type
The Cactus Channel
Captain Franco
Donny Benet
Gretta Ray
Japanese Wallpaper
The Jezabels
Le Fruit
Levins
MOSSY
Mowgli May
Oliver Tank
Party Dozen
Rackett
The Ruminaters
Set Mo (Classic House Set)
SPOD
Total Giovanni
Urthboy
Youngsta CPT (ZA)
Of course, the mainstage is only half the story. Explore the forest further and you'll find Secret Garden love song dedications curated by Donny Benet and Friends, a Late & Loose Lounge with Shantan and Friends, and a Saturday night CampQueen (that's the crew from Heaps Gay and Closet, FYI) takeover from Stereogamous.
Here's who'll be manning those decks, and bringing the party.
AfterHour
Amber Akilla
Amrita
Andy Garvey
Ariane
Bad Ezzy
Boogie Fingers
Bug Bug
Callum Wylie
Estée Louder
FlexMami
G Coo
HABITS (DJ Set)
Keep It Disco
Kimchi Princi x
Slim Set
Lauren Hansom
Lewba
Low Ton DJs
Mansion Lane
Matka
MIMI
Nes
Paul Gorrie (DJ Set)
Potassium Nightmare
Ridds
9toe
Wompa (Dungeon)
Rimbombo
Sezzo Snot
Sveta
Swerve
Tanzer
Yo Grito