On Sunday February 3, St Jerome's Laneway Festival managed something a lot of large-scale music events struggle to: it presented an impressive line-up of diverse, alternative acts without being chaotic or intimidating. We spent 12 hours traversing the grassy slopes of Callan Park and navigating the narrow thoroughfares of the Sydney College of the Arts, breezing through without incident at the festival's 14th iteration in Sydney.
While some intense festival heads might be put off by the 'no moshing, no crowd surfing' signs, we were glad to be able to mingle in the front row without (too much) fear of the crowd becoming a single entity of smooshed, angry flesh. It was also positive to see the festival following through on gender parity promises in their line-up and positively addressing drug and alcohol use in a neutral space.
One positive new addition to the festival was DanceWize, an outreach program providing non-judgemental, safe spaces at music festivals and reducing substance-related harm through education. They also had us sorted for sunscreen and water, offered a boatload of advice and helpful literature about safe recreational drug use, and provided an LGBTQIA-friendly space with camp beds and a chill out area where volunteers helped take steps to address any problems related to drug and alcohol use, harassment or sexual assault. While festival patrons had a friendly Sunday barbecue vibe going anyway, it was good to know there was somewhere to retreat to if necessary.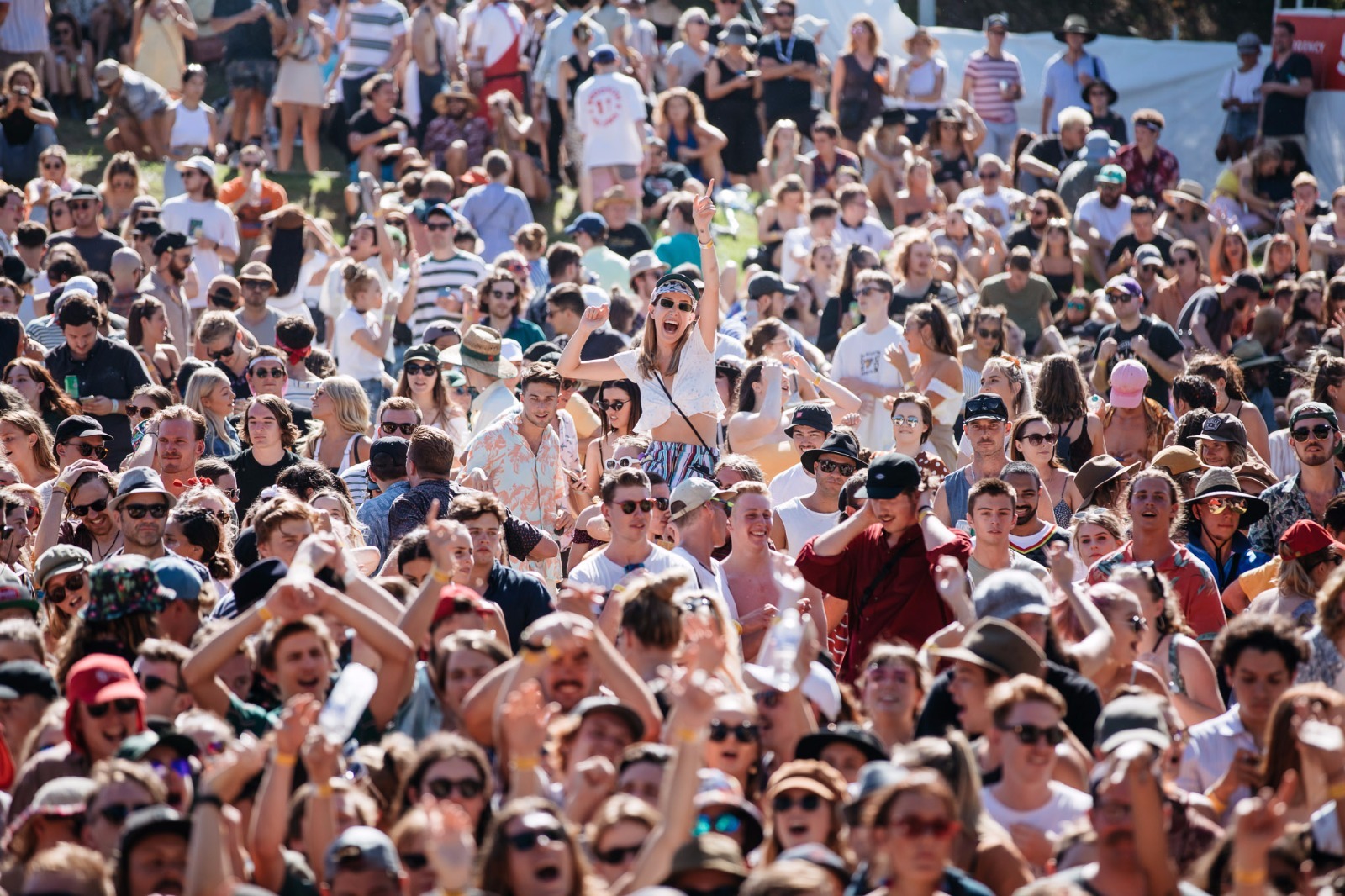 Photograph: Daniel Boud
We snuck in just in time to catch Ruby Fields' final bows to an enthusiastic early-starting audience, readying us for a day dedicated to local stars, big amphitheatre sounds and ladies ruling the stage.
We were enamoured with the local debut of international rising stars Rex Orange County – lead singer Alexander O'Connor had the crowd swooning with that cheeky British charm. Their Park Stage set kicked off the shoulder-riding for the evening, in between bouncing sing-a-longs to favourites like 'Best Friend' and 'Sunflower'. A live brass duo was a great addition, as was O'Connor's solo cover of Alicia Keys' 'No One'.
Photograph: Jordan Munns
But it was the Aussie acts that were the hottest tickets at this sweltering summer party. Raised in North East Arnhem Land and now based out of Melbourne, Baker Boy brought together joyful old-school hip hop attitude – synchronised popping, locking and laughing – with his melodic mix of Yolngu Matha and English lyrics. Also repping team Melbs was Camp Cope, who created a marvellous atmosphere in the courtyard from the new Dr Martin's stage. The group's message of promoting a safe, inclusive live music scene reverberated through the friendly crowd, whether you were swaying in the back or fist-pumping up front.
Things got sweaty among the sandstone as we busted a lung singing along to 'Sigourney Weaver' with the Smith Street Band, and then cooled down a little with Courtney Barnett's dreamy main stage performance. While we would've liked to see a denser pack of humans there for her insightful sounds and Georgia Mac's appearance, a little extra breathing room down the hill was only good news for fans. Having What So Not follow with their zingy electronic set was a slight shock to the system, but we had a ball with the dizzying visual display, not to mention when Silverchair's Daniel Johns emerged from a coffin for three tracks of shredding guitar and vocals. The rave rounded out with the obligatory fireworks and confetti finale.
Photograph: Jordan Munns
While fans of pumping electronic sounds were holding out for Jon Hopkins' set on the Dr Martin's stage, Gang of Youths brought hordes to the grassy amphitheatre for their headline performance. Opening with 'Fear and Trembling' from their most recent album Go Father in Lightness, the indie rockers reminded us that a classic, head-banging, guitar-thrashing rock set is something beautiful to behold. The execution of their second Laneway appearance was immaculate, and they've definitely proven their chops as headliners since their 3pm slot in 2017. Lead guitarist and vocalist David Le'aupepe showed off his always impressive pipes and made a touching tribute to his late father before the Sydney locals played 'The Heart Is a Muscle'.
Inevitably, multi-stage festivals can break your heart with clashes, and we were sad to miss the powerful work of Jorja Smith, Parquet Courts and Clairo. Unfortunately, the pesky need to consume food and hydrate also gets in the way, but we were happy we stopped in at the Rainbow Tent where party starters Heaps Gay were keeping everyone full of verve despite the oven temperatures inside the blow-up dome.
There were a few sound hiccups throughout the day (quickly resolved and expertly handled by performers), but the rolling hills at Callan Park and the college's thrumming sandstone courtyard have proven, once again, to be a fabulous place to experience live music. And while the 2019 event presented some classic music festival challenges – sweat, sunburn and spenny spilled drinks – Laneway has continued to take some fabulous steps in an inclusive, approachable direction.
Prepare for inclusive parties and marvellous live performances with these Mardi Gras events.