Everybody's an art critic when it comes to Archibald time. The annual $100,000 portrait prize brings out the often deeply hidden aesthetic expertise in all of us as we argue over which artist deserves Australia's favourite art prize.
But one particular man's opinion has more significant weight: the Art Gallery of NSW's head packer, who awards the annual $1,500 Packing Room Prize. Technically the Gallery's staff who unpack and hang the various entries are responsible for picking the winner, but the head packer holds 51 per cent of the vote. If there's any disagreement among the staff, he gets final say in the prize that's both a high honour and a bit of a kiss of death: no winner of the Packing Room Prize has ever won the Archibald itself.
Steve Peters has been the Archibald head packer for more than three decades and has awarded the Packing Room Prize since its inception in 1991, but this year Brett Cuthbertson has taken over the role. We asked Cuthbertson a few key questions to understand what he'll be looking for.
What have you learnt from working alongside previous head packer, Steve Peters?
To not take anyone or anything too seriously. That's most important. To carefully listen to what people have to say – particularly about the Archibald – but stick to your own opinion. Steve was a great teacher.
How did you become a packer in the first place?
I'm actually an installation officer. I'm part of a team that physically hangs the artwork. But at Archibald time, it's all Packing Room duties. I've been doing it for so long now that I can't remember how I first came to be working there. Just lucky, I guess.
What does it mean to you to become head packer after so long at the Gallery?
It's 37 years now, but who's counting? It's great to finally be the captain instead of the first mate. I was getting a little tired of being Gilligan.
How do your tastes differ from Steve's?
Steve has very similar tastes to me. The only difference is that I tend to lean toward celebrities. Steve liked portraits of sports people. So do I really, but I prefer celebrities from all walks of life.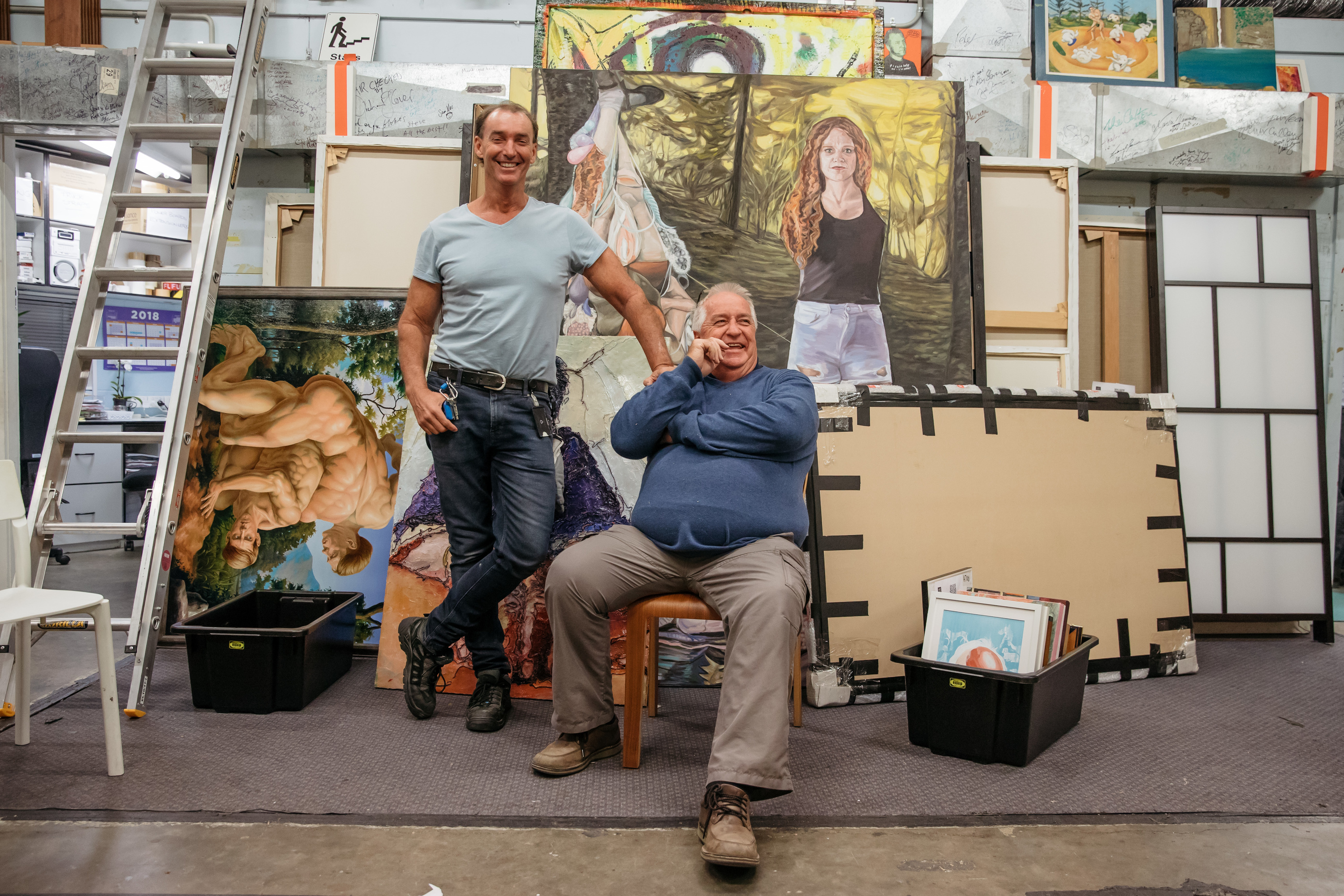 What is the atmosphere like in the packing room when the entries start arriving?
There's a real buzz. It's absolutely exhausting, but exciting. I love it. Artists come in every year to drop off their works, so it's like a family reunion. They almost are your family – a crazy, creative family. I love them all.
What is the importance of having a Packing Room Prize alongside the Archibald Prize?
I think it's very important. Non-arty people should have a say too. The Archibald Prize is judged by the Gallery's Board of Trustees – I guess you could call them art experts. They're looking at technique and style, while for the Packing Room Prize we just pick what we like. We don't care if the technique doesn't measure up.
What does a day in the life of the AGNSW head packer look like?
Every year I put my exhibition installation duties on hold to work in the Packing Room for Archibald Prize entry deliveries. At Archibald time it's all about receiving entries, registering them, unpacking them and then parading every single artwork in front of the judges. Once that's done we hang the show with the exhibition curator. Oh, and every now and then I have to answer questions like these ones.
If you could choose a previous Packing Room Prize winner to hang in your living room, which would it be?
There are two that I would like to live with. Bill Leak's portrait of Sir Les Patterson [2000] is one. Who wouldn't want that on their wall? And a portrait of Kate Ceberano, by Peter Robertson [1994].
What has surprised you most about working in an art gallery?
That I'm actually working in an art gallery. It's a great way to make a living. I wouldn't want to be doing anything else!
The Archibald Prize exhibition is at the Art Gallery of NSW from May 12 to September 8.
Check out our hit list of the best art exhibitions to see in Sydney this month.