Bentley Restaurant and Bar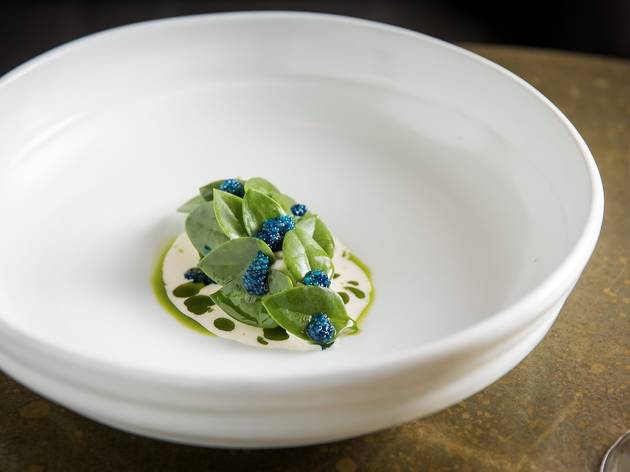 1/10
Photograph: Anna Kucera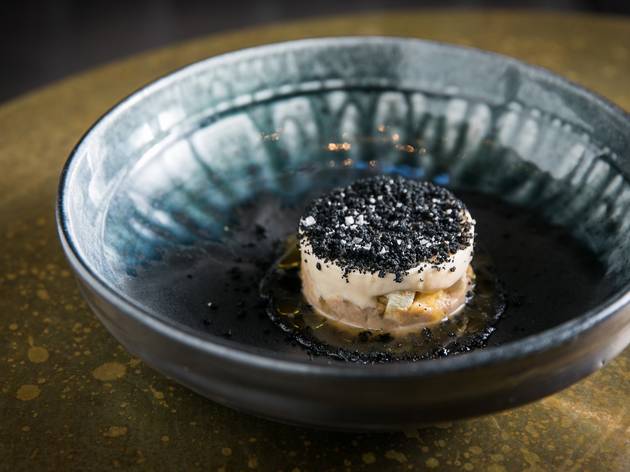 2/10
Photograph: Anna Kucera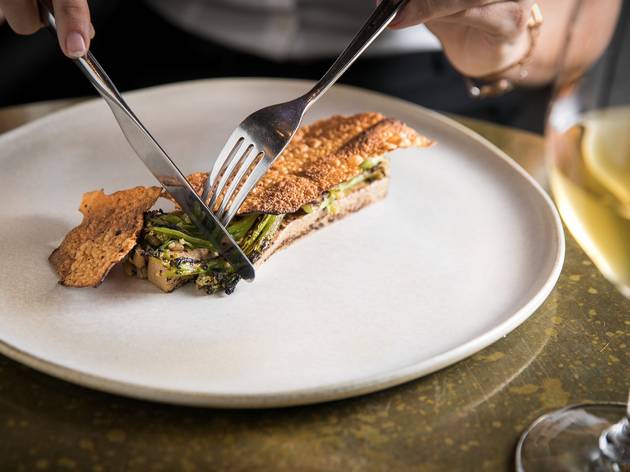 3/10
Photograph: Anna Kucera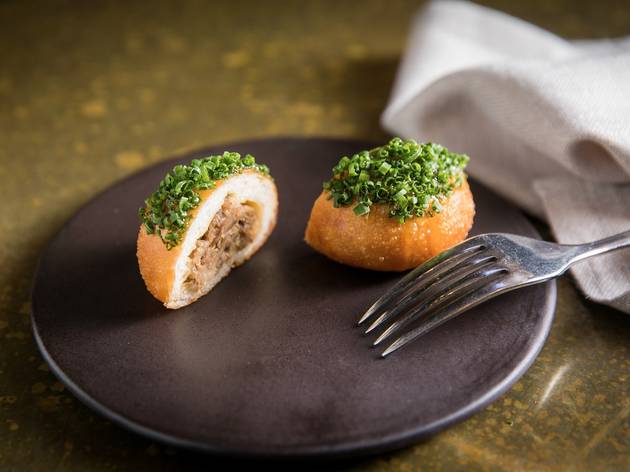 4/10
Photograph: Anna Kucera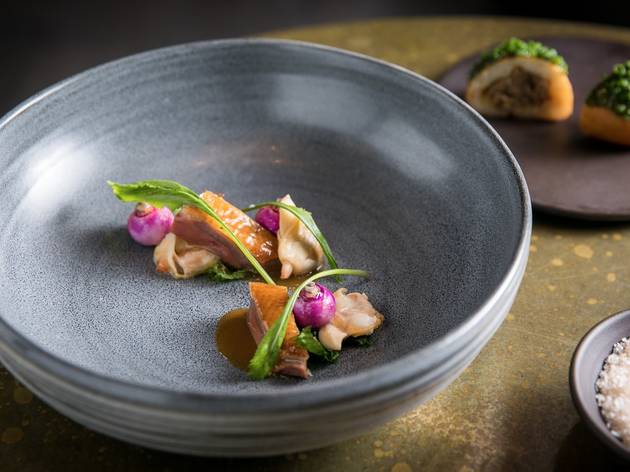 5/10
Photograph: Anna Kucera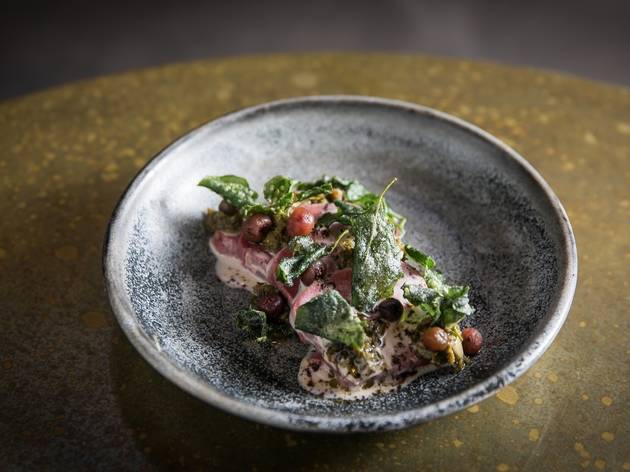 6/10
Photograph: Anna Kucera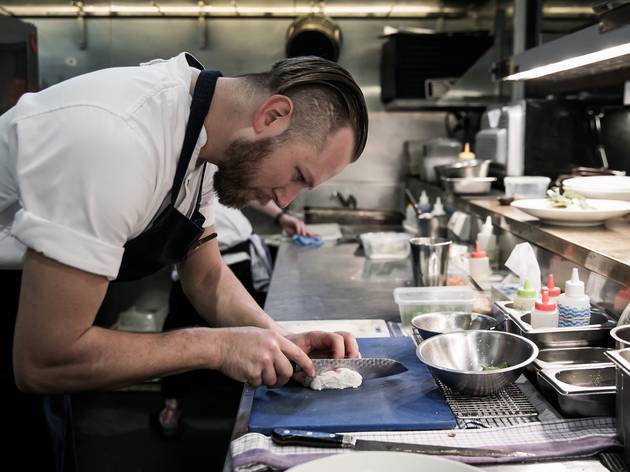 7/10
Photograph: Anna Kucera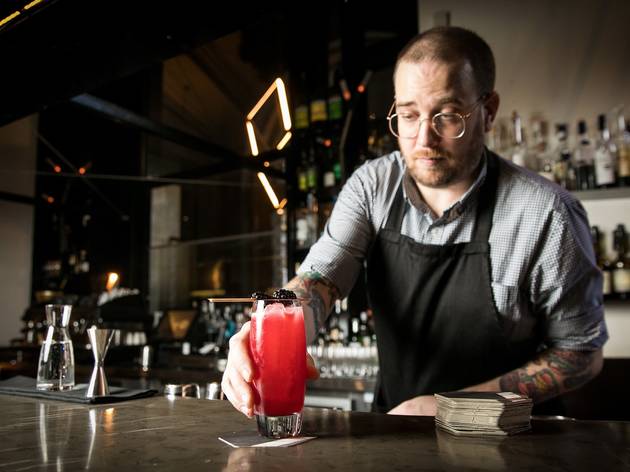 8/10
Photograph: Anna Kucera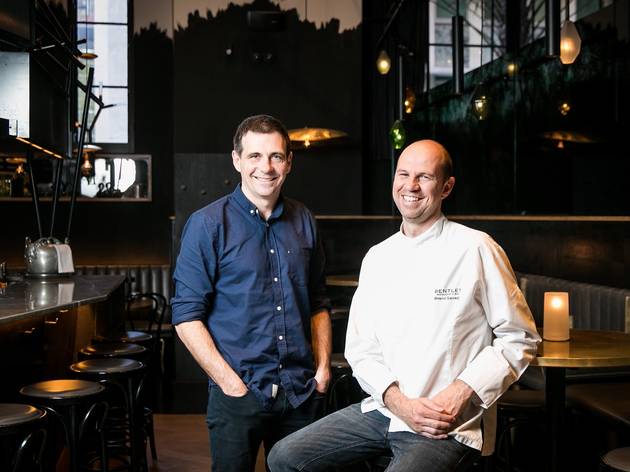 9/10
Photograph: Anna Kucera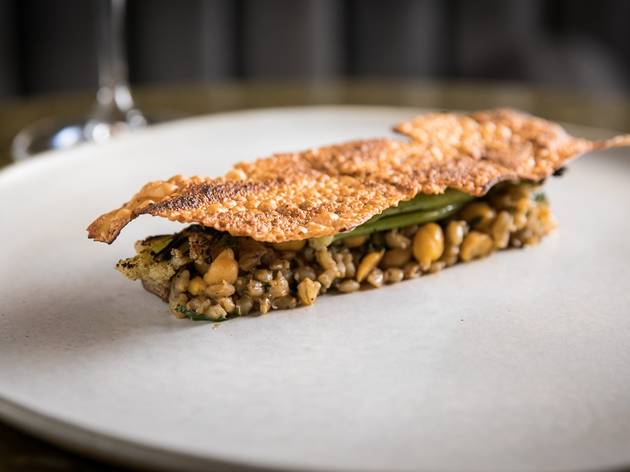 10/10
Photograph: Anna Kucera
Time Out says
This Sydney dining institution's latest trick is to turn the culinary dial to extra-luxe
The whole point of the new menu at Bentley is that you can't make it at home. Even a casual cook can probably rustle up a decent roast chook, but no one is getting a pigeon from the supermarket to craft diamond swatches of roasted meat, XO clams and little kabu turnips. They're definitely not then backing it up with a dish-within-a-dish of a sweet little fried bun stuffed with confit squab legs for hand-held deliciousness. For chefs Brent Savage and Aiden Stevens, this new approach is all about things we don't usually afford ourselves, which is also reflected in the pricing.
In saying that, if you don't want to spend $90 on a strip loin with kombu butter and chips, you can still wear your fancy pants for $27 with cold smoked, silky Wagyu tongue, sharply dressed in a herbaceous muntrie relish, fried saltbush and an emulsified jus that reframes the whole dish in your mind as a tricked-up corned beef.
For Savage, the menu is designed to reflect the things that he wants to eat when he goes out to a restaurant. "Unknowingly, the restaurant had become a little bit corporate," he tells Time Out. "You know your market and you start playing it safe. It became a bit mundane, and I wanted to throw some spanners in the works." That's why he's spending time sourcing pheasants and partridges.
At the high end of the dining game, time is also a luxury. Almonds are soaked overnight, blitzed and emulsified with butter for a riff on a Spanish white gazpacho, served warm on a piece of bass groper so tender and relaxed that the effect is the dining equivalent of lying in Egyptian cotton sheets. And the desserts are no simpler. Pineapple skins are fermented with brewers' yeast to make a tropical beer; the fruit is confit and dehydrated to make chewy jubes; lactose sourced from a Queensland brewery is caramelised into a kind of malt powder; and it's all served together with olive-oil ice cream and cream. It might sound too complicated to be delicious, but the result is a final instalment that is a joyful seesaw of richness and acidity.
Is the extra-low lighting intentional, to cut off insta-centric diners at the entrees? If it wasn't done consciously it certainly is effective – but given how much effort goes into what's on your plate, it'd be nice if you could see it without manhandling the table lamp. And that's our only real quibble with the extra moody black of the refreshed dining room.
What certainly hasn't changed is the excellence of the wine list here. Ten years of cellar-building from Nick Hildebrandt means that these guys do the hard work, squirreling away bottles for years, only cracking open a nutty, upright 2009 semillon from Brokenwood for the by-the-glass list when it's good and ready. And it has to be said that a sommelier talking about wines in terms of the amount of fun they are to drink is a strong sales technique. Their enthusiasm for a biodynamic grenache blend from Spain that tastes like fruit pie eaten in a herb garden is contagious – here's to no bad pours.
Special-occasion dining is alive and kicking at Bentley, where a little bit of luxury is the order of the day.
---
Details
Address:
Radisson Blu Hotel
27 O'Connell Street
Sydney
Sydney
2000

Contact:
Opening hours:
Lunch Mon-Fri noon-3pm; Dinner Mon-Sat 6pm-late
Rating Breakdown
5 star:

1

4 star:

0

3 star:

0

2 star:

0

1 star:

0
It's taken me seven years to finally go to Bentley at the weekend - you have to have five or eight courses on a Saturday so had five with "Matched wines" (code for get smashed?). Amazing. Not cheap. But amazing.
Can't fault the venue or service. Don't book online as it says it's full, I rang and got a table for two at eight pm no problem.
Moreton Bay Bug + Cucumber + Lemon Myrtle + Sorrel
Snapper Dashi + Roasted Celery Heart + Cured Apple
Holmbrae Chicken + Parsnip + Carrot + Chamomile
Lamb + Cauliflower + Caper Leaves + Buttermilk
Violet Ice Cream + Blueberry + Buttermilk + Honeycomb
$120 + matching wine $60