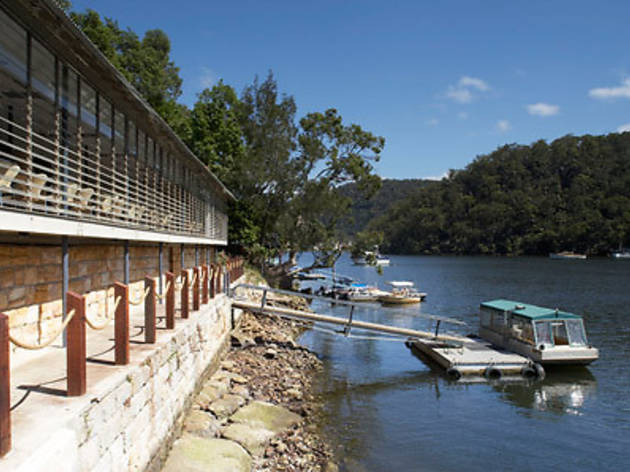 It's the same beautiful spot, with a brand-new chef. Brian Geraghty (last seen cooking at the Roosevelt) is at the helm of this historic site now, offering a seven-course degustation. See you on the sea plane.




Our previous review of Berowra Waters Inn, under chef Dietmar Sawyere




You're driving down a perilous road with a sheer cliff face on one side. Cicadas are screaming while bellbirds trill and blip. The slightly terrifying descent down to the yawning Hawkesbury River is about the most fraught drive you're likely to encounter on your way to a meal within Sydney's limits. There's no land access to Berowra Waters Inn but waiting for the restaurant's own ferryman to take you for a ride from the wharf is part of the adventure. Once upon a time they'd greet you onboard with a glass of Champagne. These days, it's Adrian Birkensleigh in a Drizabone and an Akubra.
The boat is the only way to get to Berowra Waters Inn, unless you came by your own vessel or seaplane (in which case, we'll let you get back to doing swan-dives into your enormous piles of cash). The building is designed by legendary Australian architect Glenn Murcutt. The main wall looks out to the river and is made up of glass louvres that reflect the water while the room itself is light, airy, open and works in harmony with its outside environment. There's a blissful feeling of utter seclusion.
Dietmar Sawyere's cooking helps too. This isn't silly food. The bread is house-baked, the butter is always Échiré. Start with crostini topped with eggplant caviar and slices of smoked ocean trout accompanied by squiggles of potato churros. A little cup is filled with a jumble of Oscietra and salmon caviar and topped with vichyssoise – here, like a sort of cold potato mousse that blends with the briny pop of the fish eggs. Off to the side are a couple of deep-fried oysters on a bed of creamed leek. As much as we're not really fans of duos and trios of things, this one works. Little ricotta-and-spinach mezzalune (a little half-moon pasta shape) are scattered with juicy little bits of chanterelle mushrooms and shaved truffle.
Our only problem with the snacks at the moment is that BWI have joined the ranks of places that refuse you a menu, and instead ask that you go on a bit of a magical mystery tour. We liked it a lot more when the menu was more of a Choose Your Own Adventure. Still, it's a small gripe in the face of such a winning combination of wine-and-service smarts and sharp cooking. And all in such a spectacular setting.
For dessert, a little slice of goat's cheesecake is accompanied by a single toffeed hazelnut that stands almost a foot tall. But dish of the day goes to the rum baba – a booze-soaked cakelet with slices of roast pear and an incredibly light-yet-rich caramel mousse. You can keep your chocolate desserts – we go bananas over caramel. You know, you could probably shape the entire argument for Dietmar Sawyere's menu on the man's use of mint. In the age of borage flowers and micro herbs, Sawyere garnishes with perfect mint sprigs. Some say retro; we say classic.
Berowra Waters Inn is special. You can feel it as you approach the restaurant by water, surrounded by bushland and singing birds, jumping fish and the odd bullshark. There is no other restaurant like this in Sydney.
Venue name:
Berowra Waters Inn
Contact:
Address:
Via east or west public wharves
Bay Rd
Berowra Waters
Sydney
2082

Opening hours:
Dinner: Thu-Sat 6.30pm; Lunch: Fri-Sun 12 noon-5pm