Cafés on Military Road-Spit Road
Here are some top places to get a caffeine fix on the Lower North Shore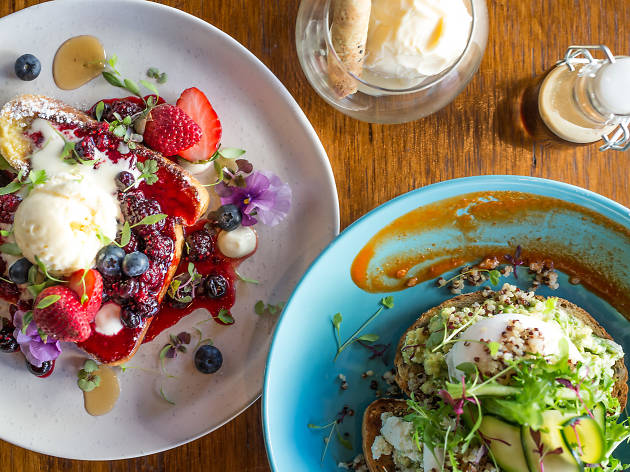 You've travelled along the busy Military Road-Spit Road, but have you tried any of its cafés? Sometimes you've just got to take the time to stop and smell the coffee – and the Lower North Shore has some seriously good cafés in which to do so. Refuel with a brew and a bite to eat at one of the top cafés along Military Road-Spit Road.
Staying for dinner? The area has plenty of good Asian restaurants.
Cafés on Military Road-Spit Road
For a café where the espresso machine alone seems to take up half the space, Shot can fit an impressive number of diners. Sit at a table inside if you like, but you're better off nabbing a seat at the sunlit bar so you can gaze across at the Art Deco Hayden Orpheum Picture Palace across the road. The menu is short, simple and filled with classic café favourites like smashed avo and toasties.
Cooked food is so last season – at least at Little Raw Co. The café and patisserie sells raw handmade cupcakes, truffles and full-sized cakes, all of them made using only a blender, food processor and dehydrator. Eat in and pair your cupcake with an organic tea or coffee, or order in bulk to binge-eat raw treats at home.
This petite coffee house conceals a triple threat: good coffee, decent food and ace customer service. Take your pick from the comfortable indoor and outdoor seating and order one of the Don's Central American-inspired dishes to have with your single origin coffee.
The Monkey House Café serves up light meals and coffeeshop treats inspired by a fusion of Eastern and Western flavours. Their drunken prawn pasta adds Chinese flair to Italy's spaghetti con gamberi, while their huge chicken schnitzel burgers show they've got the classics down pat. There's a focus on fresh, healthy ingredients, but it doesn't ever feel like a 'healthy eating' type of operation.
It's appropriate that St Honoré is named after the patron saint of bakers because the food here is heavenly. You could grab a sweet or savoury French pastry on the run, but it would be a shame not to make use of the café's large seating area.
On your way to work but forgot to eat breakfast? Brother Fox Espresso make sandwiches and salads to order as well as offering coffee and freshly squeezed juices. Situated right before the Neutral Bay junction, Brother Fox is in the perfect location for a quick and healthy breakfast or lunch on the go.
On the corner of Minsky's Hotel you'll find Crumbs Café, a dinky little place with a vaguely Parisien atmosphere. In the afternoons the café is bathed in sunlight making it an ideal place for a coffee and warm Belgian waffle – sit at the window bar for optimum basking.
It's easy to forget you're on Military Road while sitting in La Baguette. Hidden away at the rear of Theo's Arcade, the café has exposed brick walls, turquoise highlights and faux leather booth seating that seem more appropriate for an old bistro in Cannes than Neutral Bay.