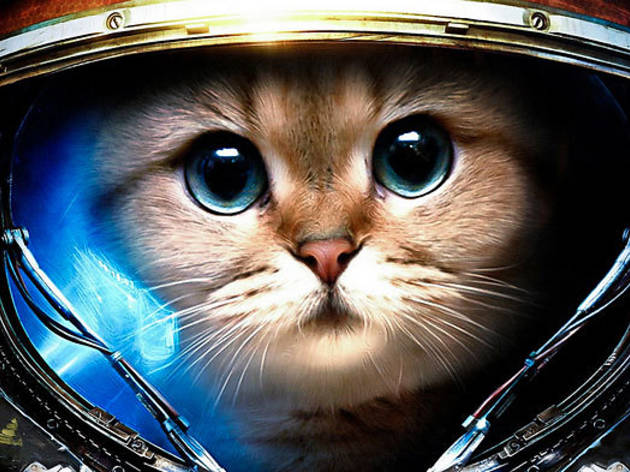 The kittehs are coming
First Melbourne got a cat café, and now it's Sydney's turn to combine coffee and cats for the ultimate friends-of-felines experience. Catmosphere Sydney is the brainchild (erm, brainkitten?) of self-professed cat obsessive Thomas Derricott and Wenee Yap of Sydney-based marketing startup firm the Ducky Mafia, and the result of a trip they took to Chiang Mai last year, where they stumbled upon what they call the "mothership" for their venture, which has a cheeky deep-space theme.

Since announcing plans for their catstronauts to land in Sydney last month, Derricott and Yap have been hard at work looking to secure investors as well as a space in the CBD; in meantime, they've begun recruiting personable rescue cats from Inner City Strays, and are also in talks with the Sydney Dogs and Cats Home and the World League for Protection of Animals. They've also secured Yun Xia Segal, the former Books Kinokuniya café manager, to manage the food side of things. A dedicated cat handler will always be on call to ensure catfights are avoided – that means no bringing your own cat along for a play date – and that cats who are just sick and tired of those human things slobbering over them get a rest. (Cats are expected to be 'rotated' for visits every few hours.)
Now, germaphobes, we can feel you grimacing from here, and know what you're thinking: how on earth am I going to be able to enjoy my long black and caramel slice without the risk of swallowing a fur ball? Derricott tells Time Out Sydney the venue will be constructed in accordance with council regulations, and will feature a felines-only area separated from the café by a special airlock. Guests will also be required to sanitise and wash their hands when they enter and exit the cats' area. (Our advice for the allergic: take your Telfast... or just stay home.)

Finally, Derricott reveals that though the cats will be rescues without a permanent home, there are no plans to offer them up for adoption. "It was a logistical decision," he reveals. "We didn't want to create a transient environment where new cats are coming and going, but we do want to create one where people are encouraged to adopt cats." He says one idea being nutted out with Inner City Strays is to offer iPads in the café area that feature 'dating profiles' of current strays up for adoption. "We want people to emerge from spending time with the cats and get inspired to bring a new one into their own lives."

Catmosphere Sydney is aiming for a July opening; in the meantime, they're selling advance tickets, merchandise and cat naming rights on their Indiegogo page.
| | |
| --- | --- |
| Venue name: | Catmosphere Sydney |
| Contact: | |
| Address: | Around Sydney |