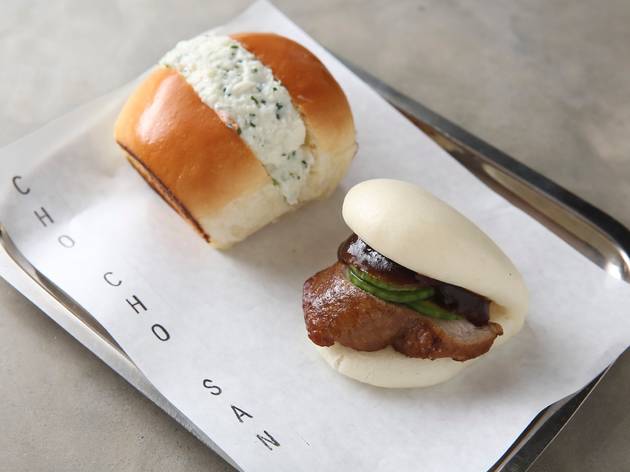 1/8
Photograph: Anna Kucera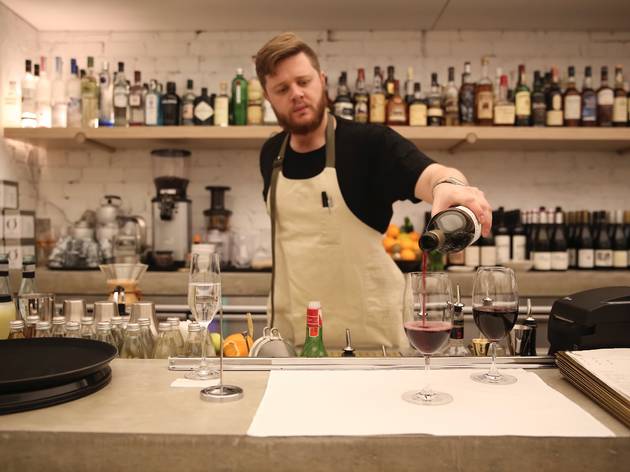 2/8
Photograph: Anna Kucera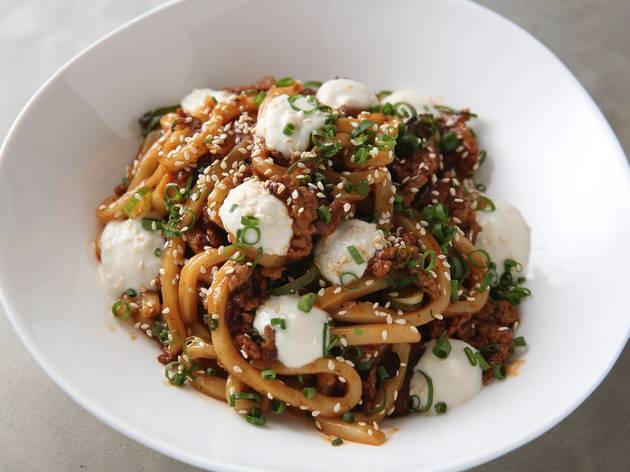 3/8
Photograph: Anna Kucera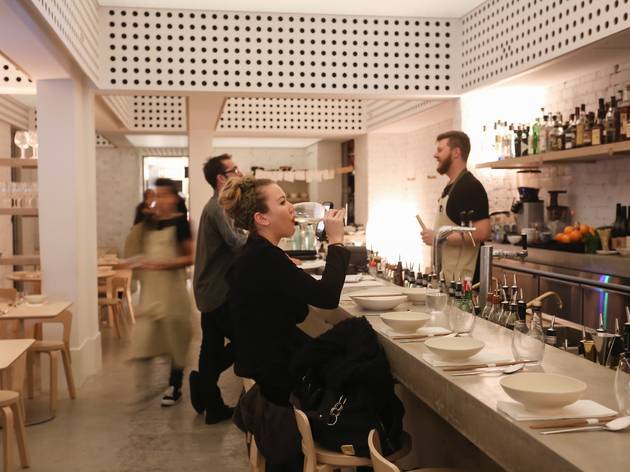 4/8
Photograph: Anna Kucera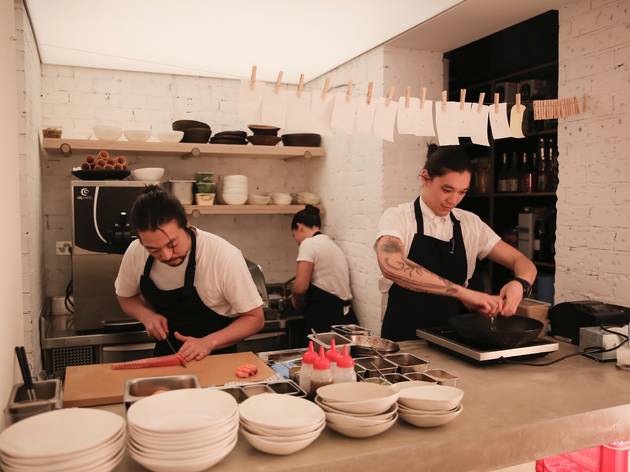 5/8
Photograph: Anna Kucera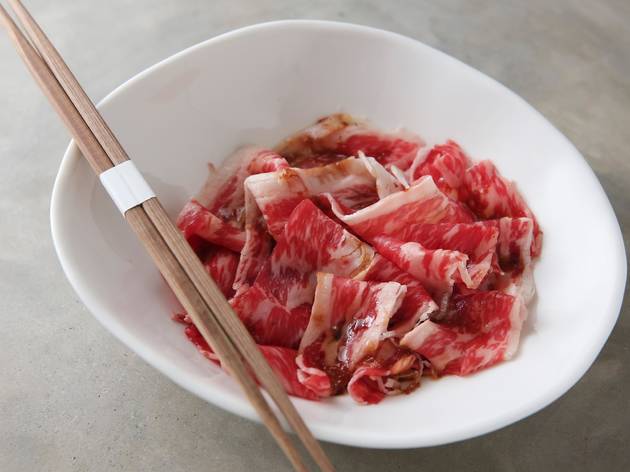 6/8
Photograph: Anna Kucera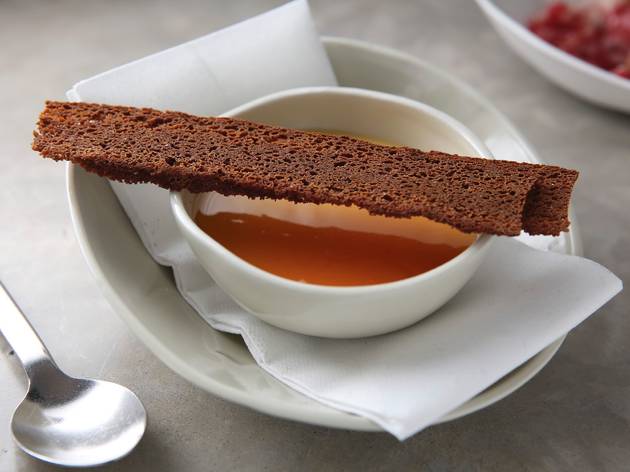 7/8
Photograph: Anna Kucera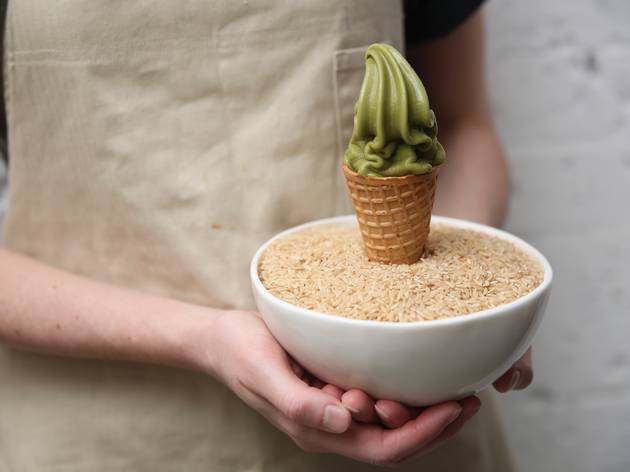 8/8
Photograph: Anna Kucera
Just try not to have a good time at this beautiful Potts Point eatery
Cho Cho San has what is quite possibly the most beautiful restaurant interior in Sydney. The work of restaurant designer du jour George Livissianis, it's all about Nordic cool versus Japanese refinement: think polished concrete, whitewashed bricks and pale birch plywood furnishings. The ceiling is made up of a giant light box that can be brightened and faded at the touch of a button, and hidden acoustic foam means you can actually hear the conversation with your dining partner, despite the place being invariably packed.
Behind the scenes is pretty much Sydney's dining dream team. Ex-Billy Kwong, Bodega and Rockpool chef Nic Wong heads up the kitchen with help from Jonathan Barthelmess, who co-owns the joint with Sam Christie. The latter two also own the Apollo up the road, and Christie is responsible for Longrain and Subcontinental over the hill in Surry Hills. Now that's who you want to open your restaurant.
So there's that. Shall we talk about the food now?
Like the interior, the menu is pared-back with a Japanese feel. Inspired by the izakayas of Japan, where Barthelmess and Christie have both spent a good deal of time, it has plenty of snacks, raw options and meats cooked over coals, and the drinks list is as impressive as the food. To kick things off, order up a strong, punchy Nippy Rockshop cocktail (Cho Cho's take on a Negroni made with sake, Tanqueray gin, Antica Formula and Aperol) and a coupla pork katsu buns: pillowy steamed bao buns encasing soft, buttery panko-encrusted shredded pork, deep-fried to crisp perfection. There's a spicy sriracha mayo for heat and some finely sliced cabbage for freshness. We could eat ten of these and still be begging for more. Watch out, Momofuku.
For something cleaner, try the scampi – you've never had it like this before. Served raw in a pool of sweet, light ponzu dressing, it's accompanied with long matchsticks of kohlrabi, the firmness of which only heighten the soft, silky texture of the shellfish.
Referencing the shreddy nature of crabmeat itself, the snow crab omelette comes as a giant puff of crunch on the plate. The eggs have been very loosely scrambled (more than one lightly-cooked yolk bursts onto the plate as we cut into it) and tossed with the sweet meat before being fried. Curry powder recalls the flavour of laksa – and even, dare we say it, curry sauce – but by way of its deft handling, in a really good way. The layers of crunch fold in the mouth like savoury fairy floss, and make this a must-order dish.
Try the king prawns cooked over coals and tossed in kombu butter for something more pure, but order some rice on the side to mop up all those buttery, sticky prawn juices on the plate. In contrast, the flavours in the Japanese bolognaise are pretty one-dimensional (sweet and carby), making this more of a comfort feed than a polished dish. Instead, go for the teriyaki beef short rib. It isn't overly sweet, and the meat and fat have been cooked to ultra tenderness so that the flavour becomes achingly creamy. Seasoning is achieved by a salty soy glaze, little folds of pickled carrot, sesame seeds and a dousing of peppery olive oil. Traditional it ain't.
There is an impressive wine list, but we say mix it up and try a natural sake like the Tamagawa from Kyoto. At only $10 a glass it's a bargain, and tastes sweeter and more mushroomy than the more refined sakes you might be used to.
Everyone's nuts about the green tea soft serve at this place, and there's a reason for that. Served in cones for $6 a pop when we visit, it's an ultra-smooth, refreshing gelato that ends the meal perfectly. In a way it's a reflection of the restaurant as a whole: it looks playful and low key, but when you taste it, recognising the silky texture and balance of flavour, you realise that more work has gone into this that you thought. It's fancy stuff, but you still feel relaxed. That's Cho Cho San.
Venue name:
Cho Cho San
Contact:
Address:
73 Macleay St
Potts Point
2011

Opening hours:
Mon-Thurs 5.30-11pm; Fri-Sun noon-11pm