The best Japanese restaurants in Sydney
If you are looking for a Japanese culinary experience in Sydney, these are the best of the lot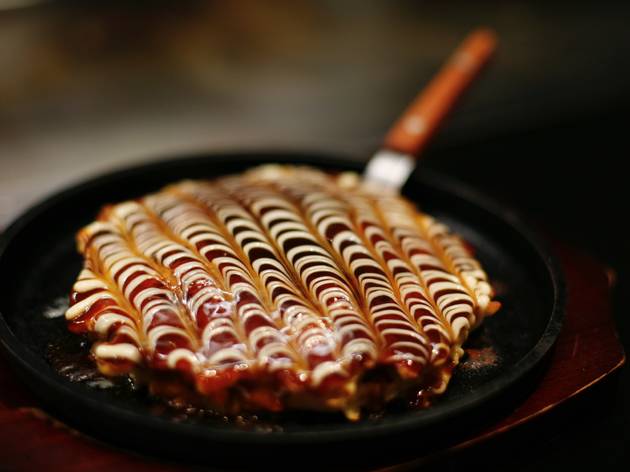 Japanese food fits into the Sydney climate like soybeans fit into their little pods. And so it's good that, thanks to all of the incredible Japanese chefs gracing our shores, we know how to do it right. From the sushi roll lunch-run to the full sashimi-laden dego, here's where to do Japanese in Sydney.
Best for... ramen
For $50 at Komachi you'll receive a bowl of pork ramen of gargantuan proportions. If you can eat the entire thing (all while the theme from Rocky plays in the background) they'll refund your cash and you get your picture up on the wall of fame - a feat only 15 people have achieved.
Read more
Best for... Japophiles
Touch screens! They're the first in Australia to have them, it's as close to being in Tokyo as you're going to get in Sydney and it's very fun. Each screen displays a different category: drinks, grills, sushi, etc. The food's good, there's plenty to choose from and they're open until 2am seven nights a week. Don't miss the SUSHIan roulette - six pieces of salmon sushi are arranged like the barrel of a gun and one of them is jam-packed with wasabi. From the outside, each of the pieces is lightly painted in the massively hot paste so there's no way of telling which is the eye-waterer. Bam! There's also a list of birthday cocktails where each non-alcoholic drink is designed around a birth colour - if you can prove it's your birthday that day they'll give you one for free. There's also a bottle-keep system - you can purchase straight spirits and if you don't drink it all, they'll keep the bottle until your next visit. Schweet! Bill please? At the touch of a button.
Read more
Best for... soba
Oh, the soba. Hot or cold, it's all good. There's even a page at the back of the menu explaining how to eat it: you're actually supposed to slurp.
Read more
Best for... Japanese tapas
If you're sceptical about 'Japanese tapas' don't worry. While the 'series of small dishes' rule still applies, its more a DIY degustation rather than the scarier possibility of tempura chorizo or patatas teriyaki. The menu features a series of small, modern dishes with a delicate Japanese touch, starting with lighter offerings and progressing into heartier fare. The attentive Japaz staff suggest around six dishes between two people as the general rule and the journey commences with witlof leaves stuffed with crab, green apple and lime salad with sour apple jus. A few too many flavours detract from the delicate crab, but it's an interesting combination of textures. Swordfish with preserved lemon jus sees the fish seared and finished with aniseed liqueur - the only disappointment is there isn't more to go around. Fortunately the scallops with sweet soy and onion butter arrive - the dish is clean, simple and reserved, letting the scallops lead. Eggplant with pinenuts and cured mullet row is testament to the fact vegetable-based dishes can be as creative and substantial as their meaty counterparts. And speaking of meaty, the rich stewy, wagyu topped with almond cream is a mouth-melter of tender proportions. Try the coarsely grated manchego cheese served with rum 'n' raisin gelato and topped with nut praline-sounds like fusion-dining-gone-wrong but it works surprisingly well. It may not be Japanese, tapas or even Japanese tapas but this is one newbie to keep an eye on.
Read more
Best for... Japanese experience
A world class dining experience that leaves the rest for dead. A 12-course tasting menu can start with anything from fresh oysters to spanner crab custard with parsely oil then work all the way through to the most tender, rich wagyu beef and slices of stunning raw fish. Unsurpassed ingredients, outstanding service and you can even BYO. Wow!


Read more
Or how about some Thai...?
In Sydney, there's good Thai and there's great Thai, and we're all about the latter. From the best deep-fried snapper to the finest pad Thai outside of Chang Mai, here's our list of the best places to get your Sydney-Samui on in town.
Read more