Continental Deli Bar Bistro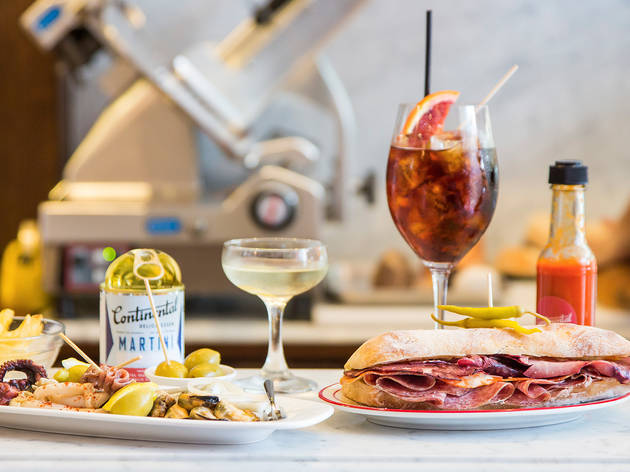 1/18
Photograph: Anna Kucera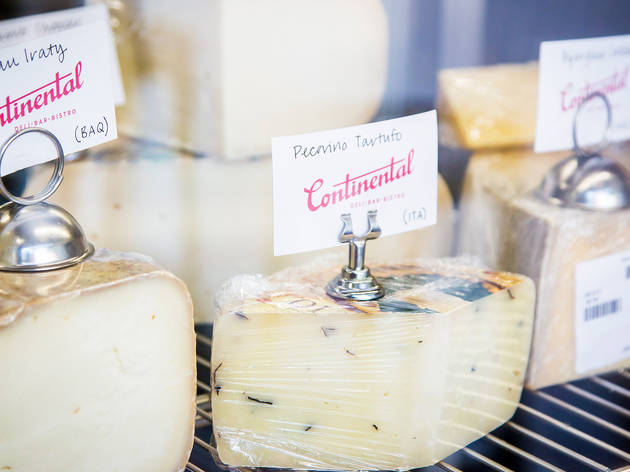 2/18
Photograph: Anna Kucera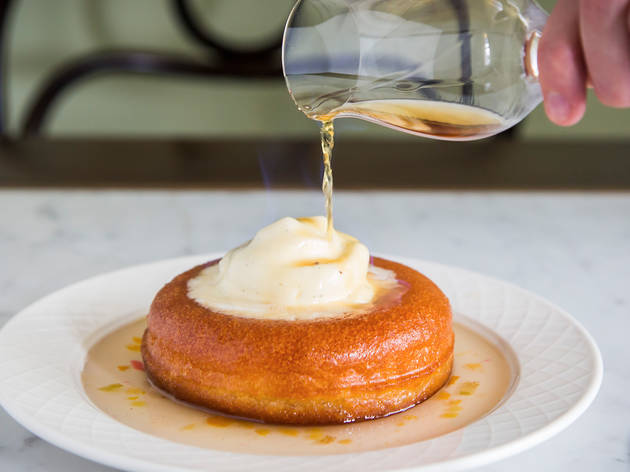 3/18
Photograph: Anna Kucera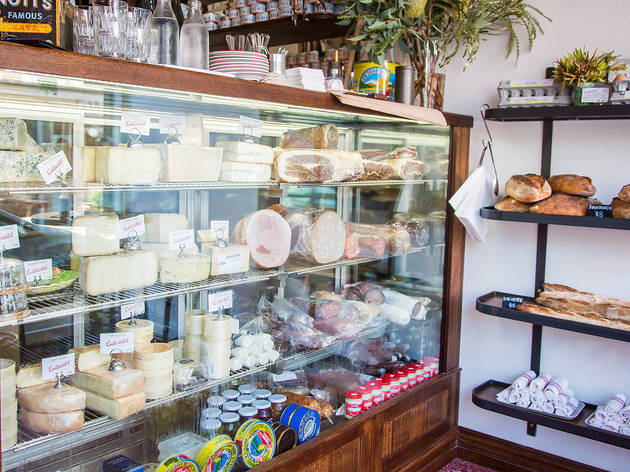 4/18
Photograph: Anna Kucera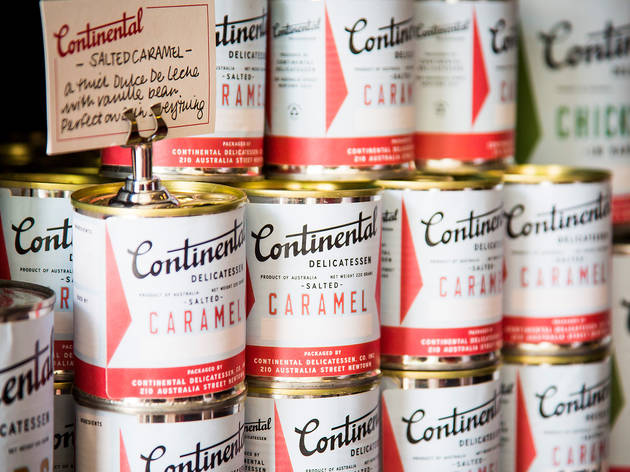 5/18
Photograph: Anna Kucera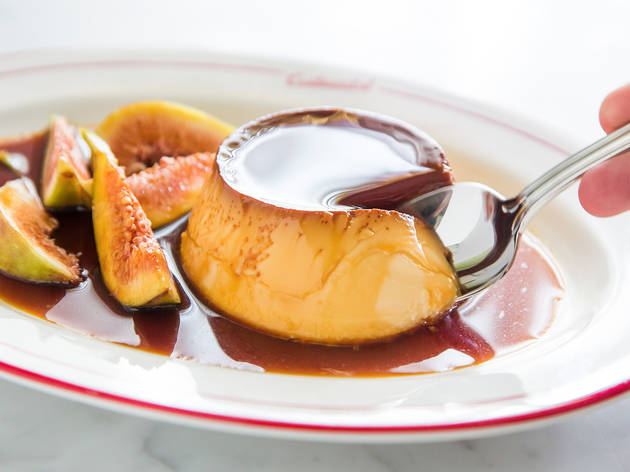 6/18
Photograph: Anna Kucera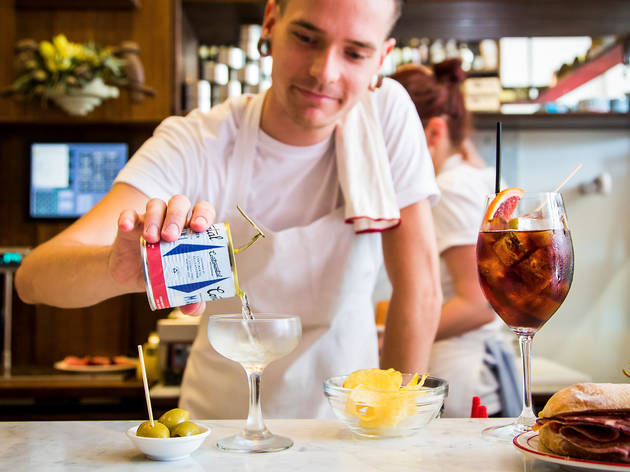 7/18
Photograph: Anna Kucera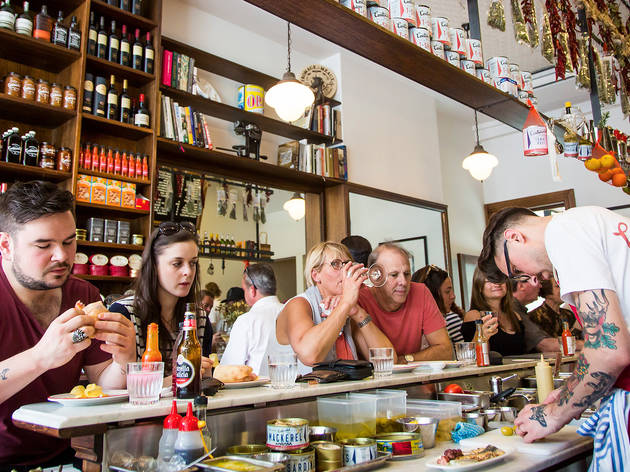 8/18
Photograph: Anna Kucera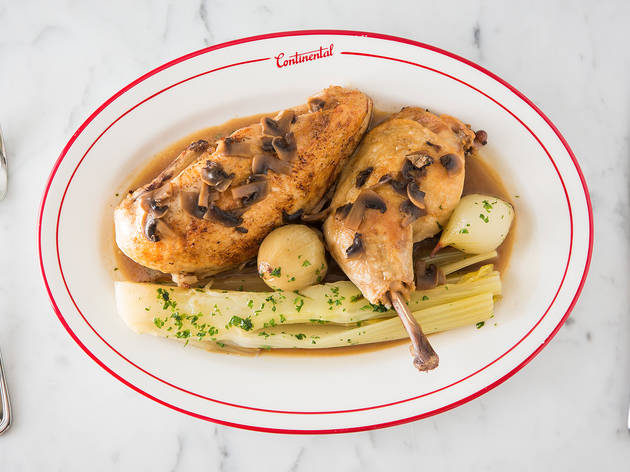 9/18
Photograph: Anna Kucera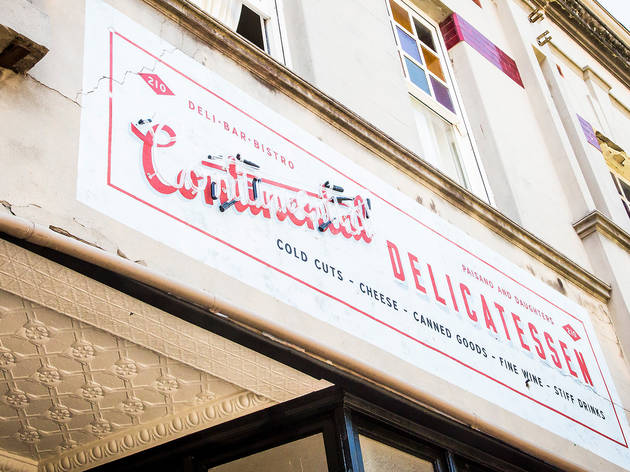 10/18
Photograph: Anna Kucera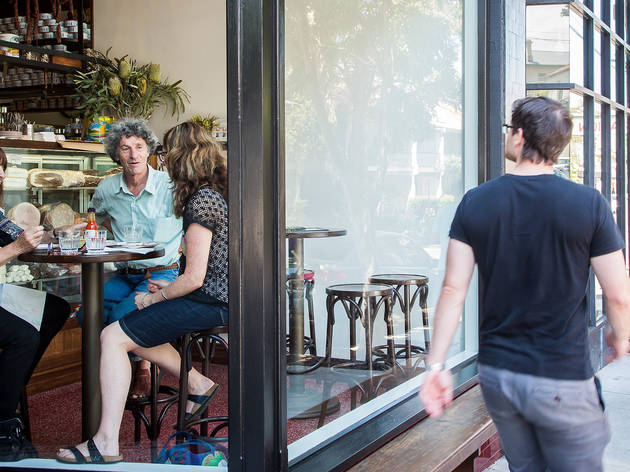 11/18
Photograph: Anna Kucera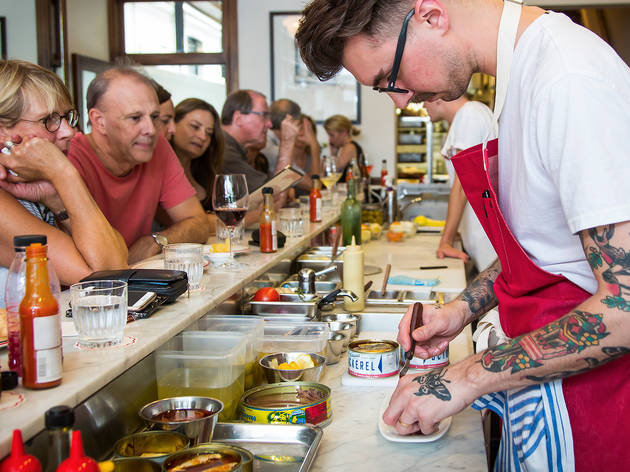 12/18
Photograph: Anna Kucera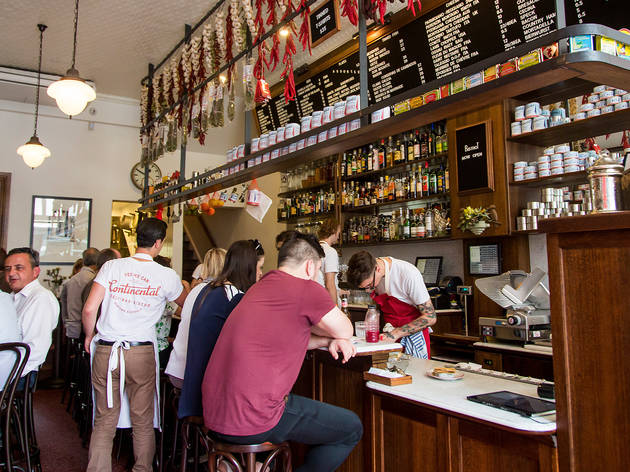 13/18
Photograph: Anna Kucera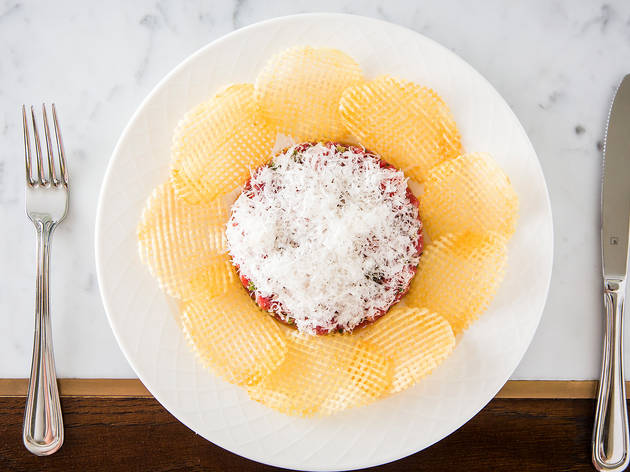 14/18
Photograph: Anna Kucera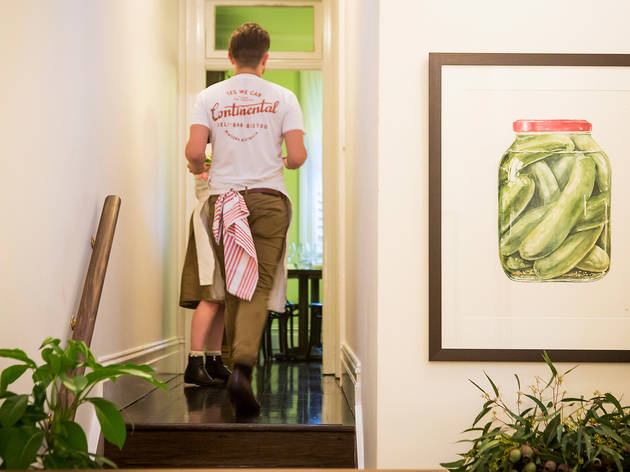 15/18
Photograph: Anna Kucera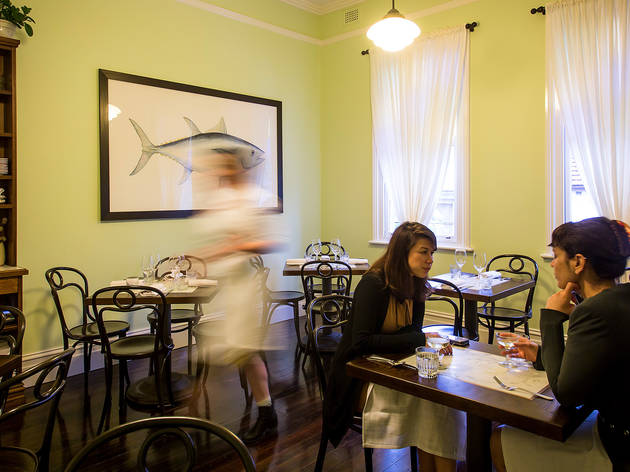 16/18
Photograph: Anna Kucera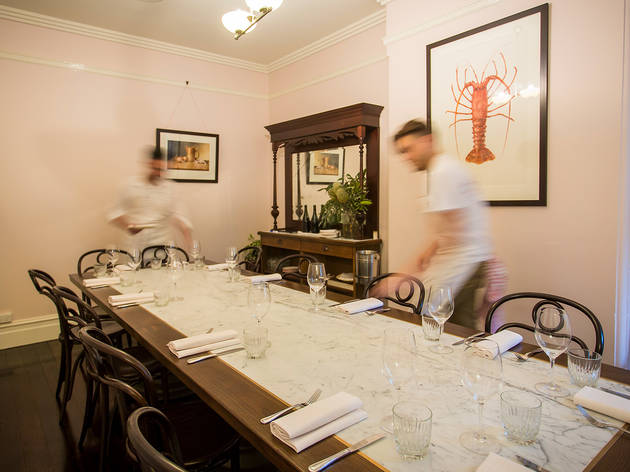 17/18
Photograph: Anna Kucera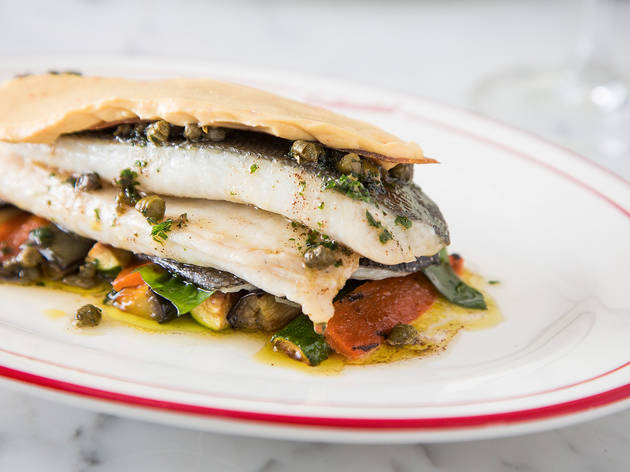 18/18
Photograph: Anna Kucera
Sydney's raddest restaurateurs kill it again (twice) at their new dual-purpose eatery
Opened by two of the greatest restaurateurs Sydney has seen in recent times, Elvis Abrahanowicz and Joe Valore of Porteño, Gardel's Bar and Bodega (which they co-own with Ben Milgate), and LP's Quality Meats (which they co-own with Luke Powell), this is more than just a restaurant. At Continental in Newtown a downstairs deli opens at 11am and becomes a casual bar/restaurant as the later hours creep in, while upstairs there's a bistro for those fancier nights out. Sambos and tapas are on offer in the deli, while the bistro-experience is all Old World elegance. Both have head chef Jesse Warkentin on the pans, and both, we think, are mind-blowingly good.
By day... The deli
It's so chilled down here you might never want to leave. It looks like one of those classically styled cafés you only seem to find in Italy (minus the suited and booted Italians shooting down espressos). Slow beats on the playlist and long strings of chillies, garlic and sausages hanging above the elegant marble bar make lingering the only option. Cheeses are laid out fastidiously, like a nan arranging her crockery, and ceiling-high shelving is bedecked with a greatest hits selection of preserved food – Ortiz anchovies from Spain, la Belle-Iloise sardines from France, Riga sprats from Latvia. But a lot of what they're selling, they are making. From sausages to smoked maple syrup, tinned fish and curried lentils, these guys are canning like the Apocalypse is coming and they need to ready the bunker.
The four-meat wurst sandwich is all types of amazing, while the fishplate is pleasingly diverse (from WA octopus dressed in jamón oil to sardines preserved in tapenade) and surprisingly fresh, given it features a hodgepodge of sea-creatures preserved out the back.
You'd be a fool not to have a drink with all this salty fare (especially given that Valore comes from a dynasty of wine merchants: this man knows his booze). We love the refreshing House Spritz for summer made with Amaro Averna, pear syrup (used to poach the pears you can buy ready-tinned), soda and orange bitters. It feels like the sort of drink you'd get in the '50s – iced up to the nines in a wine glass, a round of blood orange and green olive garnishing the top.
Or go a gin Martini. Here they're called Mar-Tinnys as they come in a can (canned onsite!), the Tanqueray, Lillet Blanc and purified water infused with fresh lemon zest, lending it a citrusy tang that helps to balance all that strong alcohol. You get three green olives on the side to make it dirty if that's your bag. Otherwise they make a delightful snack. It's the best Martini we've had in ages. The whole thing makes you feel all continental, sitting at a marble bar drinking strong spirits with salty sides.
By night… The bistro
For dinner, we'd recommending coming in ahead of your booking and starting things off with one of those Martinis down in the deli. They're a perfect aperitif before you head upstairs. It's like wandering around someone's house up here, with a formal private dining room and a general dining space that holds only a handful of tables, and vintage furnishings that are more nana than glama. But that's the magic of the bistro: it is achingly unhip. Dining without pretension or fad to distract you feels so good.
Start with the steak tartare. Grain-fed sirloin is chopped up and tossed with tiny capers, cubed cornichons and eschallots, rinsed with egg yolk and topped with freshly grated, 24-month aged Reggiano Parmigiano cheese, surrounded by a fan of house-made lattice crisps. Scoop up the meat onto the chips and eat. It's perfectly seasoned, with umami coming from the meat and cheese; acidity from the cornichons, cream from the egg yolk and salt from the capers. Try it with the Paisano & Daughters pinot noir from SA, which is leathery, woody and light.
Want a veggie option? Abrahanowicz's wife, Sarah Doyle, is a vegetarian, so you're always going to get fantastic veggie options at any of their restaurants, despite their meaty reputations. The tarte tatin is a great way to eat Holy Goat cheese without the price tag you'll pay in the shops (think up to $20 for 50 gram's worth). Three rounds of their chèvre are layered on top of whole, slow-cooked eschallots and short, buttery pastry. This dish could easily have been too sweet, but instead it's a perfect balance of salty cheese and savoury eschallots, with a hint of pepper from the watercress garnish and freshness coming from a few slices of pear.
For mains go the fish of the day. On this occasion it's red mullet, separated into two generously-sized fillets laid out on a bed of ratatouille. But it isn't the tomatoey slop you're used to. Here each vegetable – eggplant, zucchini, capsicum – has been cooked separately, so each offers the best of itself. Every eggplant and zucchini baton is soft and slightly caramelised, the capsicum is silky and smooth. It's sitting in a pool of fruity olive oil, with a thin-as-lace piece of Melba toast on top slicked with taramasalata, which feels like a toy in a Happy Meal: a cheeky bonus.
The roast chicken is like something your nan would make (if she was a ridiculously talented chef) – breast alongside leg cooked confit, and a tender, braised celery stalk, with a gravy infused with Walsh & Son's light Little Poppet Semillon Chardonnay (which we advise drinking alongside this dish).
Dessert is going to trip you up – what do you go for, elegance or drama? If it's the former then order the crème caramel. It is silky-smooth creaminess balanced by bitter caramel, cubed fresh figs and whipped cream studded with smashed-up pieces of crunchy hazelnut praline.
After something showy? Look no further than the Rhum Baba. Here the yeasted bread-like cake is soaked in rum syrup infused with clove and orange peel, and topped with candied local kumquats, mustard fruits and Chantilly cream. When it's served, the waiter approaches us with a little cutglass jug filled with around two shots of OP rum. He pours the booze over the baba at the table and immediately sets it alight. Blue flames engulf the cake and we're advised to wait until they die down before we cut off a wedge. The dessert slowly begins to caramelise at the edges as the flames gently deplete, and when we tuck in it's rich, not too sweet, and very, very alcoholic.
There's nothing like ending a meal with fire. Or with a cocktail, actually – which this cake is in a way. Continental, it seems, has all bases covered, whether it's contemporary tapas and cocktails, fancy old school dining or a meal to takeaway for a rainy day (we're looking at you, giant can of chickpeas with harissa). It may not be the cheapest deli/bistro in town, but it's a lot more affordable than a trip to Europe.
Venue name:
Continental Deli Bar Bistro
Contact:
Address:
210 Australia Street
Newtown
2042

Opening hours:
Daily noon-late
Price:
$$