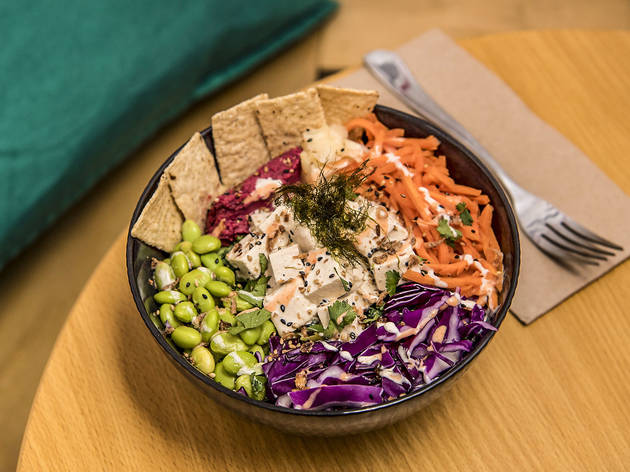 1/11
Photograph: Cassandra Hannagan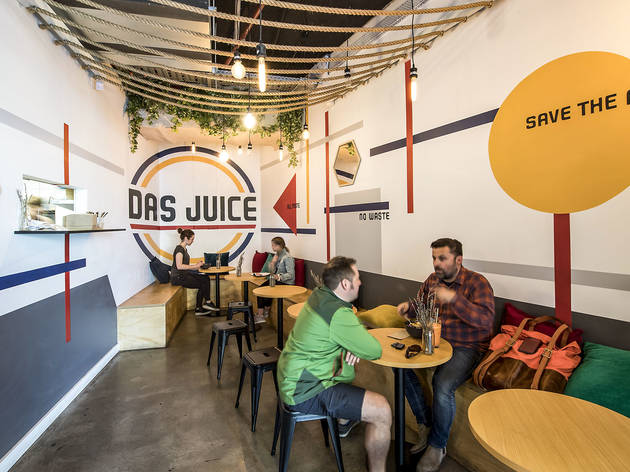 2/11
Photograph: Cassandra Hannagan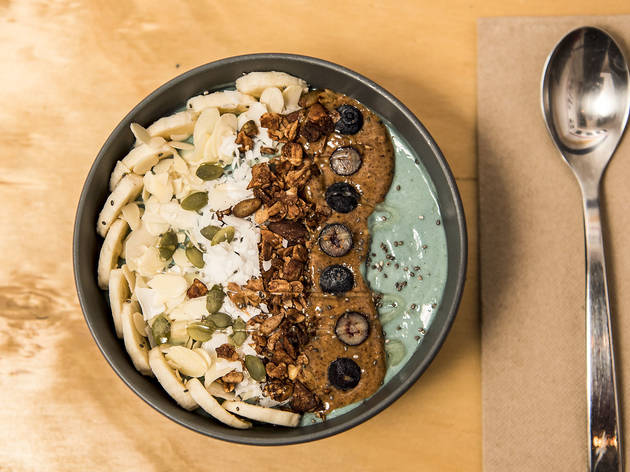 3/11
Photograph: Cassandra Hannagan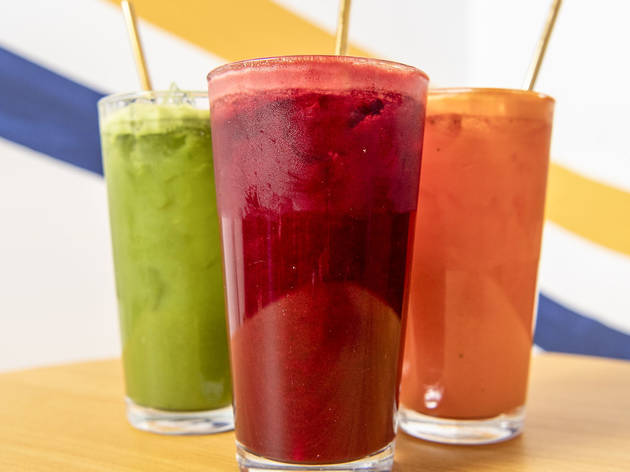 4/11
Photograph: Cassandra Hannagan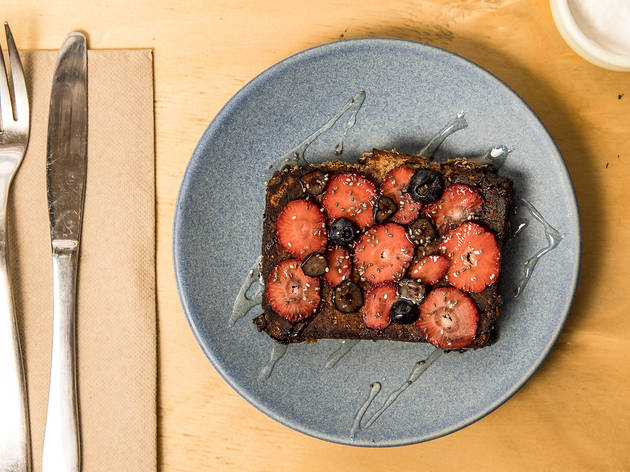 5/11
Photograph: Cassandra Hannagan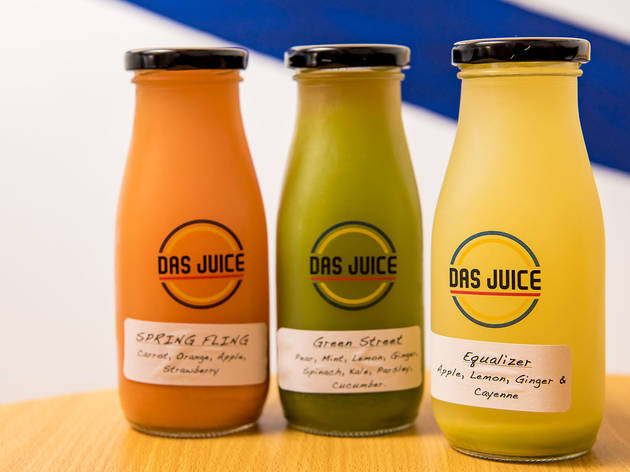 6/11
Photograph: Cassandra Hannagan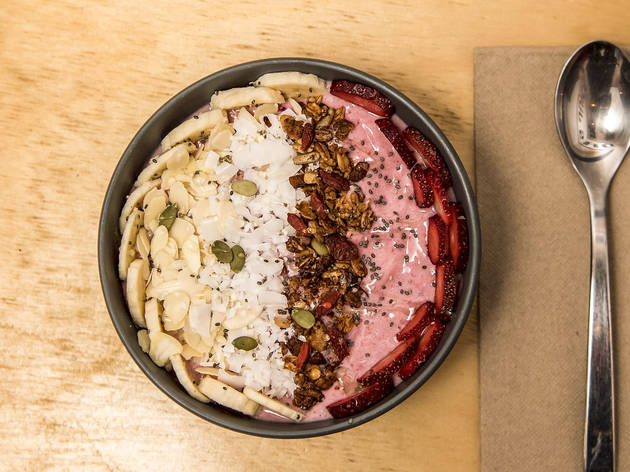 7/11
Photograph: Cassandra Hannagan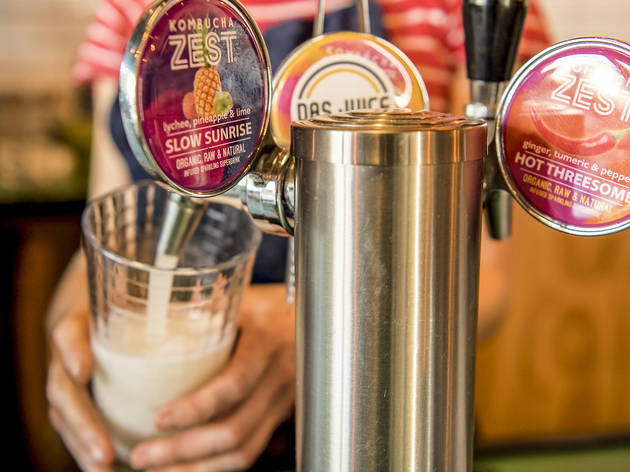 8/11
Photograph: Cassandra Hannagan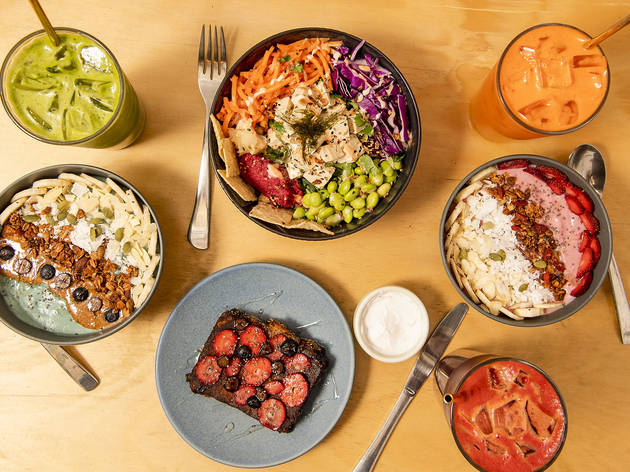 9/11
Photograph: Cassandra Hannagan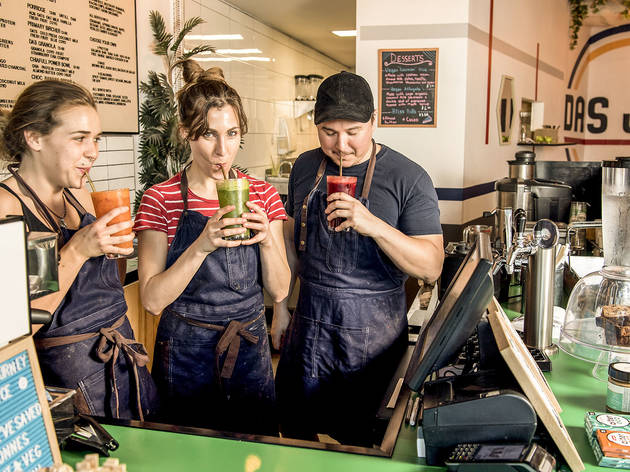 10/11
Photograph: Cassandra Hannagan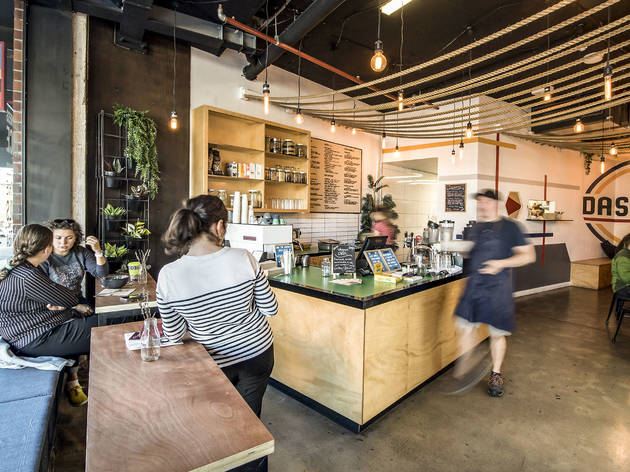 11/11
Photograph: Cassandra Hannagan
Time Out says
Respected CBD cocktail slingers try their hands at the aspirational café game
It's almost impossible to walk 500 metres in Sydney these days without the offer of a poké bowl or a cold-pressed juice. So when a café specialising in both of those things comes along, it's hardly revolutionary. Das Juice doesn't have a frilly fit-out. The menu of mostly juices, smoothies and bowls reads mostly like something you have seen before. Yet, behind the unassuming glass-paned shopfront on Regent Street in Redfern, co-owners Lara Dignam, Michael Dhinse and Joshua Ng are doing something worth talking about.
Recognise those names? They're also the owners of CBD cocktail haunt Papa Gede's, and they're taking a woke approach at their debut café. Their aim? To rescue 'ugly' fruit and veg unfit for grocery shelves from landfill and fashion it into healthy, delicious GF, DF, V, and VG things. They've salvaged four tonnes of produce less than a year after opening, and you can check the current tally on a little letter board next to the till. What's more, every ounce of compostable plastic and organic waste is composted.
Whether ethos objectively makes food taste better is a question best saved for a third-year philosophy tutorial, but everything at Das Juice tastes exactly as it should, like the purest expression of the ingredients themselves and nothing more. Juices are a logical starting point, and at $6 each, a thrifty one. You're in the hands of bartending veterans, and they know a thing or two about the dark arts of balancing flavours. Order a Das Hulk. Notice how the bitterness of spinach and kale mellows out in the company of cucumber and pear, and how a simple squeeze of lemon drives it home.
Imagine crushed velvet in liquid form, and you've pretty much conjured up an avocado, spinach and matcha smoothie, which glides straight through your metal straw, sweetened ever so slightly with coconut yoghurt, coconut milk and vanilla. Smoothie bowls, meanwhile, thoughtfully update the standard açai routine, full of fruit blitzed to a creamy thickness and layered prettily with crunchy housemade granola, fresh fruit, a palmful of flaked almonds and chia seeds. The far-less-sweet-than-it-sounds Pink Galah is worth a sticky beak. Powered by strawberries, bananas and pink dragonfruit, it's a pleasantly tart day starter.
If you're well versed in the world of poké, you'll appreciate the crispness of the pickled carrots, red cabbage and edamame beans, and how the perfectly cooked grains of nutty brown rice stay nice and separate in the marinated tofu bowl. Especially dense beetroot hummus and crunchy corn chips add some contrast, but what really makes it is the slick, salty and eye-openingly good coconut-tahini dressing. Ask for extra on the side – you'll want it.
The fact that more than 5 million tonnes of food end up in landfill each year in Australia might not be what you want to think about when you sit down for a meal. It's an inconvenient truth, but Dignam, Dhinse and Ng are leading by example and trying to move the needle. They're cheery, chatty and clearly feel good about what they're serving. You'll feel good eating it. And you can't really ask for much more than that.
Details
Best selling Time Out Offers