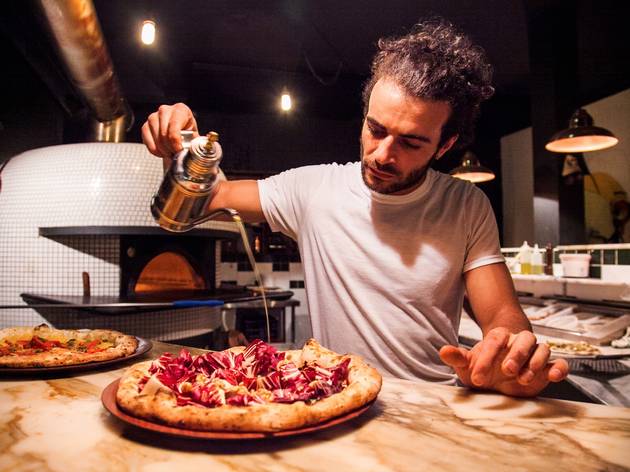 1/7
Photograph: Federica Portentoso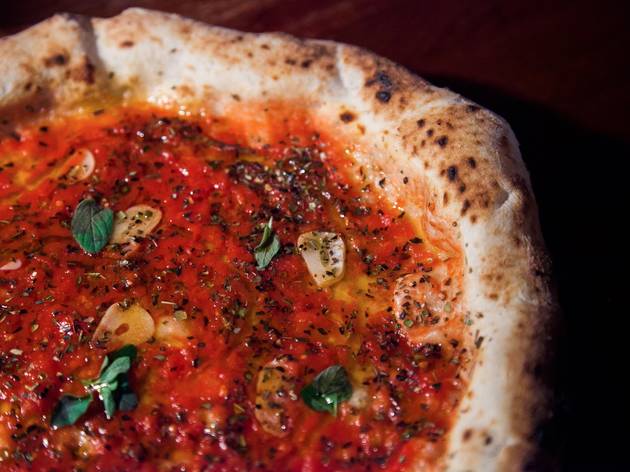 2/7
Photograph: Federica Portentoso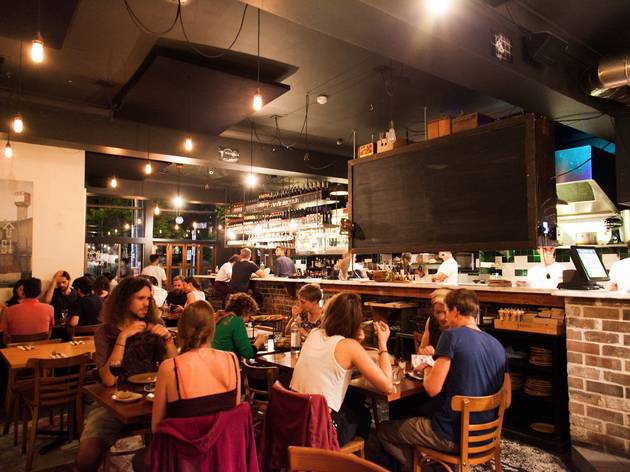 3/7
Photograph: Federica Portentoso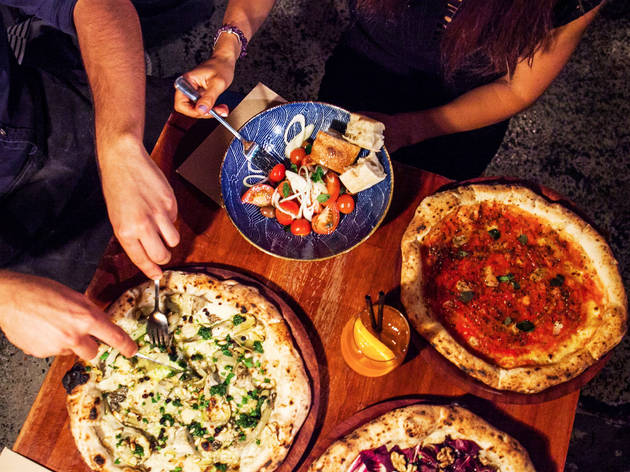 4/7
Photograph: Federica Portentoso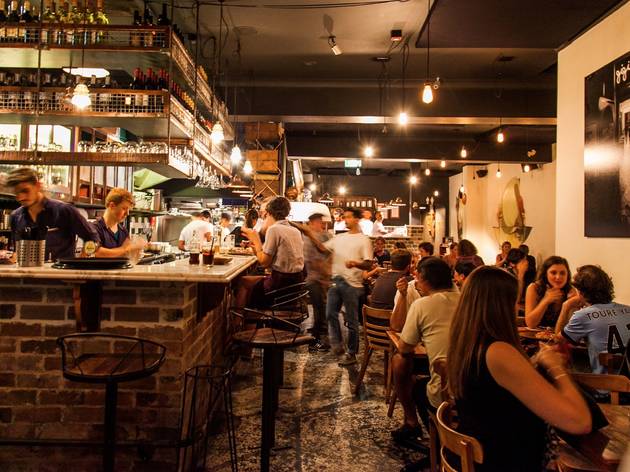 5/7
Photograph: Federica Portentoso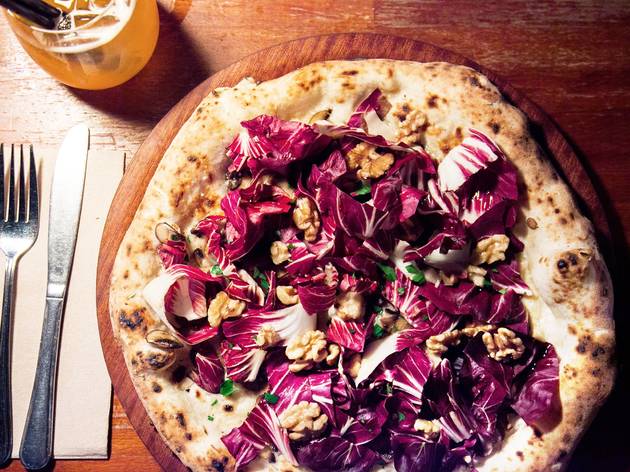 6/7
Photograph: Federica Portentoso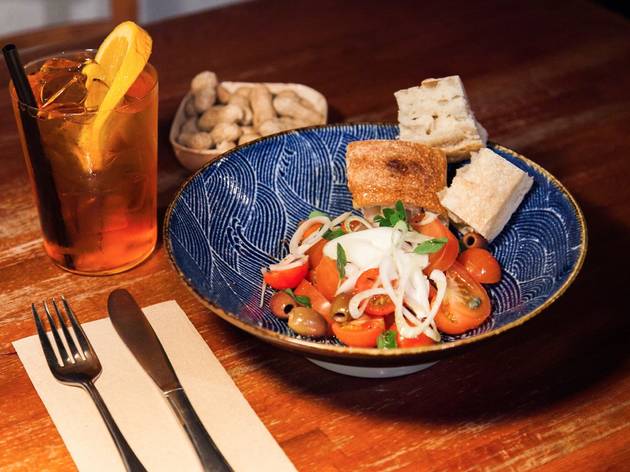 7/7
Photograph: Federica Portentoso
Newtown's favourite pizzeria has gone vegan… here's our verdict
What do you reckon most people would say is the best thing about pizza? We did a little poll round the office here at Time Out HQ, and one answer reigned supreme… and that was 'cheese'.
So why on earth would the best pizza joint in Newtown, Gigi Pizzeria, go vegan?
It sounds like it's an ethical decision by the owners, Marco and Daniela Matino: one that sees them choosing plant-based ingredients over animal ones. But is the pizza going to be as good without its most beloved topping? We headed to Newtown to investigate.
First off, there is still a queue snaking out the door, which could be a case of no one yet knowing that this place is vegan, or them just not caring (or, indeed, that they've been drawn to it because it is vegan; this is Newtown after all). We don't wait too long and are soon settled in our seats with an Amaretto Sour by our side (which is average, and strangely watery for a cocktail devoid of a mixer).
We order the 'marinara tradizionale', the toppings of which are restricted to simply tomato passata, garlic, oregano and olive oil. So, like a Margherita without the mozzarella then? That's right. The dough is excellent; puffy and chewy on the crust, with blistered edges that speak of the fire blazing at the back of the restaurant. You can see why these guys are members of the Associazione Verace Pizza Napoletana, which ensures the dough is hand-stretched and wood-fired, and signifies authentic Neapolitan-style pizza.
The sneaky thing is, though, that that particular accreditation is awarded to marinara and Margherita pizzas only. You can't have a Margherita without mozzarella, so what Gigi has done is just take the Margherita off the menu completely, so that only the marinara now holds that accreditation. These guys ain't fools.
And, we've gotta say it: this pizza is hanging for cheese. It would be 50 times better with gooey, stringy, milky-toned mozzarella strewn over the top, which would make it a Margherita – which they no longer have on the menu. See our issue here?
It's no surprise, then, that our favourite of the night has cheese on it. W
ell, kind of. We're talking about the 'funghi e radicchio' pizza. It's that same epic base, but this time topped with Swiss brown mushrooms, shreds of radicchio, a tumble of fiery roast walnuts, cleansing parsley, loads of drippy, floral olive oil and, yep, dairy-free blue cheese. And you know what? As delicious at it is (umami-dense from the mushrooms, light and bright from the herbs, and textural from the nuts), let's be real here: it would be better with real cheese – something that doesn't boast that bitter aftertaste of imitation food.
The 'cavolo' pizza, which is topped with a cool slick of cauliflower puree, chunky wedges of artichoke, and dotted with crunchy pine nuts, salty capers, sweet currants and parsley, tries to make up for the creaminess of cheese by way of the cauliflower, but it just lacks that umami punch that cheese would have added. A side salad of tomatoes, olives and spring onions served with warm, dense, housemade bread is a lovely respite from the pizze, though, so order that to balance things out.
Dessert-wise, the sorbets are great because they don't, by their nature, need milk. We go for strawberry, and it's clean, refreshing and silky smooth. The 'millefoglie' (like an Italian version of mille-feuille, or Aussie vanilla slice) boasts nice, caramelised pastry but the dairy-free custard is meagrely portioned out, so the whole thing ends up being dry. Better to stay with the sorbet on this course.
So what do we think of Gigi, now it's a vegan joint? For vegans and vegos, it's excellent – you'll be hard pushed to find a better vego Italian joint in Sydney. For the rest of us though, it all feels a bit radical; a step too far. Why not just serve a range of vegan pizzas on an otherwise egalitarian menu? Why race all the way to vegan extremism? We're knocking a star off. Sorry Gigi, but that star stood for luscious, melty cheese: cheese that burns your tongue and hangs in long, hot strands from your mouth as you eat it with speed. Without it, the pizze feel lacking. And you ain't milking that cow no more.

For vegans, Gigi's is one of a few great options in Sydney. We'd also suggest Lentil as Anything, Lord of the Fries, Nourishing Quarter and Janani. As cheese-eaters we have many options in Sydney, so if you're not vegan and want cheese on your pizza, we'd recommend the Pizza Box, Lucio Pizzeria, Da Orazio Pizza and Porchetta and Via Napoli Pizzeria.
Venue name:
Gigi Pizzeria
Contact:
Address:
379 King St
Newtown
2042

Opening hours:
Tue-Sun 6pm-10.30pm
Price:
$10-$50