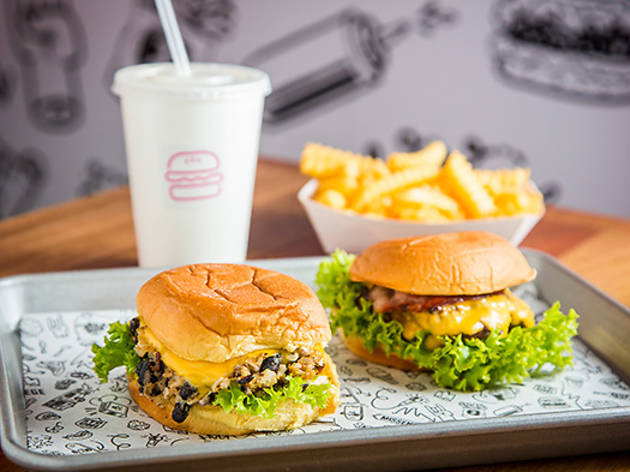 1/7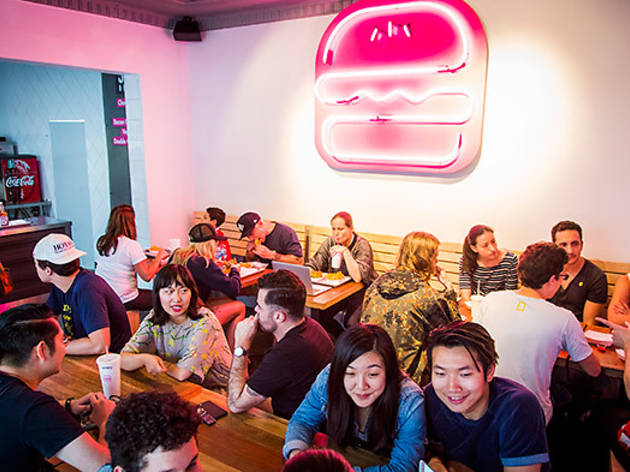 2/7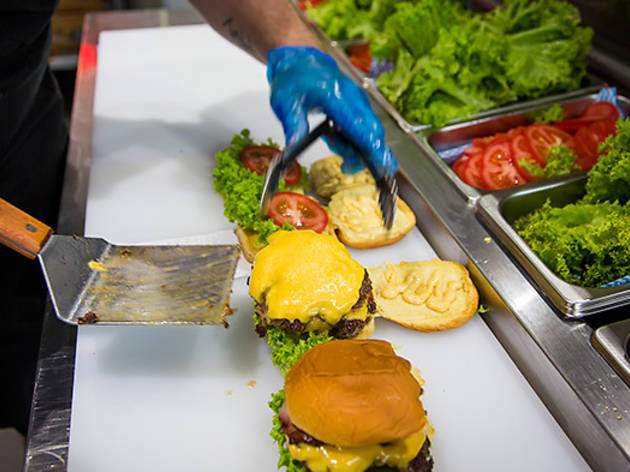 3/7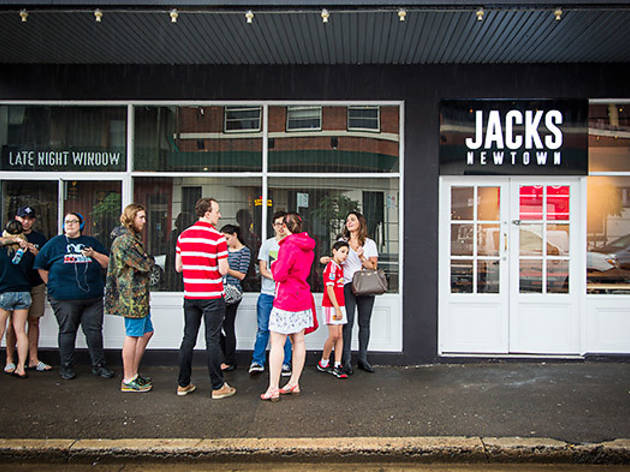 4/7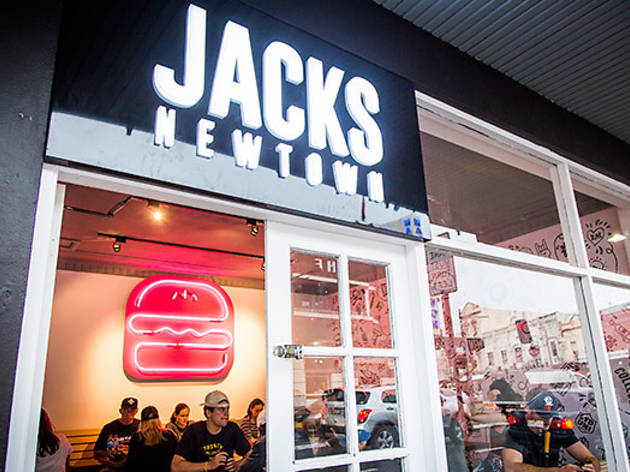 5/7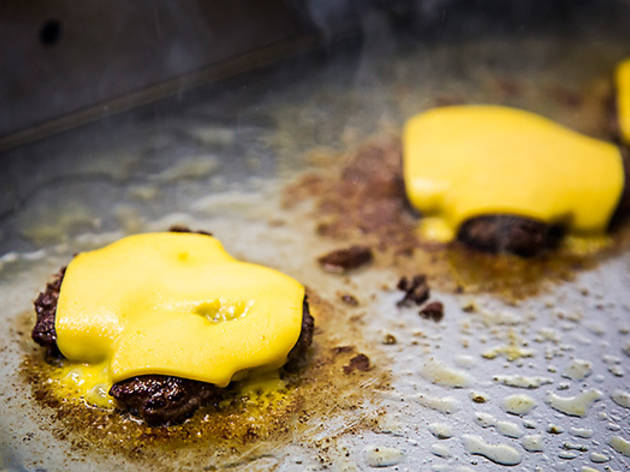 6/7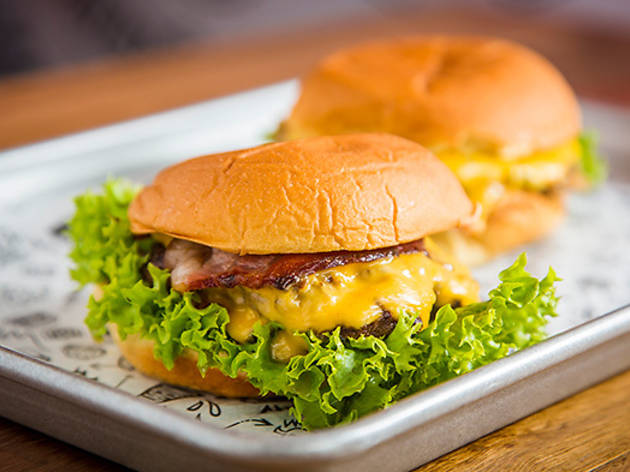 7/7
Are the queues for Sydney's hottest new burger worth it? We waited it out in the rain to find out
Sydney is obsessed with a new bloke, and his name is Jack. The owner of Newtown's hottest new burger joint is 26-year-old Jack Fonteyn, and this is his first restaurant. It's only been open for three weeks and already the queues are infamous. So what could justify a line like this, we hear you ask? Word is that Jack's is serving the best burger in Sydney: people are even comparing it to America's burger-du-jour, Shake Shack. And so it is that on a wet, stormy Thursday night (or, to be honest, late afternoon), here we are with 12 other drenched souls standing quietly in line outside waiting to be fed, looking like hungry orphans in the rain.
Turns out, the bacon cheeseburger is in fact the juiciest we've had in Sydney. It's so juicy that the whole thing drips helplessly onto our laps as we eat it, making it a wonder that there are no napkins anywhere to be seen inside. You get truly filthy eating one of these bad boys. The patty is super-tender and gently seasoned (Fonteyn has worked with Anthony Puharich from Vic's Meat to get the perfect ratio of meat to fat), and isn't too small for the bun (which is shockingly rare). It's topped with bacon that tastes powerfully of the smoker and generously portioned, melted American cheese. The sauce is hot and punchy with mustard and they use coral lettuce rather than the usual iceberg (it doesn't have the same crunch but brings freshness), along with slices of fresh tomato. The buns, which they buy in – they won't tell us from where – are sweet, soft and robust; which is just as it should be.
The veggie burger is excellent. Inspired by Fonteyn's favourite veggie burger, the celebrated Superiority Burger in New York, it's made from a blend of brown rice, sweet potato, psyllium husk and whole black beans, which are slightly undercooked, lending the burger a pleasingly nubbly, meat-like texture. It's paired with the same toppings as the bacon cheeseburger (minus the pig, obvs).
These are not expensive eats either – the cheeseburger comes in at $12 and the veggie version at $11. But they are, it needs to be said, small: each one is slightly bigger than a McDonald's cheeseburger, but smaller than a Big Mac. For one hungry person you'll definitely need fries (which are a mammoth serve), or double up the patty. The fries are crinkle cut, maximising their potential for crispiness. They're fluffy inside and not overly salted… but they strongly taste of the fryer, indicating that they've either spent too much time in there, or that the oil needs a change.
This could be indicative, though, of some of the fryer issues they're having the night we go in. When they hand over our burgers, after we've paid, we're told that the fryer isn't hot enough and the fries won't be long. We then wait another 20 minutes for them to be ready, at which point we've long ago finished our burgers. Although they apologise, they probably shouldn't charge for 'fast' food that's this slow – or at least offer us a free soda to show us they mean it. But this is pretty much the hippest cheap eat in Sydney right now. It's so incessantly busy that within its first few weeks they have had to stop opening for lunch because they were running out of supply by nightfall. They're turning away around 100 people a day, says Fonteyn. With demand like this, you can see why someone might forget to turn on the fryer before service one night.
The 'frozen custard shakes' are listed on the short wall-typed menu, but we're told they only offer those on weekends, which is annoying (what's a calorific burger without a heart-attack inducing shake?). Fonteyn hopes to start doing them again on weekdays soon, and even wants to start making 'concretes' (where they blitz up cakes or other confectionary in with the ice cream). For now, there's no booze, but there are the usual fizzy drink culprits on tap (Coke, Sprite and co).
So is this the best burger in Sydney? No. The best burger in Sydney is at Rockpool Bar and Grill in the CBD, where the Wagyu beef is butchered onsite, cooked to your liking and served on house-made bread, as is the burger's sauce and pickles. It's $24 a pop but it fills you up, making it a similar price point to this, if feeling full is your barometer for value.
But is this the best burger in the Inner West? You bet your goddamn life it is. This is a seriously excellent sanger, reminiscent of the burgers you get in America. The kind which make you want to eat another one straight away. Maybe it's the sugar in the bun, maybe it's all that grease, maybe it's the dramatic rain pouring down outside: whatever the reason, we've fallen for Jack in a major way.
Venue name:
Jack's Newtown
Contact:
Address:
170 Missenden Road
Newtown
2042

You may be interested in: