Last night over 160 hungry punters packed out Public House Petersham for a battle of the titans. It was the night to determine once and for all whose grill reined supreme. On the left-hand side were local legends Bar Luca packing maple-glazed bacon and poutine into a burger bun with a 200g beef patty wearing a slice of melted cheese like it was the latest fashion. On the right, our southern cousins, the plucky crew from Melbourne's Arbory Bar who were keeping it classic with thin juicy beef patties, two kinds of cheese, house made spicy pickles, lettuce, tomato and special sauce that featured the most Australian ingredient of all time – Vegemite!
In between bites guests wolfed down glass tankards of refreshing Tooth's Pale Ale and the malty McCrackens Amber Ale, which was necessary to help with the monster feed provided by our competitors – with two full burgers each on the menu, this was not a night to wear fitted clothing.
Guests voted for their favourite beer and their favourite burger while a blindfolded judging panel put the burgers through their paces. Time Out CEO Michael Rodrigues, Tooth's and McCrackens Greg Williams, Fatties Burger Appreciation Society's Sam Frizell and Time Out's Linn Johansson took their task as burger critics very seriously, assessing flavour, structural integrity, condiments, moisture content, how well it went with our beers, creativity and ease of eating.
It was a photo finish but at the end of the night Bar Luca left victorious – who can say no to maple bacon? They took home the major trophy from Design Awards, and bragging rights, but the Arbory also walked away with a trophy to mark them as the Victorian state champs. And in a double whammy for NSW, Tooth's Pale Ale also took out the people's choice award.
Punters each received a full burger from each competitors along with beers from both McCrackens Amber Ale and Tooth's pale ale, not to mention a gift bag including a beer mug, Time Out mag and doughnuts, just in case you had any room left. Sweet tunes were care of Sydney's AUX JAX, selfies and personalised gifs were flying out of the Fotobox and live street art demonstrations from Work-Shop provided a non-edible break from proceedings.
Congratulations to Bar Luca. It was hard fought victory.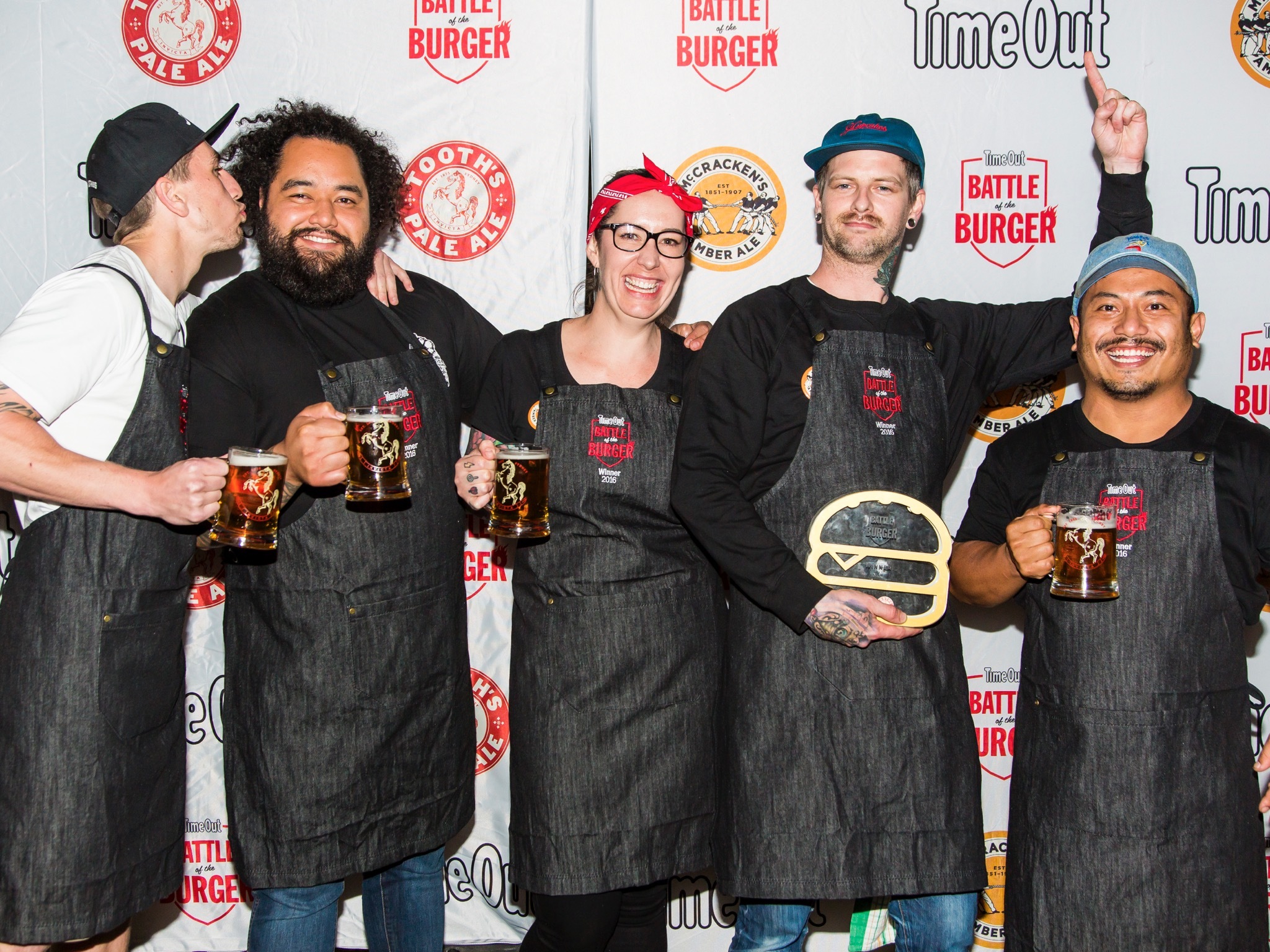 in association with