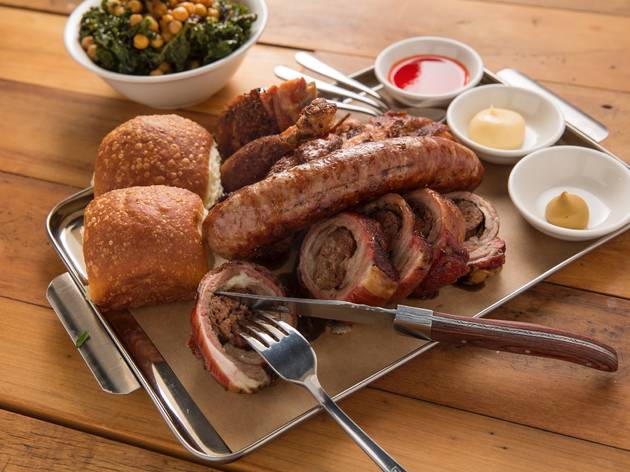 1/8
Photograph: Anna Kucera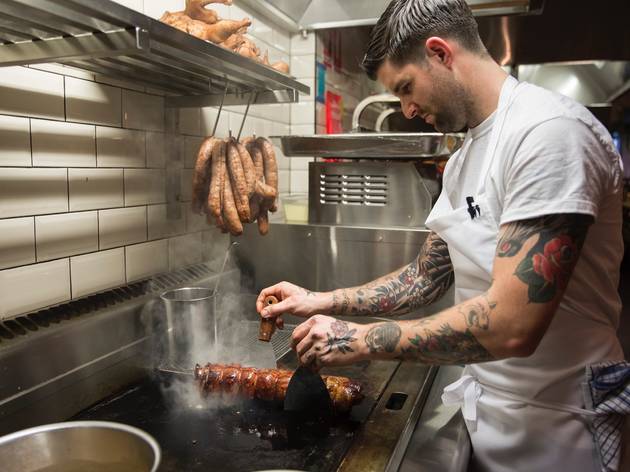 2/8
Photograph: Anna Kucera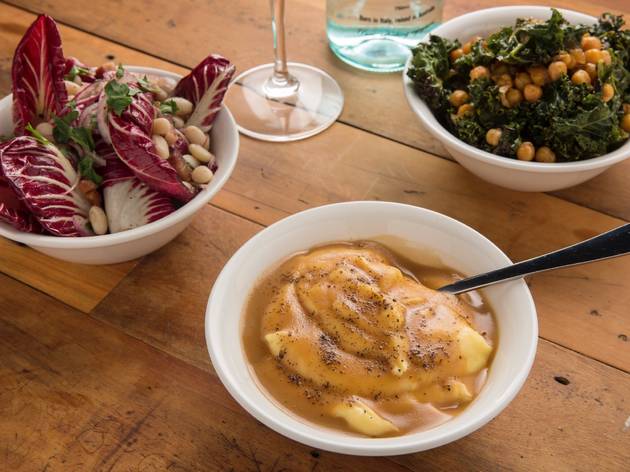 3/8
Photograph: Anna Kucera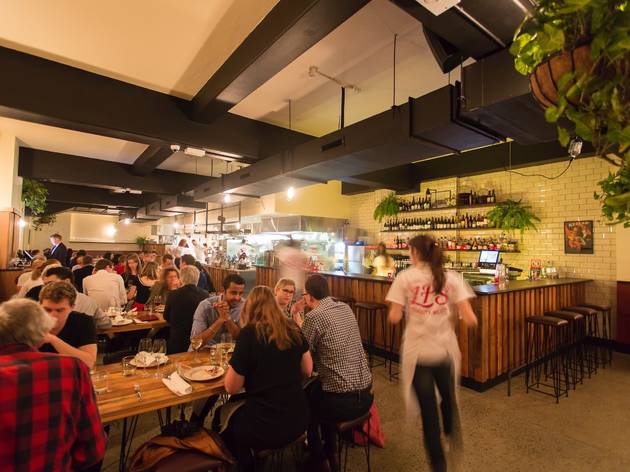 4/8
Photograph: Anna Kucera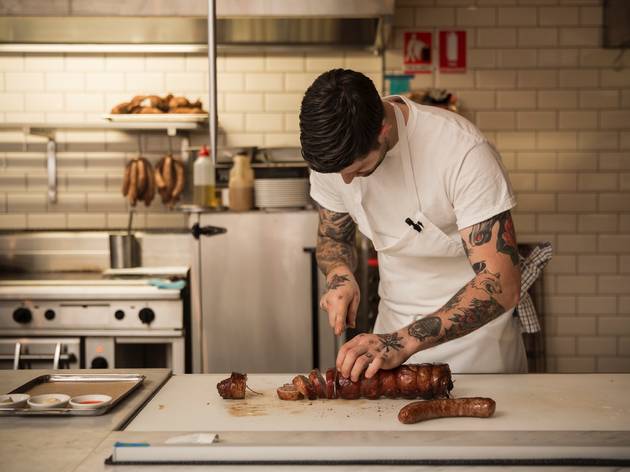 5/8
Photograph: Anna Kucera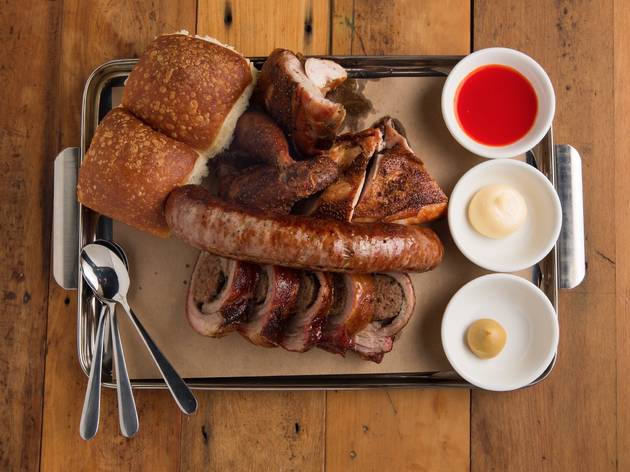 6/8
Photograph: Anna Kucera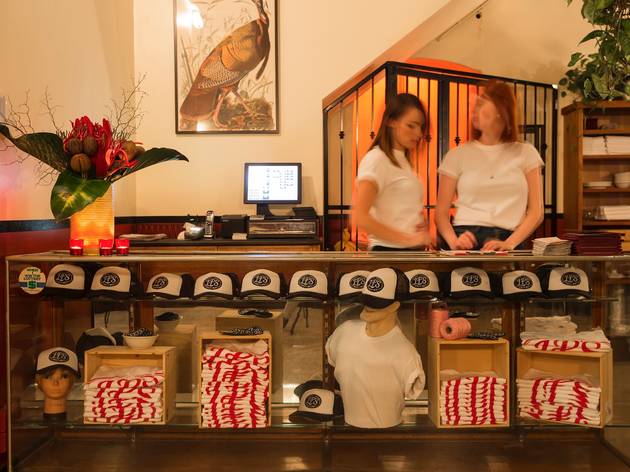 7/8
Photograph: Anna Kucera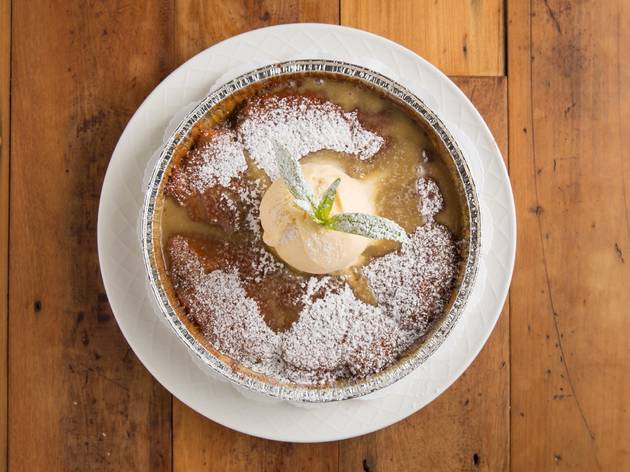 8/8
Photograph: Anna Kucera
Chippendale's temple to woodfired meat is a reminder of all the reasons we go out for dinner – and it's our Best Casual Diner of 2015
Sydney loves a bit of smoke. The smoker at Vic's Meat Market produces brisket that is the stuff of Sydney legend. Lennox Hastie at Firedoor cooks his ingredients over fire with the most tender, gentle results. But it was Porteño's fire pit, sited within the restaurant itself, that first showed us how to do things back in 2010. It makes sense, then, that two of the guys behind Porteño, Elvis Abrahanowicz and Joe Valore, couldn't be satisfied with one firey restaurant alone. And so they backed Luke Powell, former head chef of Tetsuya's, to head up a restaurant that rejects all imitations and does barbecue the southern American way. LP's Quality Meats was born.
LP's is a big venue, full of canteen-like timber tables with a wide open kitchen where the Southern Pride smoker, imported from Alamo, Tennessee, sits in pride of place. And boy does it produce some tasty meat. Much of what you'll eat here has had the Southern Pride treatment. The wagyu carpaccio has been lightly smoked, and is served topped with a loose, creamy sauce of whipped eel and pops of crisp, fried capers. As it's been cooked by the smoke, those nervous of raw beef can now have their moment in the smoky sun.
There are sausages galore hanging up in the kitchen, including boudin noir, bierwurst and if it's on special, nutmeggy, garlic-infused Toulouse sausage, which is definitely worth your time. But the one thing you have to order, above all else, is the smoked beef short rib. It's smoked for 15 hours until a thin, black, crackly crust develops on the outside, and the meat and fat within meld into something so tender, so unctuous, you'll never want to eat an eye fillet again. It's served on the bone and tastes powerfully of the bonfire, especially when you get to those crusted bits on the outside. Order it.
A lighter option is the chicken, which has been rubbed with paprika and dill and smoked until blackened and oh-so soft. On the side of the meats you get a trio of sauces: a chimichurri reminiscent of Porteño's, a vinegary chilli number like a Tabasco, and a mustard (a necessity for any German sausage action. No that's not what we meant).
You'll be dreaming about the mashed potato and gravy for many moons to come. It's more like a Paris mash than the Aussie kind (look out, Guillaume), it's so silky and butter-dense. It's topped with chicken gravy that tastes of the roasting pan: burnt sugar and complex umami saltiness. It looks self-consciously like the KFC potato and gravy, but with an incomparable explosion of flavour. On a winter's night this will soothe your soul. Thank god they do takeaway, so you can even enjoy it in your pyjamas.
For dessert, share the mammoth portion of "poor man's pudding", aka "pouding chômeur" – a Canadian concoction of sponge soaked in hot caramelised maple syrup and topped with vanilla ice cream. It comes in a pie-sized tinfoil pan, and will feed three or more. Not bad for $16.
As at Porteño, wine isn't cheap here, but it's a killer list. We love the 2013 tannat from Mendoza in Argentina – it's ballsy and well rounded, with hints of plum and blackberry that match up to the umami-heavy menu.
There really is very little not to like about this place; the vibe is light and fun and the service is attentive and friendly, without being over the top. With Chippendale going the way it is (hurry up and open already, Automata and Silvereye), LP's, along with Ester, can hold claim to being the pioneers of great dining in the suburb. No wonder Powell left the dainty pans of Tetsuya's to take up the dynamic, charred tones of the smoker: it's food you'd want to eat everyday if you could.
Venue name:
LP's Quality Meats
Contact:
Address:
12-16 Chippen St
Chippendale
2008

Opening hours:
Tue-Sat 5-11pm