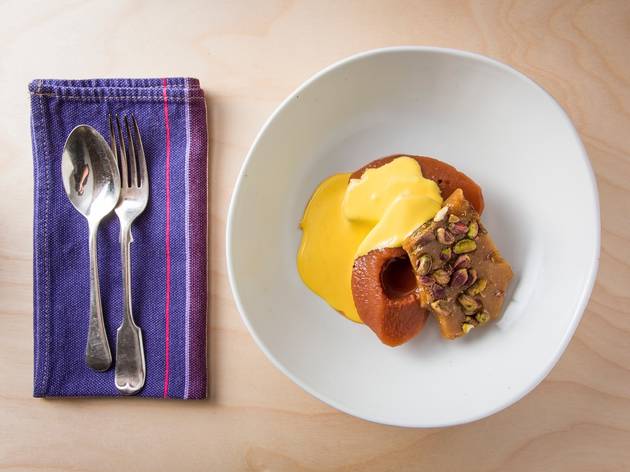 1/9
Photograph: Anna Kucera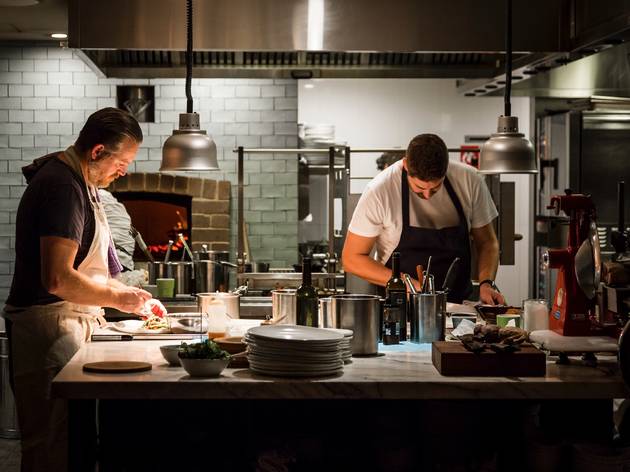 2/9
Photograph: Anna Kucera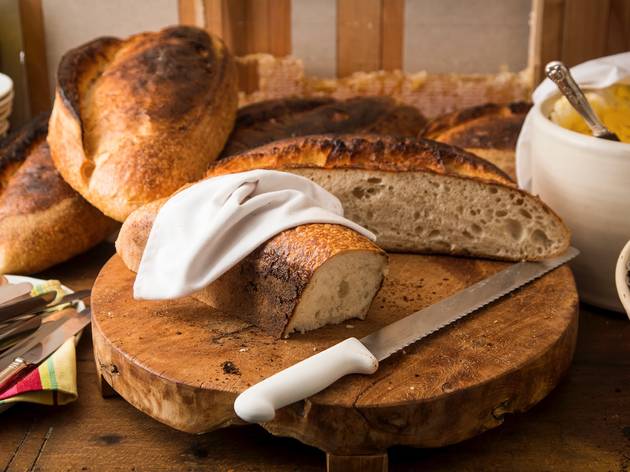 3/9
Photograph: Anna Kucera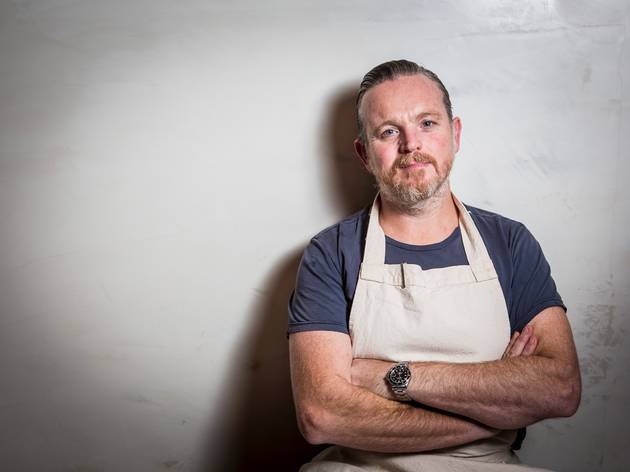 4/9
Photograph: Anna Kucera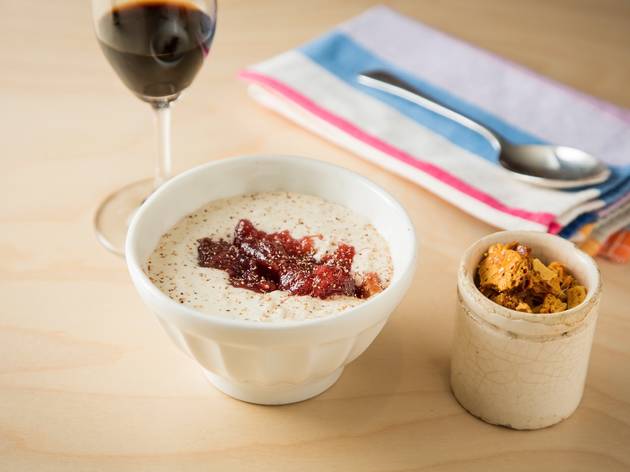 5/9
Photograph: Anna Kucera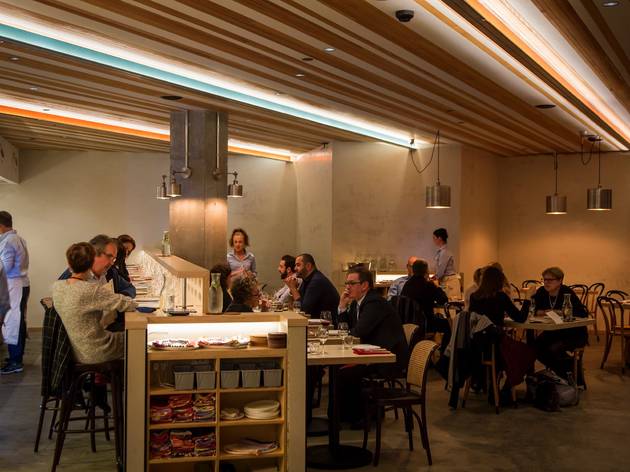 6/9
Photograph: Anna Kucera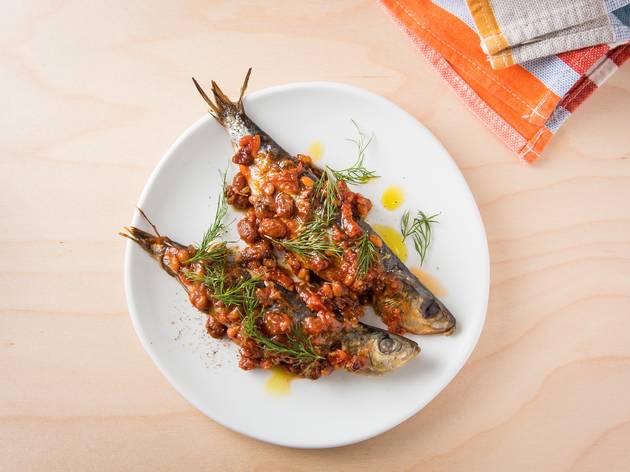 7/9
Photograph: Anna Kucera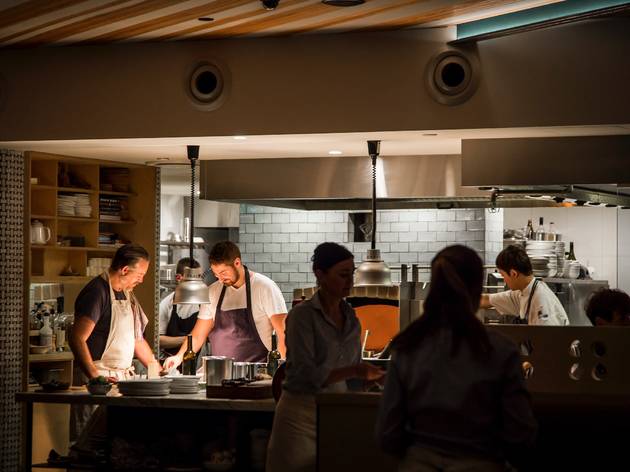 8/9
Photograph: Anna Kucera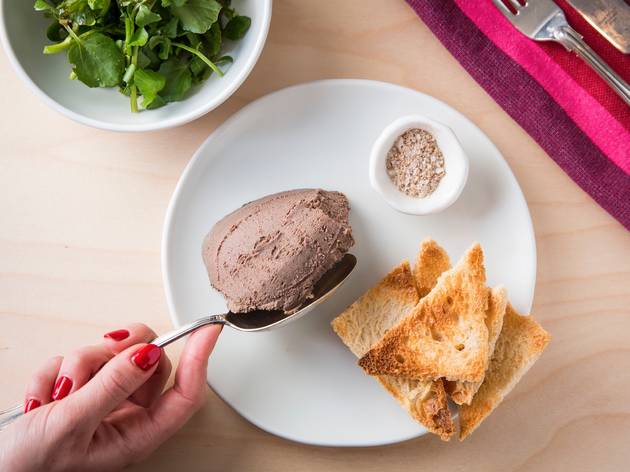 9/9
Photograph: Anna Kucera
Mike McEnearney brings a taste of home to the CBD
When Mike McEnearney closed Kitchen by Mike, we were sad. The restaurant pioneered canteen-style restaurant dining in Sydney, and we were going to miss those salads, that pork belly, and especially that bread. But now Mike is back (hurrah!), having just opened No. 1 Bent Street in the CBD. And guess what? There's even table service. Mr McEnearney has gone a bit fancy.
This isn't really all that surprising, seeing as he was once head chef of Rockpool (RIP) just down the road. Here at No. 1 Bent Street, he's not just a headline; he's on the pass. But maybe we shouldn't call it a pass, because this looks more like a home kitchen than a commercial one. His 'pass' is a kitchen island backed by a flaming wood-burning oven. You may be in a restaurant but it feels like you're also in McEnearney's home.
The rest of the space boasts long, uneven wooden share-tables among smaller, more intimate ones; a stripy, Paul Smith-style ceiling; bentwood chairs and a corner dedicated solely to bread and butter. Now we're talking. And on that subject, order the sour dough. It's served cut into thick slices with fermented Pepe Saya butter, and is warm with a stretchy crumb and crunchy crust. If heaven is bread and butter then this is it.
Chicken liver pâté (scooped from the bowl in front of you) is not your smooth-as-silk, whipped parfait; this is country pâté – livery, offally and not afraid to pack a punch. It's served with earthy, lightly dressed watercress and a spicy salt that fights for attention through the strong flavours. The Melba toast it's served with is dry and brittle though –we'd stick with the bread.
Sardines are an acquired taste but here they're served with an oily, sweet-and-sour, raisin and pine nut-studded sauce, which elegantly balances out and complements their often-overpowering flavour. The 'White by Mike' wine, although not extraordinary, offers a sharp, pleasing contrast to the fish. We try the free-range half chicken, which has been spit-roasted. The breast is removed earlier than the rest to retain its juiciness. And man, is it juicy. The remaining meat has been tossed with crunchy green beans, toasty hazelnuts, slow-cooked leek, croutons and tarragon and the whole lot drizzled with pan juices. It's deliciously tender, but it needs more seasoning to bring out all those contrasting flavours.
Even if you don't like rice pudding, order the rice pudding here. It's served cold and is so thick and creamy it's almost like a custard, the rice cooked to fall-apart tenderness and topped with a generous dollop of rhubarb jam and a jar of honeycomb to add crunch. Try a treacly Pedro Ximénez Gran Solera sherry on the side; its nuttiness highlights the creaminess of the rice. Or go the dark, tender cinnamon poached quince served with perfumed, silky-smooth saffron custard and a big hunk of pistachio praline.
It's all about comfort here really: from the smooth, helpful service, the home-style kitchen and of course the food, which channels childhood like nowhere else in town (roast chicken, rice pudding, poached fruit…). It's what McEnearney does: he brings a taste of the home into the public sphere. And if we could cook like this, we'd never leave the house.
---
Venue name:
No. 1 Bent Street
Contact:
Address:
1 Bent St
Sydney
2000

Opening hours:
Mon-Fri 11.30am-3pm and 5.30-11pm; Sat 5.30-11pm