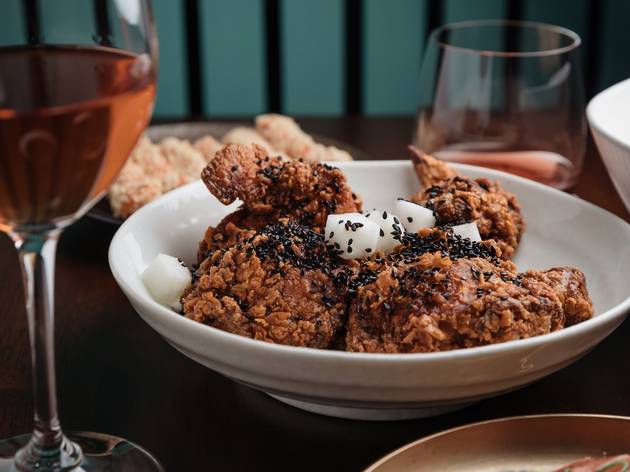 1/11
Photograph: Daniel Boud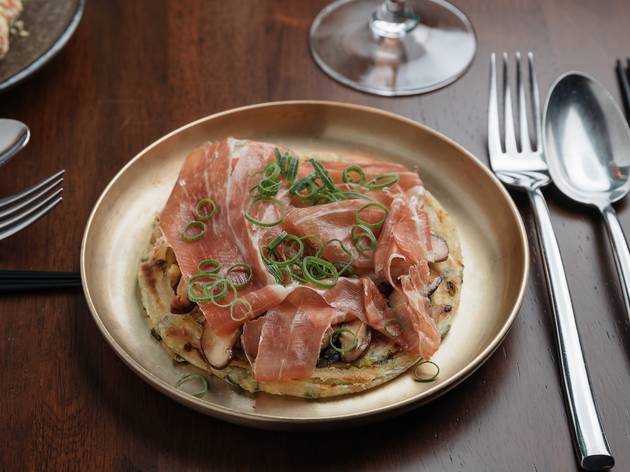 2/11
Photograph: Daniel Boud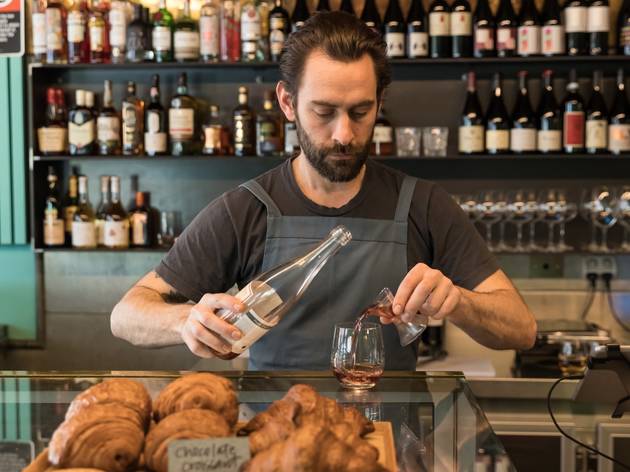 3/11
Photograph: Daniel Boud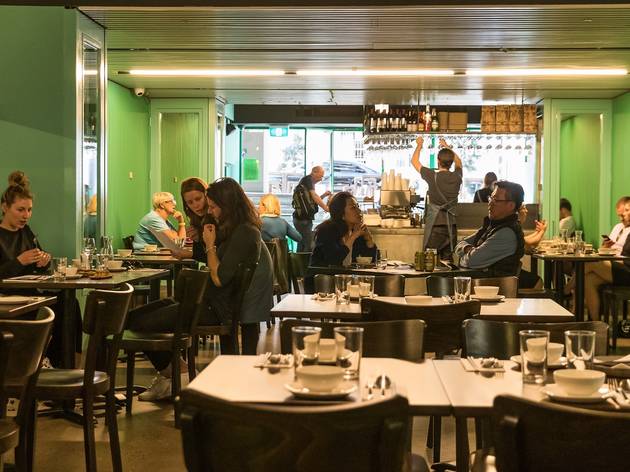 4/11
Photograph: Daniel Boud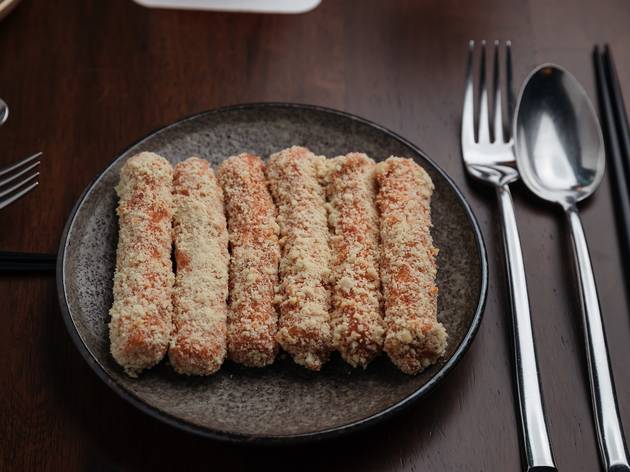 5/11
Photograph: Daniel Boud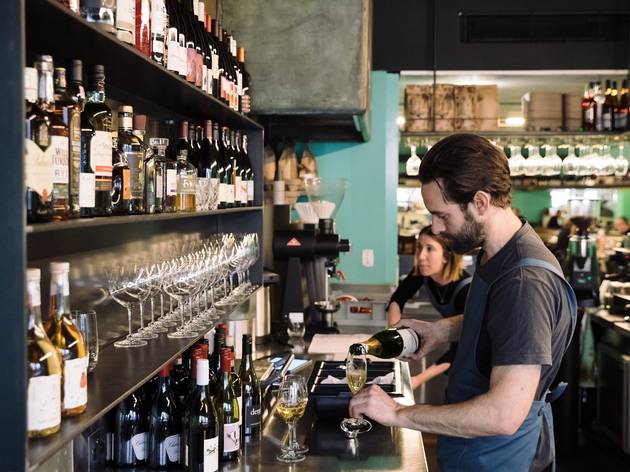 6/11
Photograph: Daniel Boud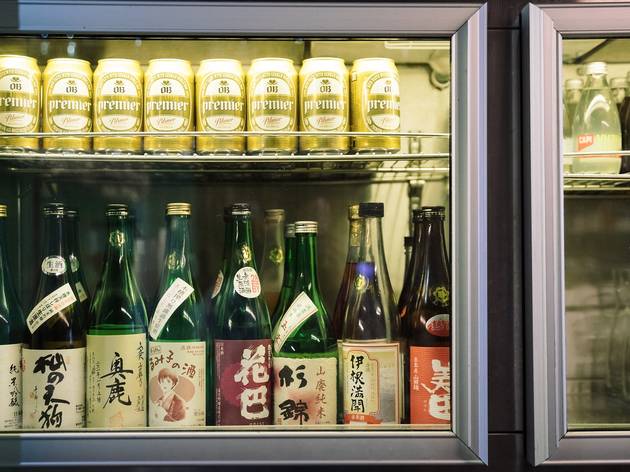 7/11
Photograph: Daniel Boud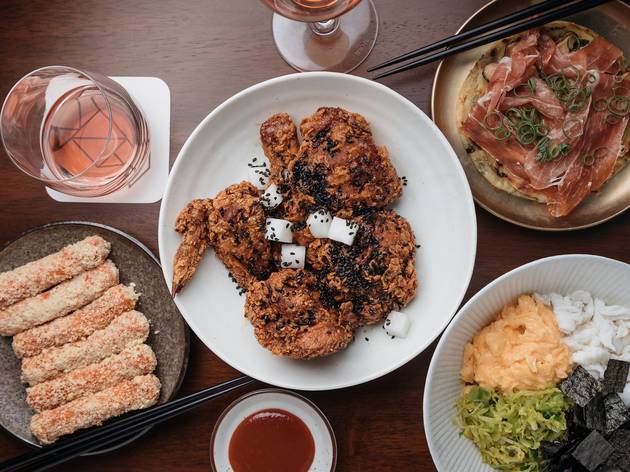 8/11
Photograph: Daniel Boud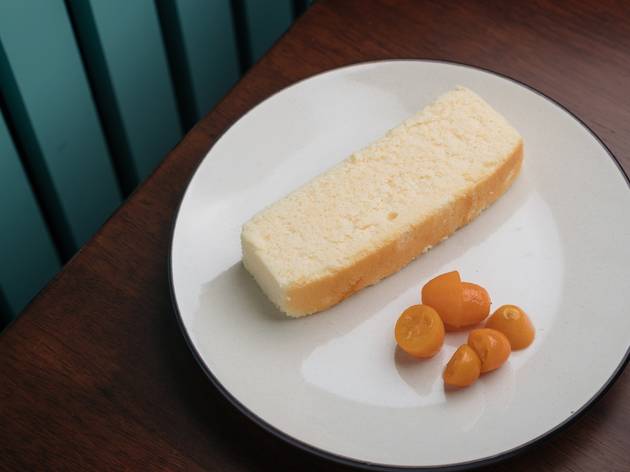 9/11
Photograph: Daniel Boud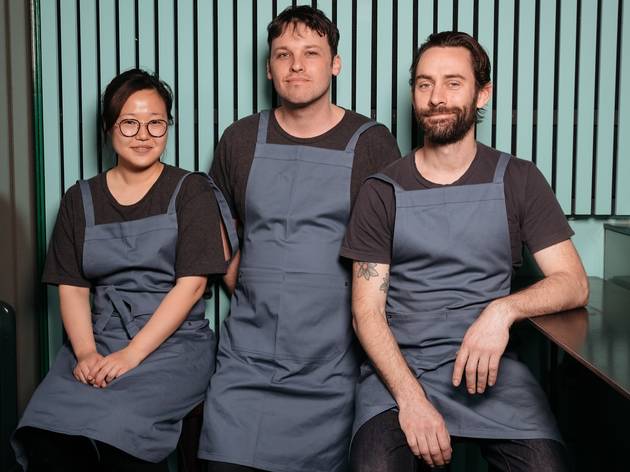 10/11
Photograph: Daniel Boud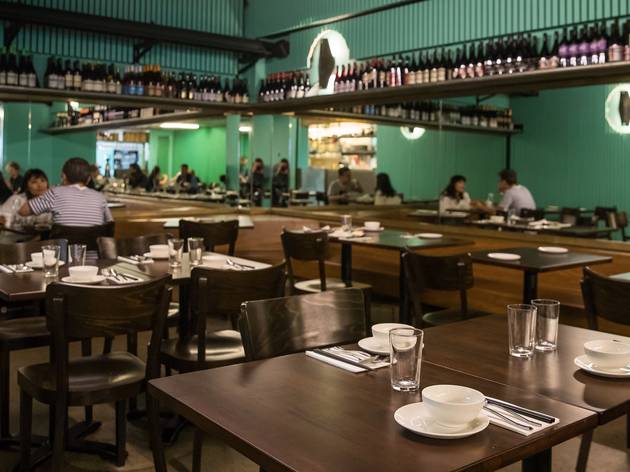 11/11
Photograph: Daniel Boud
Potts Point's new mod-Asian diner is friendly like a canary, balanced like a crane and delicious like fried chicken – which they excel at
Sometimes you walk out of a dining experience and think ,'We only want to eat here for the foreseeable future.' That's how you'll feel after dinner at Paper Bird, the new mod-Asian diner from the Moon Park team (Ben Sears, Eun Hee An and Ned Brooks) that has opened up in a subterranean former bakery in Potts Point.
Just like you did at Moon Park, you should start every meal here with the ddeokbokki. Those glutinous rice sticks slicked with only enough chilli sauce to make them hum not scream and rolled in crushed peanuts are still as snacktastic as ever and we are so glad to see they survived the move unscathed. An extra fresh serve of tofu with a distinct soy milk flavour is served in a bone-dense chicken broth with perfectly tender enoki clusters. It might be the same neutral colour palate as a Woollahra mansion but there's a hidden rainbow flavour in each mouthful.
A two-bite tortilla with octopus is a quick and easy way to get into the fusion spirit, but they really bring their a-game with the shallot pancake. It's almost like a roti with its buttery, pull apart quality. They fill it with green onions and then layer parma ham on top, which gives it a metallic, salty bite balanced out by juicy mushrooms who are making nighttime cameos here instead of living on top of your breakfast toast.
Speaking of breakfast, these guys are all about it, and it's worth visiting for a morning meal so you can get a perfect sunny side up egg on a soft, fluffy potato bread with a pungent, warming fermented chilli earthed by tender slices of king brown mushroom.
They also do single hash browns for a fiver – hey, when you're hung over you'll pay whatever it takes. They've been fried to within an inch of their lives so that there are pockets that are basically a stained glass panel that's all crunch and no actual potato.
Sydney's love of fried chicken clearly knows no time limit. And why should it? The portions are brined so that the meat is seasoned all the way to the bone and the skin is coated in a sticky sweet maple syrup and soy sauce glaze before being armoured in crisp coating that is sonically dangerous. It's so juicy, so crunchy, and so well prepared that you don't need sauce, but you will need napkins.
The cheesecake here is the god particle of desserts. The white ingot is like the very heart of a cheesecake, with no unnecessary biscuit base to detract from the gravity-defying lightness they achieve. Cumquats that have have swapped sour for sweetness are the colourful sunrise puncturing this soft cloud of a dessert.
Sydney is a hotbed of culinary activity, so cutting through the noise and making people want to return again and again is no small accomplishment. But Sears, Hee An and Brooks' restaurant has been executed with masterful grace and care so that it soars above the noise and runs the risk of burning through your money like it's made of paper on every subsequent visit.
Venue name:
Paper Bird
Contact:
Address:
46A MacLeay St
Potts Point
2011

Opening hours:
Mon-Fri 7am-11pm; Sat 8am-11p,; Sun 8am-3pm