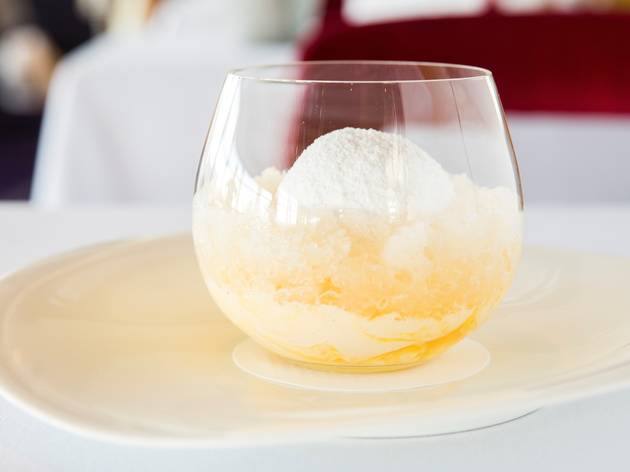 1/10
Photograph: Anna Kucera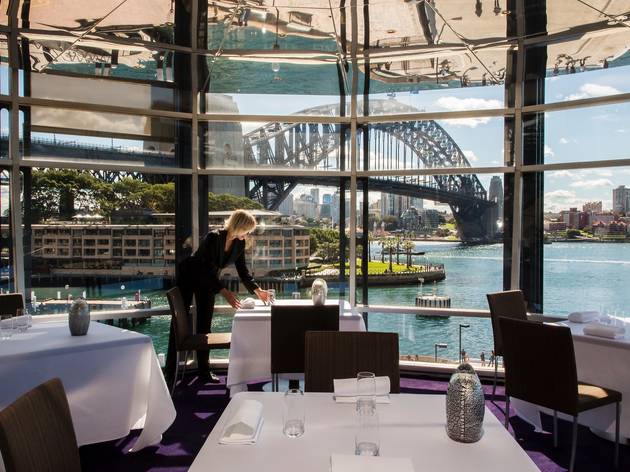 2/10
Photograph: Anna Kucera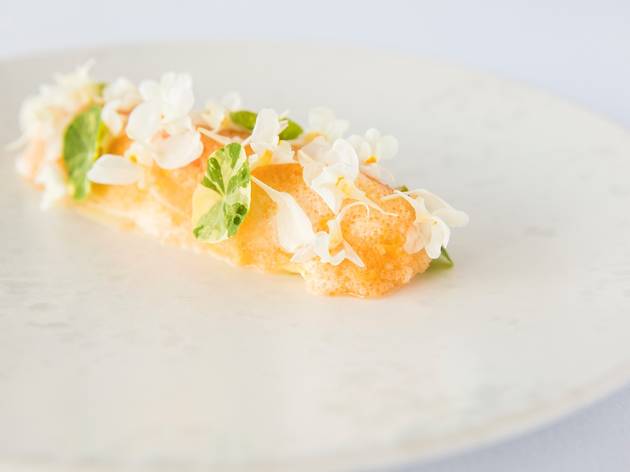 3/10
Photograph: Anna Kucera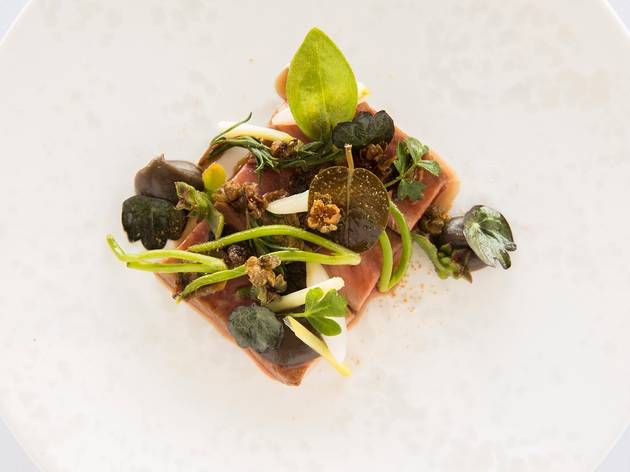 4/10
Photograph: Anna Kucera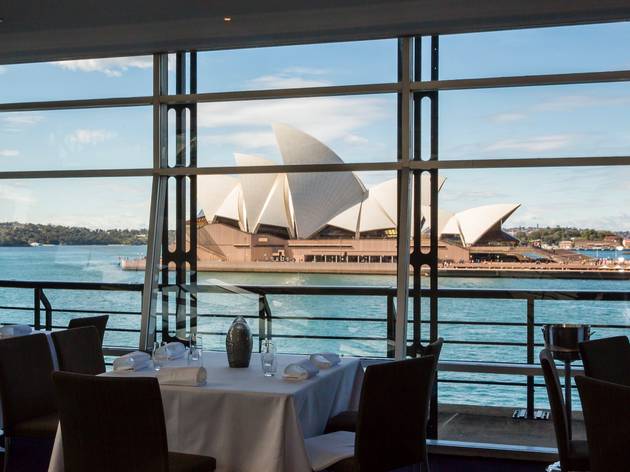 5/10
Photograph: Anna Kucera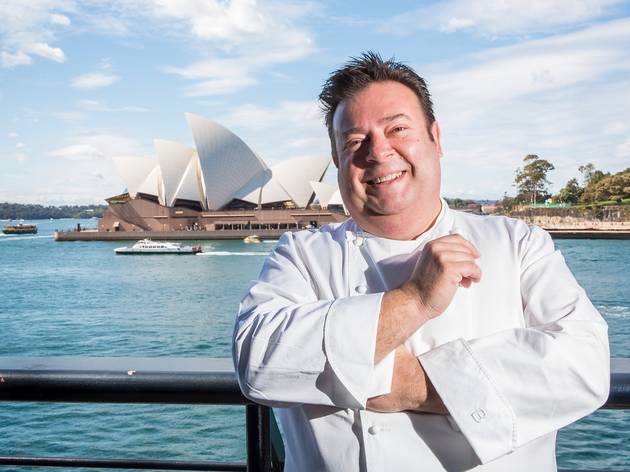 6/10
Photograph: Anna Kucera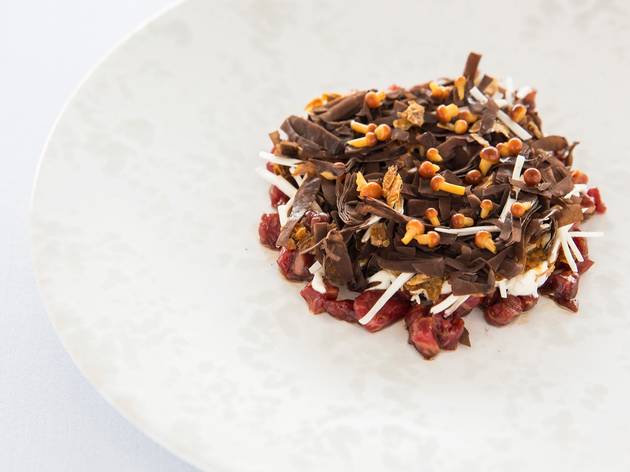 7/10
Photograph: Anna Kucera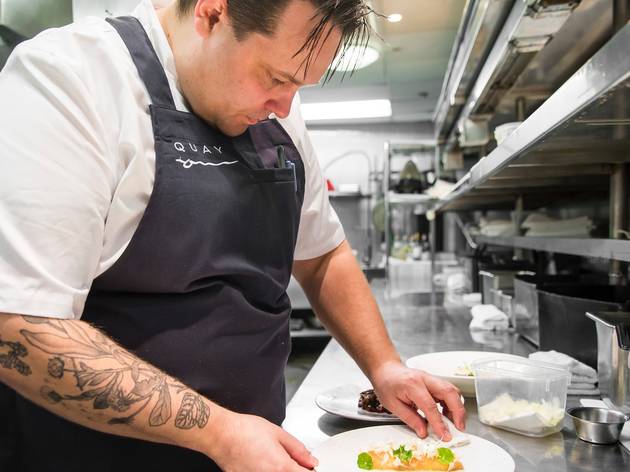 8/10
Photograph: Anna Kucera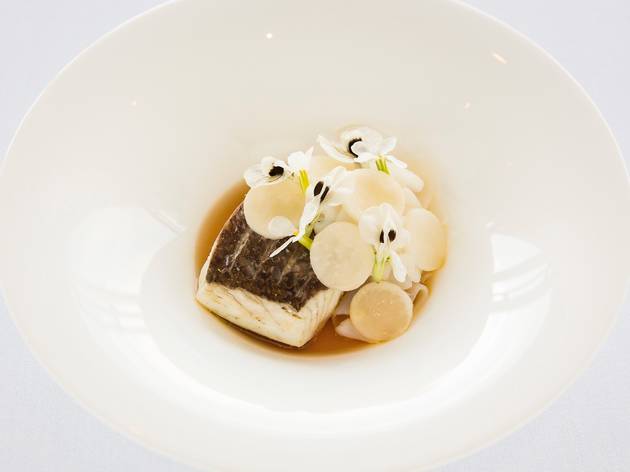 9/10
Photograph: Anna Kucera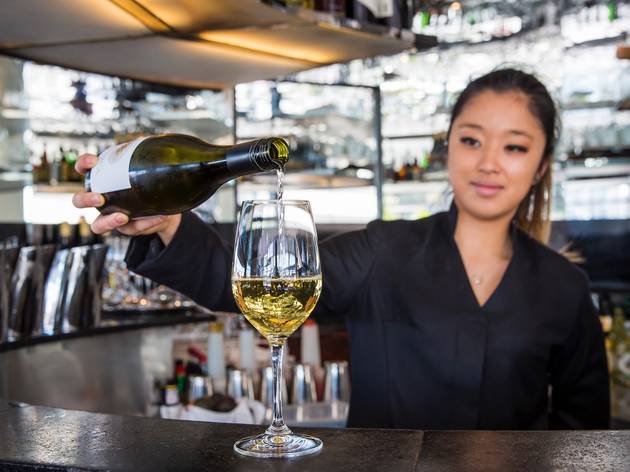 10/10
Photograph: Anna Kucera
Why you should go and drop a wad at Sydney's most celebrated restaurant
Quay is the one of the best restaurants in Australia, right? For years, Peter Gilmore's signature restaurant has upheld its position as one of the most incredible restaurants this city has ever seen. From the mud crab congee to the Snow Egg, everyone knows its name, but few have the luxury of actually going (perhaps because prices start at $150pp).
Let's face it – the interior isn't exactly up to date, with a purple carpet and bright red chairs, shimmering mirrored ceilings and white tablecloths. At night though, with the sparkling waters of Circular Quay beyond, it feels like it's part of its setting, rather than competing against it. Like the interior, the service is formal, too, but also deeply considered. My dining partner even says after the fact, "They made me feel so special," which is as it should be.
The food, though, is anything but old hat. As Quay's executive chef, Gilmore has a palate like no other, combining complexity and subtlety into every dish he creates. The brilliant Robert Kabboord runs the kitchen day to day as chef de cuisine, and it's this combination that keeps Quay at the top of its game, year on year.
The mud crab congee has been on the menu for 13 years for a reason; it's a Gilmore classic. A trickle of creamy egg emulsion floats atop clean, ginger-infused broth, fine shavings of palm heart and a soft, melting base of aromatic rice. Little nuggets of North Queensland crab bob about, offering sweetness to the umami base notes of the dish.
Delicate cuts of raw, hand-dived scallops are paired with mountain kabu turnips, popping golden trout and John Dory roe. A plate of koshihikari rice with umami broth is topped with cured egg yolk, crisp, flaked barramundi maw and naturally sweet amaebi (spot prawns). Hidden amongst are a few tongues of sea urchin, which burst in your mouth like creamy capsules of the sea.
Roasted octopus tentacles are rubbery rather than yielding (see Continental and Stanbuli for tender pickled octopus), but the slipper lobster they're paired with is soft enough to live up to its name. We try supple Sommerlad chicken breast paired with brioche cream and a rubble of puffed grains and silky mushroom purée. But we need to hand the genius prize to head sommelier Amanda Yallop here, who cleverly pairs this dish with an Eastern Peake Chardonnay from Ballarat; the oaky, creaminess of which brings out the nuttiness of the hazelnuts that dress the chicken. It's the best pairing of the night.
Before we move on to dessert we need to talk about how to book at Quay, because we have two tips to make your meal even better: 1) upon booking, ask for a table overlooking the Opera House, ideally upstairs where you get views of the bridge too (avoid the seating behind the welcome desk where the air-con is drying and your palate might suffer as a result – not a thing you want when you're eating food this delicate). And 2) take a look here to make sure there isn't a ship in at Circular Quay, because regardless of where you sit, it will totally block those unsurpassable Opera House and Harbour Bridge views, which is a big part of what makes eating here so sensational.
Now, to Australia's most famous dessert: the Snow Egg. The flavours change with the seasons but when we visit the meringue globe is filled with feijoa ice cream, encased in a crisp, caramelised shell that tastes of fairy floss. In fact the whole thing has a childhood appeal to it: from the creamy custard apple fool at its base, to the coconut granita reminiscent of smashed-up icy pole – only it's glorious.
They've brought the famous eight-textured chocolate cake back on the menu, after they took it off and moved it to Bennelong when they opened it last year. We say have it at Bennelong, where you can grab it for $28, and at Quay go instead for three quenelles each of bitter, fruity chocolate ganache; sweet and sour, almost coffee-like Madeira-soaked prunes and fluffy brûlée cream, all topped with a porcupine-like display of pulled chocolate toffee, milk skin and caramel shards.
You'll leave feeling full, happy and frankly, privileged. Because Quay isn't just an expression of contemporary food in Sydney, it's also about classic Sydney. That's why it appeals to everyone. And that's why it's still one of the best restaurants not only in Sydney, but also the world.
Want to find out how to eat at Quay cheaper? Check out our hacks here.
---
Venue name:
Quay
Contact:
Address:
Overseas Passenger Terminal
The Rocks
2000

Opening hours:
Lunch Fri-Sun noon-1.30pm; Dinner daily 6-9.30pm