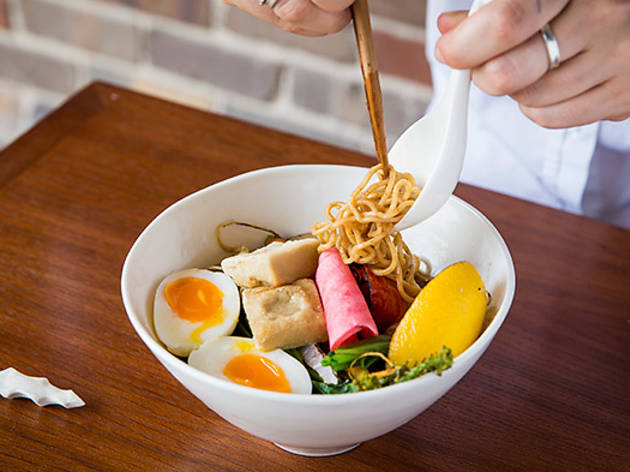 There's a ramen battle coming to Sydney
Sydney needs ramen like cookies need butter – you can have one without the other, but they'd just be dry, flavourless and frankly rather odd. And so it was only a matter of time that a ramen battle was going to happen.
And now it is. The inaugural Ramen Wars is taking place on Sunday May 15 at new Surry Hills ramen restaurant Salaryman. But it's not these ramen experts who will be dishing up the noodles, oh no. Two teams are at war, and those teams are Sam Miller and Tom Halpin of Chippo's Noma-esque fine diner Silvereye and (also formerly of Noma) John Javier of Surry Hills Chinese-Aussie eatery Master. Both will be presenting their own take on ramen, with exactly what they'll be doing remaining a secret until the night itself.
Now, we haven't eaten ramen at either of these restaurants, but we do know that these guys can seriously cook, so we're pretty excited about what they'll be plating up. And guess what? You're going to be the judge. Each diner on the night will be scoring their ramen, and the winner will be announced at the end.
So how do you get involved? The party runs from 3-8pm and bookings are essential (do that by calling the restaurant). It's $60 pp but that includes a cocktail matched to your food and a delightful dessert to boot.
Go forth Sydney, and slurp!