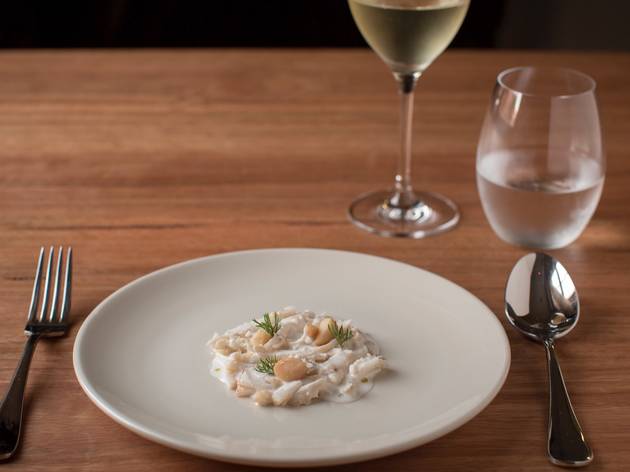 1/12
Photograph: Daniel Boud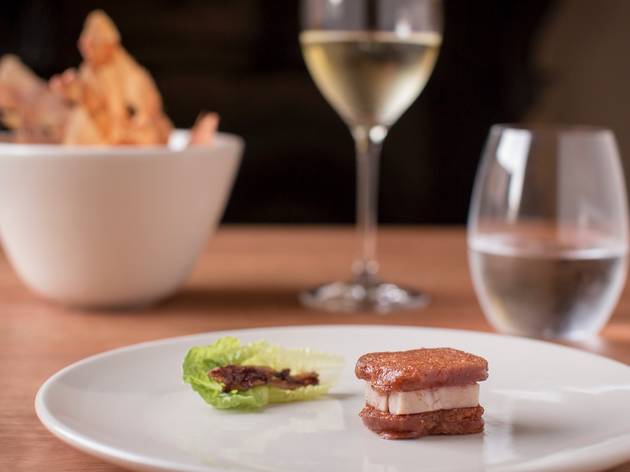 2/12
Photograph: Daniel Boud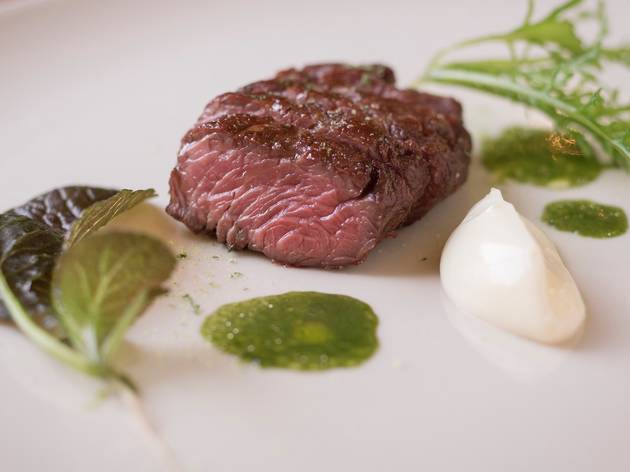 3/12
Photograph: Daniel Boud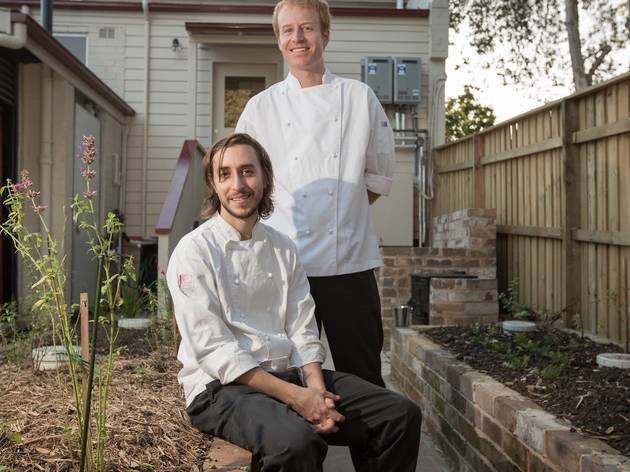 4/12
Photograph: Daniel Boud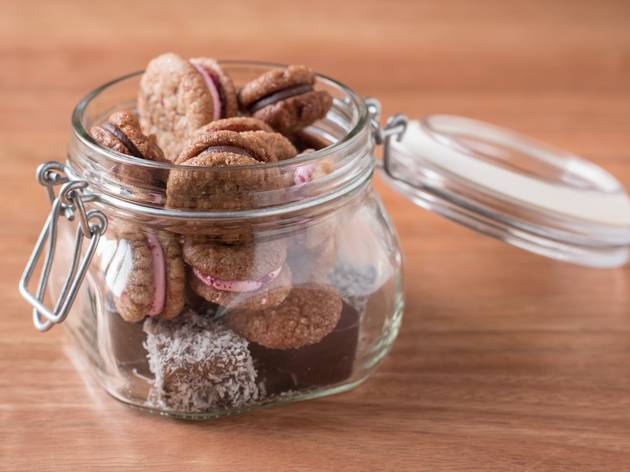 5/12
Photograph: Daniel Boud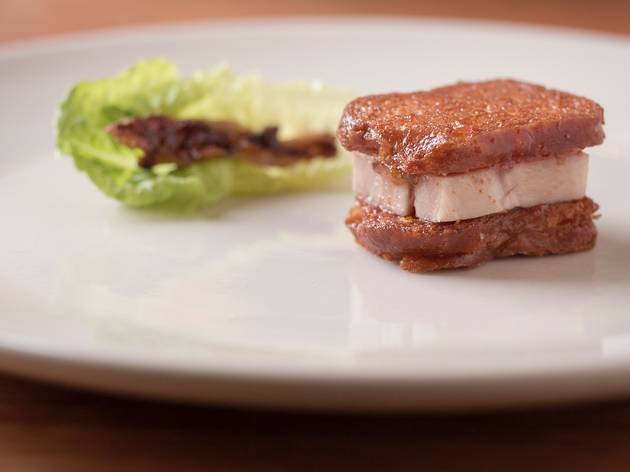 6/12
Photograph: Daniel Boud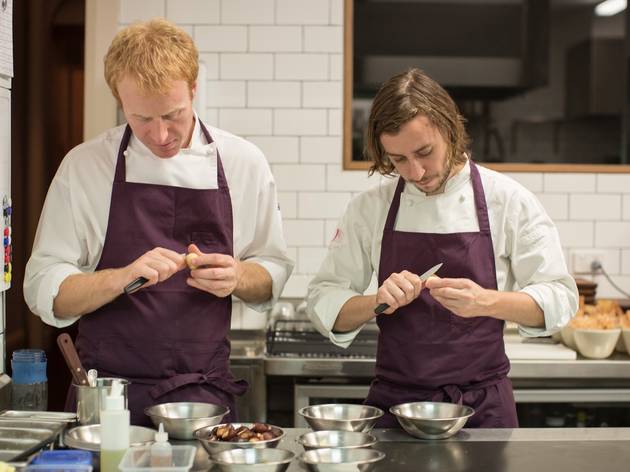 7/12
Photograph: Daniel Boud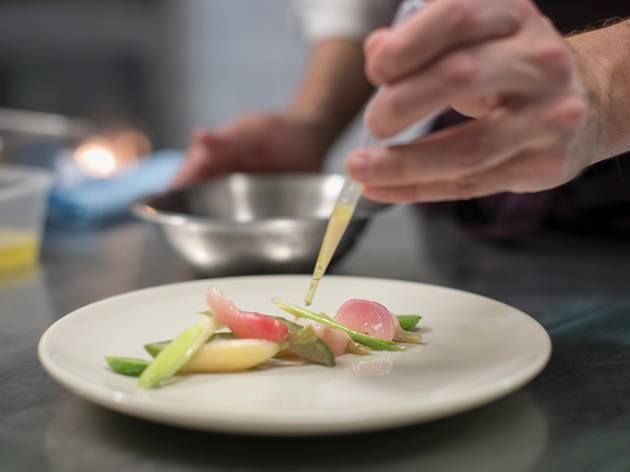 8/12
Photograph: Daniel Boud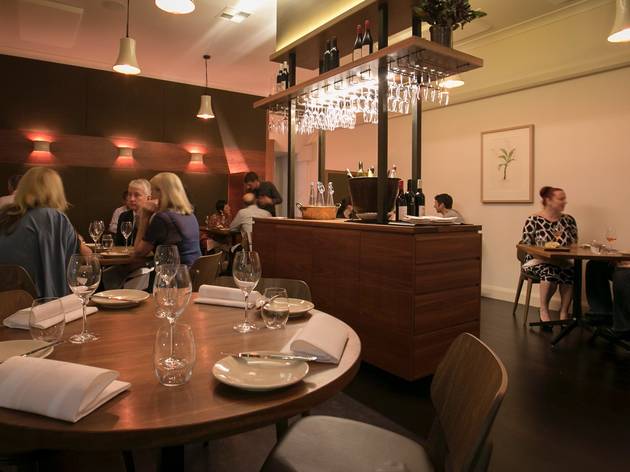 9/12
Photograph: Daniel Boud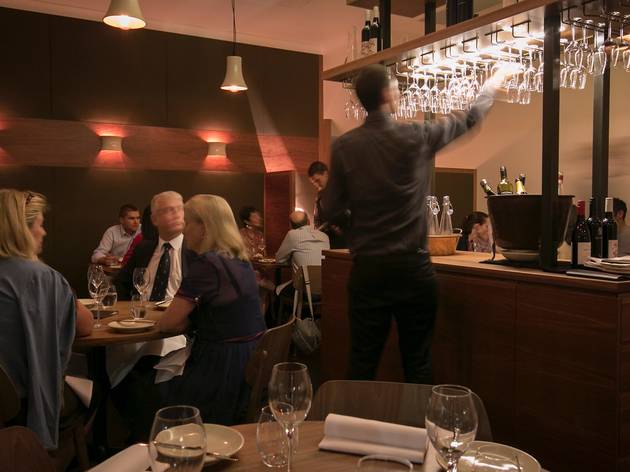 10/12
Photograph: Daniel Boud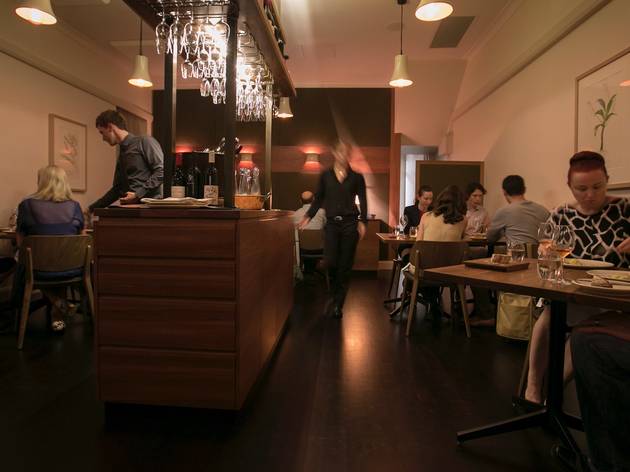 11/12
Photograph: Daniel Boud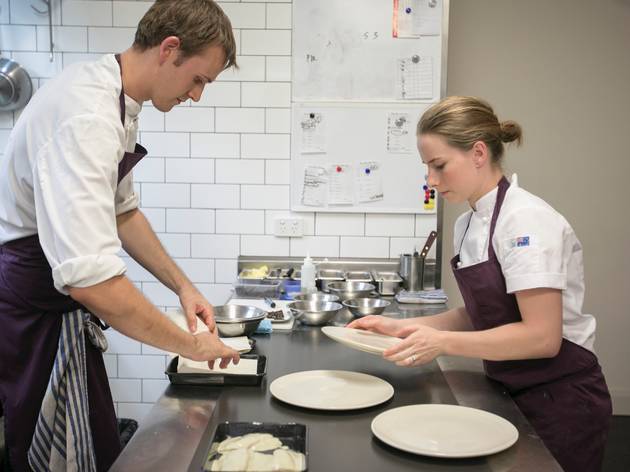 12/12
Photograph: Daniel Boud
Not every course sings like it should, but there's beauty in the Nordic simplicity of Stanmore's ambitious fine diner
You'd be forgiven for missing this restaurant entirely as you drive among the charming buildings of Stanmore. Even in the daytime, its white net curtains are closed to the street, so that when you step in you enter another space entirely: a little piece of luxury in the suburbs.
Luxury, that is, but with a contemporary, produce-driven bent. Much in the style of Biota Dining and Noma, the interior is pared back and simple, all the luxe lying in the food. Sixpenny has two cooks at the helm: James Parry (ex-Oscillate Wildly, Noma and Mugaritz) and Daniel Puskas, formerly of Oscillate Wildly and Sepia. They're joined by business partner Chris Sharpe of Codfather, making up somewhat of a dream team.
Also like Noma, chefs rather than waiters bring the food to the table. It's a set dego of four, six or eight courses plus snacks, and we're brought some tangy cucumber pickles dusted in freeze-dried raspberry first. They've been pickled in rose geranium vinegar, so that they taste deeply floral (which, we discover, is a common thread in the food here). Little gougères filled with green tomato pickle and topped with cheese come next, along with Jerusalem artichoke scallops. Both are underwhelming – you don't come to a degustation restaurant for deep-fried canapés. But the next snack of tender-cooked, whole parsnips (grown on the restaurant's Mittagong farm) resting on a bed of wattle plant, dusted in wattle salt with a dip of burnt-butter-tasting caramelised cream on the side, more than makes up for it.
The first dish proper arrives and it's a sight for sore eyes: a little pile of curled, shaved macadamia nuts disguising lightly cooked crab meat and macadamia nut cream beneath, all scented with the barest hint of chamomile, heightening the creaminess of the rest. It's a beautiful, tender dish that shows precision and sympathy for delicate ingredients.
The single potato roasted in poor man's orange (a sour citrus originally from New Zealand) demonstrates what this restaurant is ultimately all about: simplicity, and letting produce speak for itself. Food like this makes you appreciate how beautiful ingredients at their purest can be: you are forced to mull over the butteriness of this potato, its solid warmth and silky texture. Shaved egg yolk, a steamed cabbage leaf and a splodge of mustard add seasoning, but don't overpower the star of the show.
Flathead arrives next and it's tender, but not meltingly so – we think it could have been cooked a little less. It's served with nettle sauce and a toasted cream that is a little grainy. A Margaret River chardonnay ups the rich factor, which is no bad thing. Slices of pork belly nestle under layers of caramelised apple and witlof on the following plate. The pork has been steamed rather than roasted so is soft and fatty rather than crisp and unctuous. Despite the inclusion of apple, though, this dish isn't overly sweet, which it easily could have been, and overall it proves to be a graceful pairing of ingredients.
A plate of milk granita with chamomile curd and milk ice cream is the better of the two desserts in its light, floral, honey-toned elegance. The following dish, mille-feuille with lemon myrtle and apple sauces, is an excellent example of puff pastry – flaky and beautifully layered – but falls short in flavour.
Sixpenny is all about the beauty of simplicity. Of course most dishes are undeniably complex in execution, but each one still manages to show serious love to the produce from which it is made. It's not the perfect fine diner; there are slip-ups. But it's an unusual restaurant for Sydney – it's got a Nordic, Noma-like feel from the interior to the plate, and it's showcasing Australian produce in a focussed way, unafraid of flaws and limitations. That's a pretty exciting restaurant to have on the scene.
Venue name:
Sixpenny
Contact:
Address:
83 Percival Rd
Stanmore
2048

Opening hours:
Dinner Wed-Sat 6-11pm ; Lunch Sat-Sun 12 noon-3pm
You may be interested in: