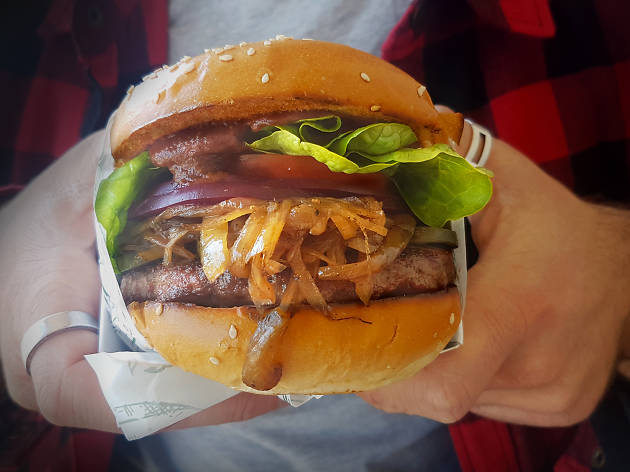 Time Out says
Pub Life Kitchen heads west and opens a burger bar that's a cut above
Burgers are the everyman meal because they are relatively cheap to create. But there's a big difference between cheap and crappy, and at Superior Burger they are very particular about their ingredients. They use pasture-fed beef and chemical free chickens, and they salt-age their meat for the patties, which they mince in-house so that the result is properly nubbly, juicy and rough, not frighteningly uniform like a mass produced product.
Superior Burger is the first standalone venue from Sydney burger master Jovan Curic. If that name doesn't ring a bell, Pub Life Kitchen surely will. Curic has expanded out west, taking over an old takeaway shop in a village shopping centre in Wakeley, a quiet pocket of outer western Sydney.
Stopping in for something to eat is almost like stepping back in time, but that 1980s suburban exterior shows it's true colours on the inside, where neon signs, sassy house rules and plastic palm trees place this venture firmly in the present. The nostalgia is heightened by a fried and battered potato scallop; seasoned fries wrapped up in paper packets; creaming soda; and a classic hamburger with beetroot, proper barbecue onions and smoked barbecue sauce.
If you don't want buns, you can get two pieces of crisp fried chicken and a pile of sliced burger pickles for a tenner. You probably want to order a sode of hot sauce to jazz up the juicy, oily chicken – it's not pretty to eat, but this is not about looks. It might look like a classic suburban takeaway in a small shopping hub, but this burger shop also has a liquor license, which means if you want something gutsier than their house iced tea you can order a West Coast Cooler for lols, or an Aperol Spritz in a paper milkshake cup that you can drink at the sunny tables out the front while you seriously consider the virtues of a move to the suburbs.
Details
Best selling Time Out Offers