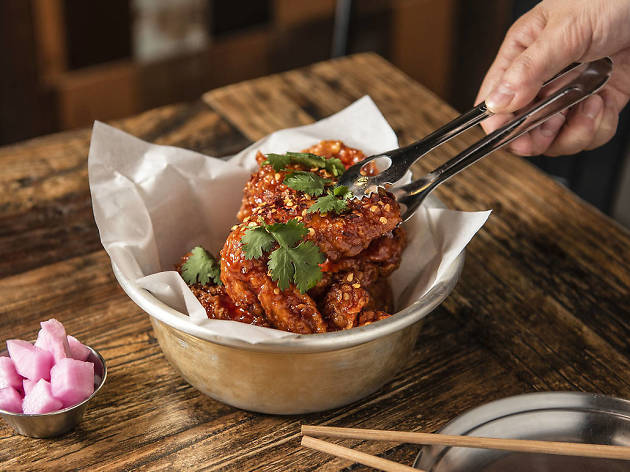 Sydney's best Korean fried chicken restaurants
Real KFC means medium-thick batter, juicy meat, spicy sauces and pickles on the side
First, a quick bit of history. Korean fried chicken, the crunchy-battered and often saucy kind we know and love, doesn't have a long history in Korea. It wasn't really a thing until Americans introduced the idea during the '50s and '60s and didn't take off until 1977, when Lims Chicken started frying individually portioned bits of bird. Then came the '80s, which ushered in the arrival of KFC and several other local chains.
Korean fried chicken is essentially American-style fried chicken with a second swim in the deep fryer that's been Koreanised with garlic-heavy sauces, experimental flavours and chilli. In Korea, it's seen as the perfect unglamorous fast food, best consumed with beer, maybe a few pickles, and more beer. Koreans call the combo 'chimaek', literally a blend of the words 'maekju' (beer) and 'chikin' (fried chicken).
That's how you should approach it here in Sydney. These Korean fried chicken restaurants might not have the best side dishes, chicken alternatives or service, but what they do offer – crunchy-battered, on-the-bone hunks of the juiciest chicken lathered in whatever spicy, garlicky or even cheesy sauces you can imagine, plus the addition of beer and pickles – is such a fundamentally enjoyable experience, nothing else seems to matter.
Feel like a sweet finish? Grab a scoop of Sydney's best gelato and ice cream.
On the hunt for other top cheap eats? Here are our picks for the 50 best cheap eats in Sydney.
The best Korean fried bird in the city
Need to freshen up after that?
When you can't choose between the beach and a swimming pool, these rocky swimming spots have the best of both worlds.
Best selling Time Out Offers