Three Sydney restaurants ideal for your next group get together
The Parlour Group's central Sydney joints offer diverse drinking and dining experiences brilliant for group gatherings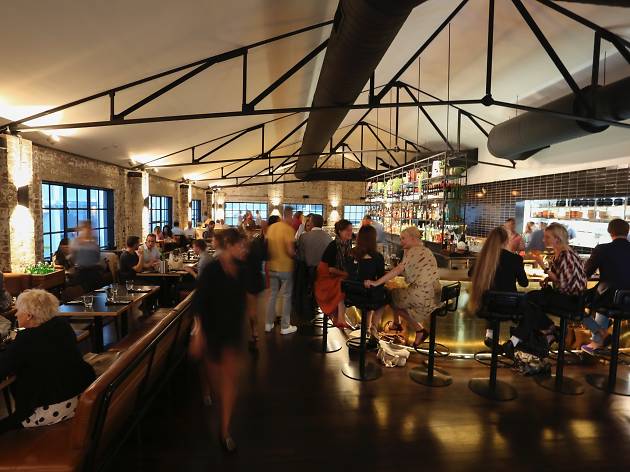 With the warmer weather here and the end of the year just around the corner, you're naturally going to be thinking about where to have your end-of-year catch-up dinners or corporate Christmas parties. You need somewhere with great food and service, tonnes of atmosphere and a laid-back vibe. Here's where the Parlour Group's venues can help.
Parlour Group is masterminded by Brody Petersen, a Canadian who had the dream of bringing fun and casual bar-restaurants to Sydney. The group's portfolio consists of three venues in Woolloomooloo, Rosebery and Paddington. These restaurants offer diverse cuisines but they have a lot in common too: they're all housed in beautiful heritage buildings with oodles of charm; they are all great places to drink as well as to eat; they all offer a warm welcome to everyone; and – hallelujah! – they take bookings.
Got a function you need to plan? Or just want to go for lunch or dinner with your partner that's a cut above the ordinary? Here are four foolproof suggestions.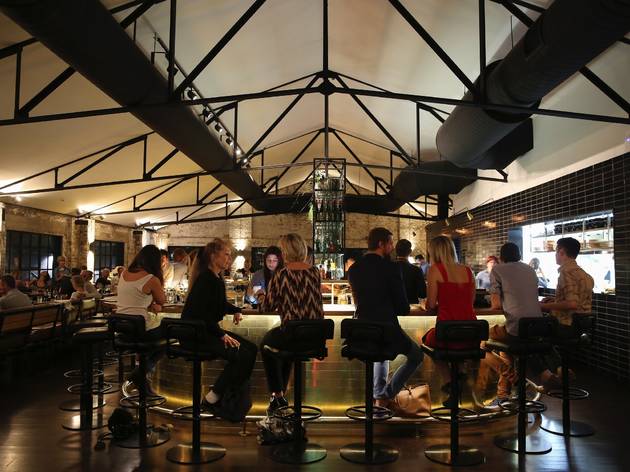 Photograph: Anna Kucera
One of the handsomest Art Deco facades in all of Sydney sits just across William Street on the Woolloomooloo side of Riley. The building was originally the very first full-service garage to appear in Australia, back during the early days of motoring. These days, it's the very picture of a big swinging Manhattan brasserie ("for all your gastronomic service and repairs," says the sign).
An enormous island bar looms in the centre of the large industrial space, where big comfy bar stools line up ready to saddle hungry drinkers and thirsty diners. With a Modern Japanese menu, Riley Street Garage is well known for its oyster selection and a sharing-style menu that changes seasonally: raw food such as sashimi tacos and beef tartare are notable highlights, as is an 800gm 90+ dry-aged rib eye to share.
Got a group function? Riley Street Garage has four different banquet menus ranging from a $65 vegetarian banquet to a $110 ten-course extravaganza. Their Pit Stop menu of express lunches ($16-$30) includes a range of burgers and fries, a sashimi rice bowl, ramen, steamed barramundi or Wagyu beef cheek. Extensive collections of whisky and whiskey (fans understand the difference) and an award-winning wine list round out the experience.

Hidden beneath the grand dining room of Riley Street Garage is Busby Private Dining – an intimate setting for exclusive events. The secret space has an elegant design that pays tribute to the original mechanics' workspace.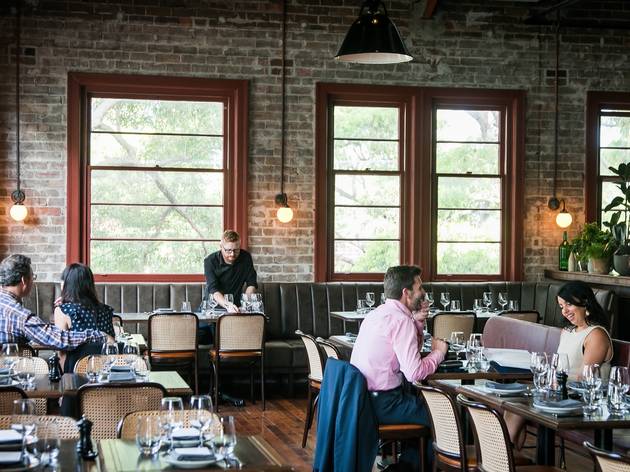 Photograph: Anna Kucera
Born in 1862, Richard Stanton was not only Ashfield's mayor (twice) but, as a developer, he's responsible for the "garden suburb" look of Haberfield and Rosebery. His spirit lives on in Stanton and Co, the neighbourhood dining hot spot located in the 2018 postcode he helped develop. Hidden on the first floor of the Cannery building, the venue's industrial look is all exposed lightbulbs, pipes, bricks and concrete planters, as well as original posters dating back to 1918 from Stanton's real-estate business, gifted by Richard Stanton's grandson, Richard Haberfield Stanton.
Executive head chef Marcelino Papio Jr has channelled his international training in kitchens around the world to develop a menu that reflects the multiculturalism of Rosebery. The burrata dish is a cloudbank of creamy mozzarella offset with the ultra-sweet tang of thin, pink, brined rings of onion. Tender spiced barley miso-baked chicken is a clever twist on the family roast chook. The menu can cater for anything from corporate catch-ups to family affairs and includes a 'Kids and Co' menu. For spring, Stanton and Co have launched a balcony menu designed for aperitivo hour as the sun sets on their impressive outdoor space. Called Stanton Sundowners, the 5-7pm Tuesday to Saturday spot sees punters treated to $5 and $7 snacks and drinks (which includes some cocktails).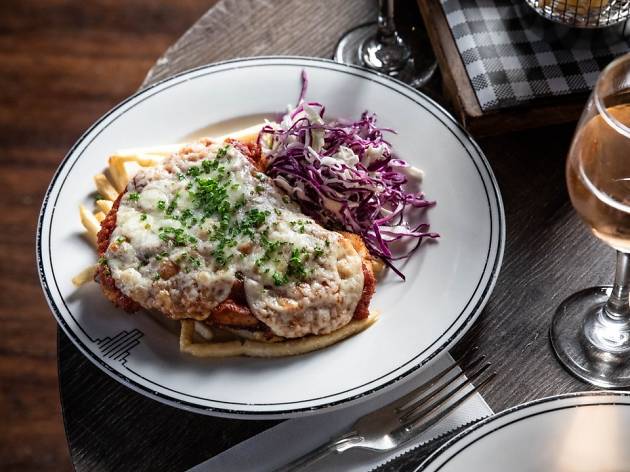 Photograph: Supplied
We had a soft spot for Durty Nelly's, the staunchly Irish pub in Paddington where they'd been pulling pints of Guinness for well over a century. But times have changed and all the Celtic bric-a-brac got the heave-ho in favour of stripped back timbers, leather banquettes, vintage sports photography and tennis racquets. There's no denying the Village Inn is classier, cleaner and smells a lot fresher than Nelly's ever did.
In pride of place on the bar is a shiny bank of taps devoted to Young Henrys, but there's still the Irish echo of a Guinness tap. It's a sleek spot for a $10 glass of nicely balanced shiraz, but the majority of punters are here for dinner as well as drinks.
The menu is simple and compact. Smooth-battered fish provides crunch and the rich, creamy tartare tastes good on everything. A neighbourhood favourite is the slow-cooked lamb shoulder, salsa verde and eggplant chutney, while the staff give the thumbs up to the beef'n'blue burger, where the salty funk of blue cheese supercharges a Wagyu patty. Happily, there are $15 steak and schnitzel deals on Tuesdays and Wednesdays respectively. They're keeping the vibe relaxed and mellow downstairs – Ben Harper and Fat Freddy's Drop are both killing us softly on our visit – but if you want to upgrade your evening head upstairs for an excellent Martini in the muted glamour of the Print Room or enjoy sunshine and cocktails on the balcony. It's all high-class capers in Paddo these days.
Read more about the Parlour Group
The Parlour Group's central Sydney joints offer diverse drinking and dining experiences brilliant for group gatherings