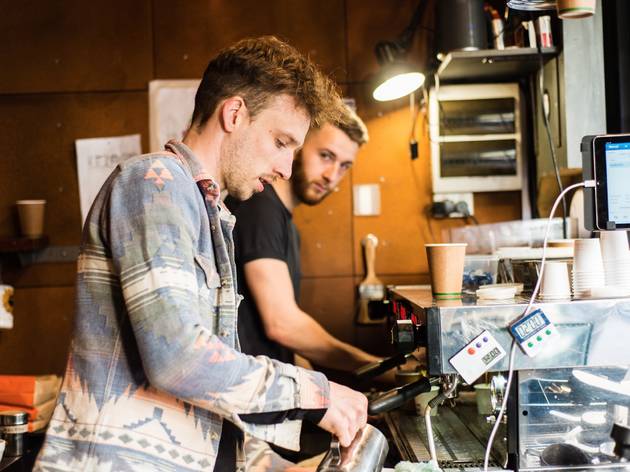 What goes into Australia's most popular coffee?
Time Out talks to the winners of last year's People's Choice: Best Takeaway Coffee awards about building local love and the perfect cup of coffee
"The secret to a great takeaway coffee is speed and consistency," says Lachlan Ward, general manager of St Ali, winner of People's Choice: Best Takeaway Coffee at last year's Time Out Food Awards in Melbourne. "People are time poor, especially during the week. The last thing they want is to have to wait an extra couple of minutes. They've only got a precious ten minutes out of the cubical... They don't want to have to worry about good or bad, hot or cold."
In Sydney, the Best Takeaway Coffee award was taken out by Single O. Their head barista, Angus Lindsay, describes what they do as "a combination of quality and personality... We have to give people something that's top quality, but if we deliver something amazing but we're not very nice, they probably won't come back… The interaction with the customers is very full-on in a sense – we pretty much get down on the street with them, rather than being behind a big counter. The baristas behind the machines will always pop their head over and chat to the people who are lining up."
Both Ward and Lindsay agree that the secret to winning a People's Choice award is there in the award's name. "It's people," Lindsay explains. "Just having that real connection with your regulars is a massive thing."
Ward says St Ali did very little in the way of campaigning for the award. They just told their regulars in store "and they took it on themselves to get it done. It was all word of mouth through the café, and they got on board. It was great." Ward says it was the regulars who were most proud when St Ali brought the trophy home.
Last year's People's Choice: Best Takeaway Coffee award was sponsored by Mastercard, and one of the conditions of entry was having no minimum spend on card transactions. For Lindsay, that was the lowest bar to clear. "If we had a minimum people would probably laugh at us… As an example of the sign of the times, our Eftpos machine was down in our takeaway bar a couple of weeks ago and we had to shut [the bar] down, because everyone wanted to pay by card. Luckily we have a dine-in section where people could get their takeaways. Now, maybe two thirds of our customers pay on their card... People are just like 'ding' on their phone or their card, because it's so easy."
Ward sees quick payments as "just another way to make the customer interaction and experience an easy and efficient one. The less time you have to worry about doing stuff like paying, the more time you can spend chatting to the customers, having an interaction that's meaningful, not transactional."
"We've never taken any of our locals for granted," Ward says. "It's almost like a village here; everyone knows each other. We're proud to be part of that. We had a street party last year and the year before. We're sponsors of a local cycle team, and the football team, we hold art classes here. There are a lot of different ways we embed ourselves in the local fabric."
Meanwhile, Single O's next big mission is to make takeaway coffee a little lighter on the earth. "Our goal for next year is to reduce our single use cups by 50 per cent. For every Keep Cup we get, we're donating the cost of a paper cup to an environmental charity. Instead of getting people to come to the café because they're getting a discount, it's empowering their own responsibility."
This too ties back into a community of loyal local advocates. "[When you] build up a base of people that really love what you do, they tell their friends, they tell their family. It works that way."
Mastercard is sponsoring People's Choice Awards again at this year's Time Out Food Awards. This time around, the categories are Best Bakery and Best Local Fast Food Joint. Keep an eye on the Time Out home page to find out who'll walk away with the crown.
Visit our winners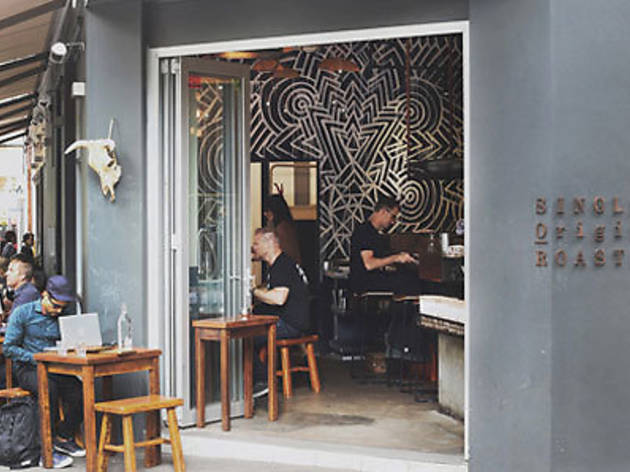 There's a reason this roastery/café on Reservoir Street is still one of lower Surry Hills' most popular spot for a pre-work brekky meeting.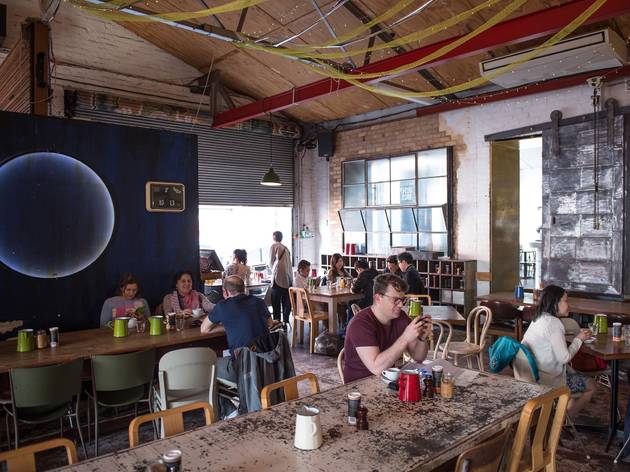 At 9am on a Tuesday morning St Ali South is pumping like it's spring break. The business chatter and weekend debriefs, the espresso machine, roaster and kitchen cacophony meshes with Mark Morrison's Return of the Mac, and it's a hell of a soundtrack to your morning.