Little Flowers
Send a cute bunch of flowers for just $30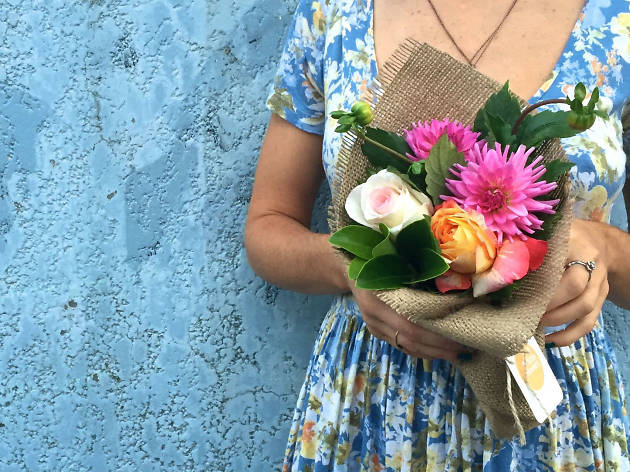 Every day the team of florists at Little Flowers travels to the markets in Flemington to select the best seasonal flowers of the day. They then create small bunches of blooms in their warehouse in Alexandria and post pictures to their website and social media networks. The simplicity of Little Flowers is what's made them so successful. Each day there's only one option available to purchase for $30. Whether it's a collection of paper daisies, a king protea surrounded by foliage or carnations and snapdragons, each arrangement is suitable for birthday wishes, thank yous or 'I had an amazing time last night'.
Little Flowers specialises in same-day deliveries: simply order before 1pm and your beau could be on the receiving end of a sweet hessian-wrapped bouquet before the end of the day. The price tag includes delivery and they'll send bunches of flowers to most Sydney suburbs, from Abbotsford to Zetland, usually via a lovely bike courier. Unfortunately, deliveries are Monday to Friday only, however, the size of the bunch makes it very easy to display on your desk and they're just the right size to carry home on the bus without poking someone's eye out. If you want to send flowers at a later date, you can. Just remember the selection of flowers will be made on the morning of delivery and the florists like to follow their instincts and the seasonal availability – don't expect Dahlias in August. They're also very popular, so make sure you get in early, as they've been known to sell out before 10am.
Find more flower delivery services in Sydney
These online florists (and local flower shops with easy online ordering options) have you covered for same-day deliveries of beautiful flowers.