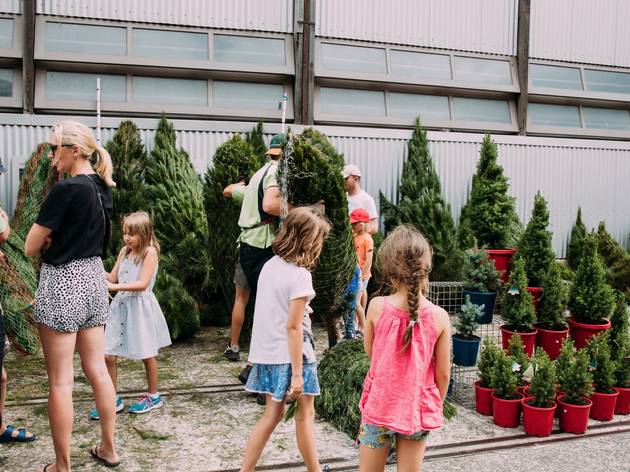 Where to buy real Christmas trees in Sydney
Christmas trees are at the centre of festive activity in Sydney, so we've rounded up the options for sourcing holiday fir trees
There's nothing like a big, bright Christmas tree to transform an ordinary living room into a festive enclave. After the year that we've had, we think it's only fitting to dial up the Yuletide joy with a real, pine-fresh tree.
While crossing international borders is off the cards for many this Christmas, the fresh pine smell of a live cut tree (or a cute potted mini tree that will live on) can transport you to a Northern Hemisphere wonderland.
We've collected a sleigh-load of nearby Christmas tree sellers that deliver the goods – sometimes directly to your door. Take a look at our list below for real Christmas trees, trees for hire, and environmentally-friendly options.
After some gifts to put under that tree? Check out the best Christmas markets in Sydney.
RECOMMENDED: Where to see Christmas lights in Sydney.
Find real Christmas trees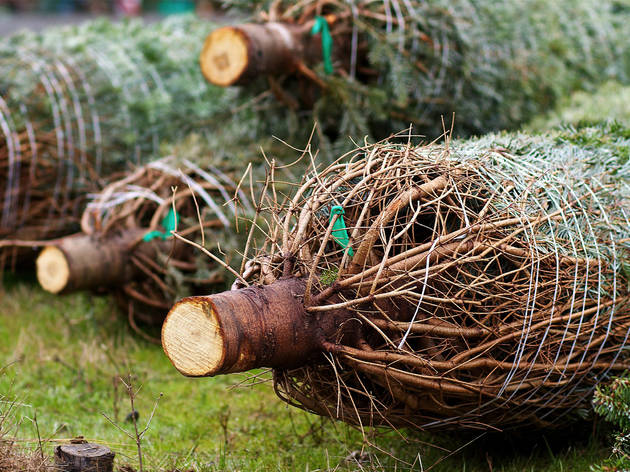 Whether you're after a towering tree or a mini potted tree, Merlino's Christmas Trees are sure to have what you need. At the warehouse in Five Dock there's real cut Christmas trees (starting at $70) and cute little potted pines available (from $100) in two species and multiple sizes. This year they're not taking pre-orders or bookings, but contactless delivery can be arranged after you make a purchase in-store (starting at $20). In 2020, Merlino's is open until December 23, or while stocks last.
This popular weekend market is a go-to for fans of fresh produce and delightfully varied breakfast options, but for a few weeks it is also a port of call for Christmas tree shoppers. Dural Christmas Tree Farm is setting up shop at the markets on December 5, 12 and 19. An extra special Carriageworks Christmas Market on December 21 will also be selling festive goods to fill those stockings (but note that you'll need to visit one of the earlier markets for that tree). If you want to head straight to the source, make the 45-60 minute drive to Dural Christmas Tree Farm before December 23.
The French-influenced florists of Don de L'Amour are bringing pine-fresh vibes to the Tramsheds with a Christmas Tree Pop-up Store. These festive firs have been growing in the Southern Tablelands and tended to by industry leading growers and are available in sizes ranging from 5ft up to 9ft starting from $120. Drop into the Tramsheds before December 13 to load up your sleigh (Mon-Tue 9am-5pm, Wed-Sun 9am-7pm). You can also place a present for patients of Westmead Children's Hospital under the Tramsheds Tree until December 23. You can also pre-order trees online to pick up at the Tramsheds or the Bankstown warehouse.
Shop for ethical trees
Getting out to the woods (read: Christmas tree farms or markets) dressed in full lumberjack attire to find the perfect Yuletide fir can be a hassle for many. Fortunately, the festive flora can come to you, courtesy of online plant retailer Floraly. The Redfern-based eco-friendly flower delivery service delivers adorable, tiny Christmas trees that'll fit out your living room with seasonal, sustainable sparkle with just a click of a button.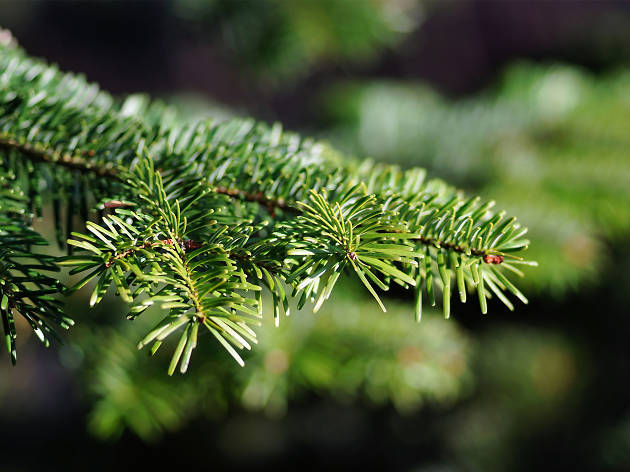 Dural Christmas Tree Farm sells real pine Christmas trees that are available for delivery, and they also offer post-Christmas tree pick-up and recycling. For $35-$65, they'll collect your used tree, mulch it back at their farm and use it to help look after next year's crop. If you can't make it out to their farm, Dural Christmas Tree Farm will also be at Carriageworks Farmers Markets or you can contact them for a delivery (but note they're in high demand, see the website for details).
At Marrickville's Reverse Garbage you can buy an artificial Christmas tree that has been donated from a previous owner or discover stacks of materials to get crafty with and build your own makeshift yuletide fir. They also have barrels full of recycled Christmas decorations and bundles of Christmas cards. Check out their website or Facebook page for workshops to make your own wreath or other festive goodies. While you're there, explore the warehouse – you never know what whacky doodads you might discover, which are usually priced between $30-$50.
Hire trees with ease
Elf Help deliver, install, decorate and un-install real Christmas trees for homes (as well as artificial trees and decorating for businesses) – taking all the awkwardness out of who gets to put the star on top. Elf Help will transport a fully decorated tree with your choice of coloured ornaments and ribbons. Rather decorate it yourself? Elf Help also sell and deliver undecorated Christmas trees starting from $198. Tree deliveries, installation, de-installation and pick-up range from $286 to $1210.
Run out of holiday funds?
Dining out on a dime is one of this city's great thrills. Here are our picks for Sydney's best eats on a budget. We've tasted everything from banh mi to tonkotsu ramen, biang biang noodles and vegan burgers without breaking the bank.