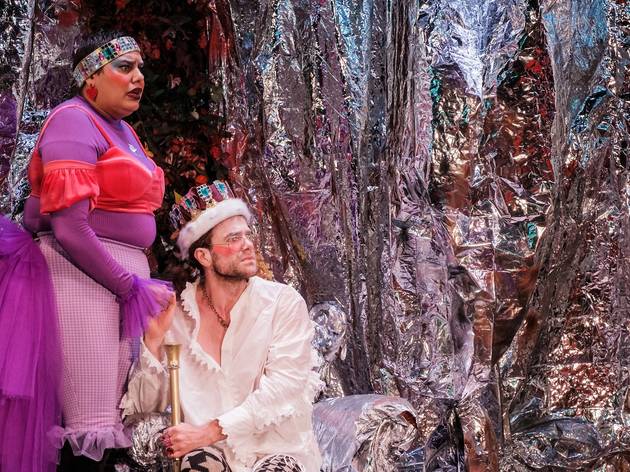 1/2
Photograph: Supplied/Robert Catto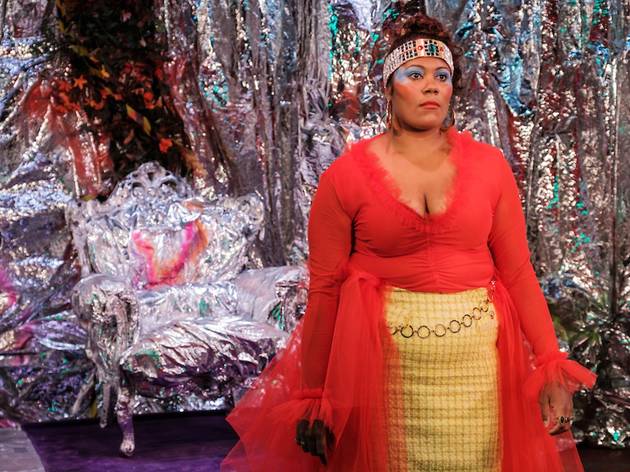 2/2
Photograph: Supplied/Robert Catto
Time Out says
When the sky is falling, it might be time for a new monarch in this gloriously absurd show at the Old Fitz
Descending to the basement theatre space in the Old Fitz Hotel feels like taking a step out of time as we sit down for Red Line Production's new take on Eugène Ionesco's absurdist classic Exit the King. That work, about a stubbornly petulant king who refuses to die some 400 years into his increasingly shambolic reign, was written in 1962. And yet there's a strange and unsettling resonance to the work, listening to a clueless white man refusing to listen to the wise words of women of colour, as the kingdom falls to rack and ruin. Turn on the news on any given day to see this play out in Australia.
This world is not ours, but it is. As we sit down, the stage is swathed in glimmering aluminium foil, almost as if waiting on an overcooked turkey that's ready to stuff. The cast are frozen in place, spiralled with cobwebs, as a hard-pressed cleaner (Emma O'Sullivan) does the rounds, dusting them off just in time for the show to begin.
The abundantly charismatic Johnny Hawkins (Maureen: Harbinger of Death) is the clueless and childish King Berenger the First, railing at the sun and the stars who have long since ceased to do his bidding. The land has fallen into darkness, and there's no one left to lord it over, barring the aforementioned maid and a single remaining guard (Toby Blome). They and his second, adoring wife Marie (Blackie Blackie Brown star Dalara Williams, on fire again) remain besotted by this pathetic tyrant, fond of pointless wars. It may be apparent that his influence are all but gone, draining him mentally and physically as he reverts to squalling child, but they persist with the deferential treatment.
The real power behind the throne, however, is his fallen from his not-so-good graces first wife Marguerite. As played by Shakira Clanton (The Weekend) with magnificent eye-rolling exhaustion, she begs him to abdicate and let the kingdom renew itself before the huge crack in the wall brings the house down. While she scorns his stupid ways, Marie desperately tries to soothe and console the maddening king. In casting two proud First Nations women as queens who would so clearly rule the kingdom kinder and wiser, the subtext thrums. Again, we may be spinning a fable, but the infuriating actions of colonisers who think they know better lends the play a particularly Australian, contemporary bent, mirroring headlines of leaders who refuse to listen and learn from strong women.
Directed by Megan Wilding, it's a potent and oft-hilarious brew that flashes a fiercely knowing wink. This is the first Red Line production since theatres lit up once more. Looking at class, race and the inaction of craven government, it feels right on time. Veronique Benett's simple but effective set amplifies the farcical. She's ably assisted by Ben Pierpoint's echoing sound design and force of theatrical nature Alexander Berlage's arch lighting, conjuring up red warning flares as we enter the final descent.
If the 90-minute show feels a little over-extended, like the king who refuses to heed the exasperated counsel of his snazzily dressed doctor (an eyepatch-wearing Rob Johnson), then it's no fault of the game cast or Wilding's snappy direction. It's baked into Ionesco's somewhat thin text. When we're told at the outset that the king must die, by the last half hour, you can't help but wish he'd get the message a little sooner. Again, not unlike our own born-to-rule breed of politicians. There may not be much to it, but the sparring of Hawkins and Clanton makes for a fine feast, and it's joyous indeed to see Red Line back in the game: Long live the Fitz.
Read more about the best theatre to see in Sydney this Month here.
Details
Best selling Time Out Offers