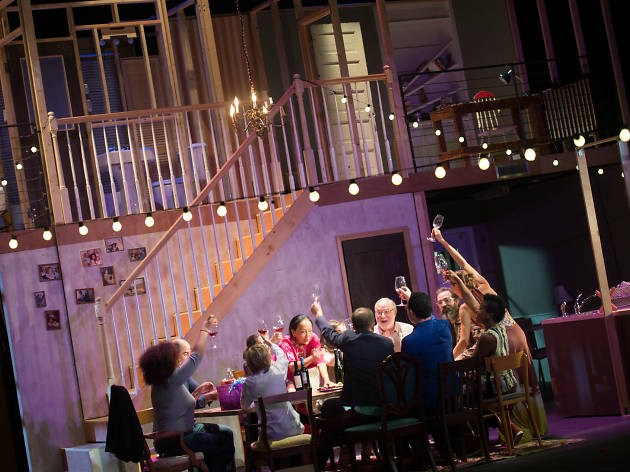 An entire house materialises on stage before your very eyes in this magical Sydney Festival show
American theatre-maker and illusionist Geoff Sobelle was last seen in Australia in 2016, when he brought hundreds of cardboard boxes to Sydney Festival in The Object Lesson. In that show, he conjured up stories and worlds from the boxes and the items within them, but in Home he performs an even greater miracle: he brings an entire two-storey house to life before our eyes. Across the first hour of the show, we see walls popping up, doors being installed, objects being unpacked and the stories of the people within the house coming to life. It's a little like watching a busy construction site, but far more entertaining.
Directed by Lee Sunday Evans, the show is all about the rituals of home, whether that's showering, jumping into bed, greeting visitors, washing dishes or eating a meal. The real magic is in how it transforms these mundane, everyday tasks into something beautiful, vibrant, theatrical and choreographed, helped along by Elvis Perkins' gorgeously wry, folksy songs, performed live on stage. The cast are all committed to the enormous tasks they have in both construction and performance, and Steven Dufala's set is a feat of engineering and illusion.
When the show approaches the 60-minute mark, you start to wonder how it might sustain itself to the full 100-minute run time. But suddenly audience members are invited onto the stage, shifting the dynamic of the show entirely. The number of invited guests starts to grow and grow, and all are given a role to play in a wild house party. The sheer logistics of the crowd control are staggering, and it turns out creating a performance with a cast of 30 or 40 unrehearsed audience members is the most impressive trick of all.
This is a review of the Brisbane Festival season of Home.
Check out our top 20 picks of the 2019 Sydney Festival program.
Rating Breakdown
5 star:

0

4 star:

0

3 star:

0

2 star:

0

1 star:

1
I think STC was sold a pup. As was I. This would have to be the worst piece of theatre I have ever seen in 35 years of theatre going as a subscriber. My theatre partner was similarly unimpressed.