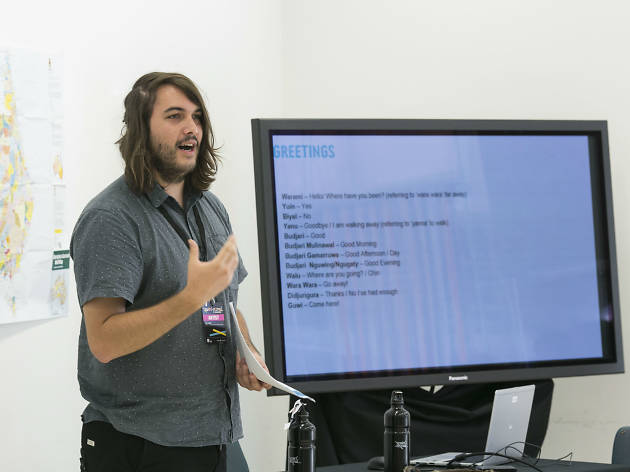 Sydney Festival brings back its overwhelmingly popular Darug language classes for a second year
Bayala translates to 'speak' in Darug language, one of the first languages spoken in the Sydney area. Last year, Sydney Festival introduced free Indigenous language classes as part of its program to celebrate the Aboriginal heritage of our city – and this year they've doubled the program with extended classes and talks.
You can register for free one-hour classes with teachers Aunty Jacinta Tobin and Joel Davison, which take place at the Warrane Theatre at the Museum of Sydney (see Dates and Times tab) and Riverside Theatres, Parramatta. These include learning greetings, landscapes, place names and body parts – plus a song which you can perform at the WugulOra Ceremony on January 26.
If you want to take your language skills further, this year Sydney Festival is running three-day language courses at UTS and Parramatta Library for a very reasonable fee of $26. These classes are suited to people who already have knowledge of Darug and would like to build on those language skills. The three-day courses are also taught by Tobin and Davison and you can choose from a beginners' course or a language structure course.
These classes booked out very quickly last year. Make sure you register on Monday October 30 if you want to secure a place.
Get a head-start. Earlier this year, Time Out asked teacher Joel Davison to share ten Darug words and their meanings.