Client Liaison's Couch Party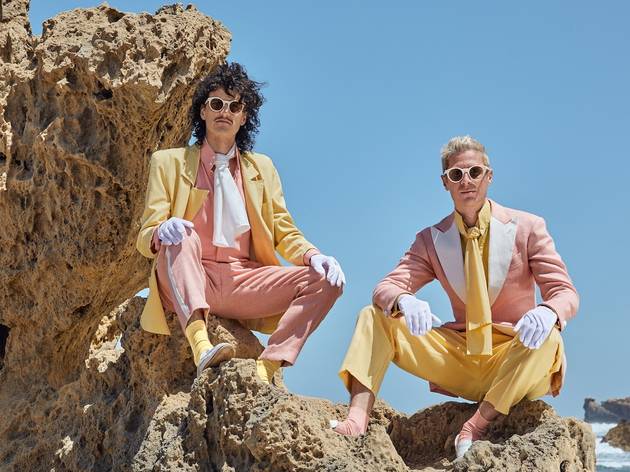 Time Out says
Kick off your weekend with a synth-pop heavy virtual party
This is 'The Real Thing'. Australia's original turn-of-the-nineties indie pop duo are rolling up in their 'Off White Limousine' for a special gig streaming live from their lounge room to yours.
This Friday, May 15, you can tune in for an hour of synth-pop vibes from 6pm, as you get your boogie on to all Liaison's top hits. This performance is shining a light on ReachOut, Australia's most accessed online mental health service for young people.
We don't know about you, but we like our mental health advocacy delivered by groomed men in pastel suits, via a fax invitation to a board meeting, with that fax machine lightly drumming the beat to 'Survival in the City' as it prints a carbon copy.
The Liaison lads will be live on the airwaves with full Diplomatic Immunity on the KFC Australia Facebook page, it is believed they cut a deal with the Colonel after bonding over the benefits of cravats and double breasted suits.
"We'll be using our situation to take a new approach on our songs as well as preview what's next to come," the band said in a press release.
Tune in on Friday night to be welcomed into the world of their love and dance like no one is watching. And, if isolated times have you feeling disconnected, ReachOut has free mental health services available online, 24 hours a day (not via fax).
Looking more ways to keep entertained? We rounded up the best things to do (from home) this week.
Create your own user feedback survey
Details
Best selling Time Out Offers