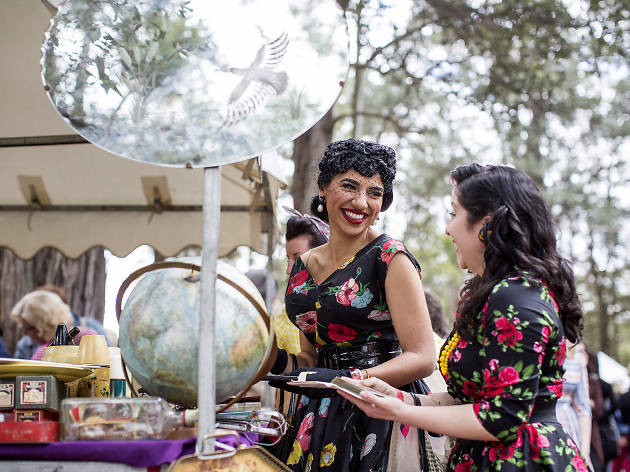 Time Out says
Frock up in your finest vintage for the fair's milestone birthday
Sydney Living Museums throws one of the biggest retro parties of the year at the 1950s architectural icon Rose Seidler House. Surrounded by bushland in Ku-ring-gai Chase National Park, the mid-century property is the perfect setting for the authentic vintage fair, which includes outdoor fashion markets, a classic car display, rock 'n' roll dancing and live music from rockabilly bands.
This year is extra special as the event is turning 21 – and the organisers are calling on their loyal friends to make it a birthday bash to remember. Sarah Doyle and Elvis Abrahanowicz from Porteño will be taking care of the food, Tony Vacher from Sterling will be running a pop-up barbershop offering retro cuts to the gents, and Boogie Bop Dames will be styling victory rolls for the ladies.
Stylish TV presenter and author of The Fictional Woman, Tara Moss is hosting the event and judging the Best Dressed competition alongside the Vintage Clothing Shop owner Lorraine Foster. There'll be dancing from Swing Time Australia and music from four-piece band the Hi-Boys, and DJs Limpin' Jimmy and Swingin' Kitten.
"It's a unique experience to be able to come to the site of the first iteration of modernism in Australia," says Sophie Lieberman, head of programs at Sydney Living Museums, "We do it only one day a year as the site is quite fragile and quite special, and it's our job to make sure it's in good nick for the the future.
"We get the core vintage people who are really living that lifestyle but also a large number of people who are 'vintage curious' and want to explore the venue."
Sydney Bus Museums will be running a free vintage shuttle bus between Turramurra Railway Station and Rose Seidler House, so you can leave the car at home unless it's part of your look or you're planning to stock up on original 1950s kitchenware and mid-20th century furniture at the markets.
Last year, for the first time in the event's history, the Fifties Fair was cancelled thanks to wet weather so our fingers are crossed for blue skies and sunshine. "We can't weatherproof it," says Lieberman, "We've put a lot of things in place to make sure that we don't have to take that decision again, but if we do we're communicating it much earlier to people. (We're hoping for a lot of sunshine)."
To mark the milestone, Lieberman says they'll be inviting people to share their memories of the event over the years. "We have a beautiful photograph of Penelope Seidler when she was 21, at Rose Seidler House, which she's given to us for the celebration. The Australian tradition of the 21st is that you've finally grown up, so it's an opportunity for us to reach out to all the people who've helped make the Fifties Fair the success it is, but also to step back in time for that one day."
Details
Users say