Five more reasons to visit Steam Mill Lane this winter
The exciting new food and retail precinct in Darling Square has hot winter deals and entertainment galore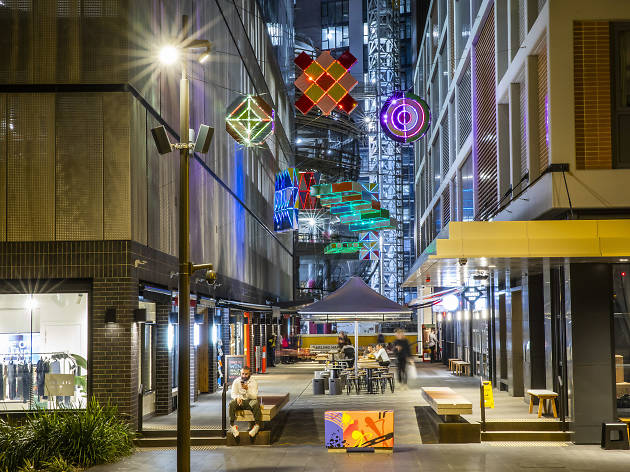 Sitting snugly between Darling Harbour and the CBD is the warren of laneways and sheltered thoroughfares that make up Darling Square. Steam Mill Lane is the most recent edition to this humming urban centre, with new cafés, restaurants, bars and boutique stores offering residents and visitors the complete metropolitan package in one location.
Throughout July and August, this little laneway will give you even more bang for your buck, with free events and discount deals all the way down the lane. So in case Belles Hot Chicken and the burgers from 8Bit weren't tempting enough, here's five more reasons to roll on down to Steam Mill Lane this winter.
Fishbowl. Photograph: Supplied
1 Save with Steam Sessions food and shopping specials
There's nothing like a three-hour happy hour to keep you grinning. From Wednesday to Saturday, you can score cheap eats along the lane from 4-7pm.
Head to the reincarnation of the renowned Marrickville Pork Roll and pick up two boxes of rice paper rolls for a miserly $12, or score a free drink when you grab any two bánh mì. Or, accompany your crisp chook from Belles Hot Chicken with $5 draft beers and house wines, a $10 spritz or a free side of fries when your order a bottle of vino. That's a meal deal we can get on board with. Fishbowl is serving up fresh poke bowls from $10 a pop, while Ricefields is giving away a soup or drink with any purchase.
Need a pick-me-up? Grab a caffeinated beverage and flaky pastry from Toby's Estate from for $5 (2-4pm), or a dessert and coffee mashup from Edition Coffee Roasters that will only set you back $15 (3-5pm). If you suddenly feel the urge to splurge on some sunnies or designer scents, Darling Square Pharmacy is following the trend with discounted brands each week during happy hour.
Citizen Wolf. Photograph: Supplied
2 Acquire new skills during Workshop Wednesdays
You'll feel like you've really earned that first glass of red during happy hour once you've mastered a new skill. On Wednesdays, the generous retailers along the lane will impart their various specialised wisdom in weekly workshops. Investigate the heady flavour punches in natural wines with Belles Hot Chicken, or learn to toss a perfect pizza at Il Bacio. If you're feeling flat, get a makeover in a style masterclass at Citizen Wolf. Whatever takes your fancy, book in through the Darling Square website.
Belles Hot Chicken/Steam Mill Lane. Photograph: Dallas Kilponen
3 Test your knowledge at Thursday Trivia Night
Keep your mind active with Thursday night trivia while you're warming your belly with all those cheap eats. You'll need to register ahead of time – which is a good incentive to get your brainiac crew cramming – then make your way to the lane for a 6pm start.
4 Get music with your meal during Steam Mill Sounds
Make your next trip to Darling Square date night, because there's dinner and a show every Friday from 4-8pm this winter. You'll be entertained by live acoustic musicians or energetic DJ performances along the laneway while you enjoy a fine meal.
The Sandwich Shop. Photograph: Dallas Kilponen
5 Make the most of dining deals with Weekend Spread
Once the weekend arrives, there's even more food and drink deals. If you've got hungry little tykes, head to the Sandwich Shop's Steam Mill Lane outfit for free kids' meals throughout the day on Saturdays. You're probably pooped from chasing them around all day, so pop into Edition Coffee Roasters and treat yourself with a free miso dark chocolate cookie when you spend more than $8.
Ricefields has gone mad and decided to basically give away the contents of their kitchen, with all their dishes going for $3.50 a pop every Saturday and Sunday. But if you're in a boozy mood, follow the sound of crackling batter until you reach Belles Hot Chicken, where for $50 you get a comforting serve of chicken and waffles plus one-and-a-half hours of unlimited prosecco and Bloody Marys. Or you could mosey over to Il Bacio for two-for-one pizzas or a free glass of wine with your main meal or pasta course.
So, whether you're on the hunt for new flavours, need a little evening entertainment or would like to work on a new skill, Steam Mill Lane at Darling Square is the place to find it this winter.