Four ways to make the most of Bastille Festival Sydney
Float between breezy produce browsing and moonlit feasts at this massive Parisian party by the harbour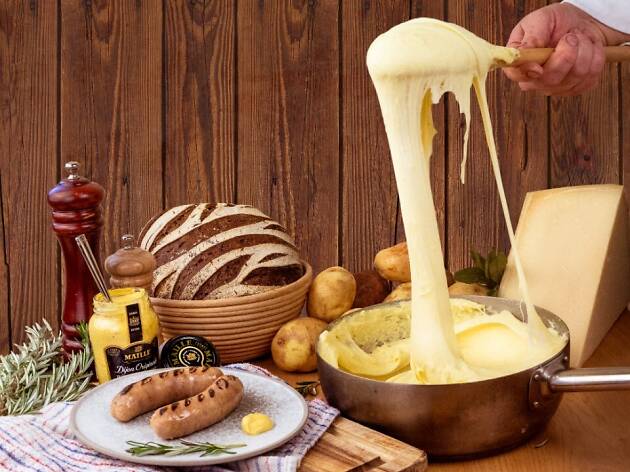 Sydney's celebration of Bastille Day (July 14) brings the best parts of France – food, wine and intriguing art and performance – to the harbour from July 11-14. The annual festival takes over Circular Quay and the Rocks with themed food villages, pop-up wine bars and beer gardens, movie screenings, free concerts and roaming street performers. We've assessed the gooiest cheeses, the finest wines and most exciting activities on offer so you can make the most out of a day and night spent cruising the festival.
Map out your journey through the festival precincts
Photograph: Supplied
Entry into this wintery French wonderland is totally free, so you can go all-out exploring every corner of the four villages. From the Christmas-themed fun popping up in the Rocks to the fancy food courts and produce markets in the East Circular Quay Village, there are more than 100 food providers frying, baking and boiling traditional French dishes and exciting French fusion meals. Find traditional French dishes at the Customs House Village and modern fusion creations at First Fleet Park. There are also more than 30 boutique French wines to taste at the festival while you watch any number of the 100 free music performances, circus acts, cabaret shows and theatre over the four days.
Get serious about wine with a vinous tour de France
Photograph: Supplied
Join this self-guided tour of the most primo wine bars at the festival for priority access to each venue and more vinous knowledge. Head to one of the festival information tents to pick up your French passport (ready to be stamped at each pop-up bar), a reusable tasting glass and VIP pass and follow the tour map to find and taste eight different French drops (there's also a pass for four tastings, if you're feeling coy). There will be a dedicated guide at each bar with sommelier-level skills to talk you through the tannins and tasting notes as your palate travels from Burgundy to Bordeaux and the Rhône Valley at your own, relaxed pace. Try all eight varieties for $59 or four for $39.
Watch a movie under the stars and enjoy mulled wine
Photograph: Supplied
Settle into a comfortable deck chair under the stars (and under a cosy supplied blanket) to watch one of eight French-themed movies at Le Citroën Mulled Wine Cinema. Films range from classic French-language comedies Welcome to the Sticks and Santa Claus Is a Stinker to French-themed Disney movies The Hunchback of Notre Dame, Beauty and the Beast (2017) and The Aristocats. There are also two great Hollywood movies set in Paris: Les Misérables (2012) and Julie and Julia. The festival's open-air cinema is set up on the Tallowoladah Lawn outside the MCA, complete with views of the Opera House and the Sydney Harbour Bridge, but be quick – there are only 100 seats available to each screening. Tickets come with the option of added popcorn and mulled wine.
Celebrate Bastille Day at a pop-up tropical beach by the harbour
Photograph: Supplied
As a nod to New Caledonia – France's cousin here in the Southern Hemisphere – Kanak Beach Village is bringing four days of tropical island parties to the festival that'll be welcomed warmly in the winter chill. They're shipping in buckets of sand to create the island between the ferry terminal and the Opera House. It'll include a cocktail beach bar, a barbecue restaurant grilling fiery pork and seafood, European-style beach lounges, umbrellas and cruisy tunes. Play a round of pétanque (French lawn bowls) or sign up for a treasure hunt that'll take you through five exciting challenges around Circular Quay and the Rocks. Messina and Koi will be making special Nouméa-style ice-cream flavours for dessert, and the bar will be mixing sweet rum and coconut cocktails.