Granville area guide
Restaurants, shops and events in Granville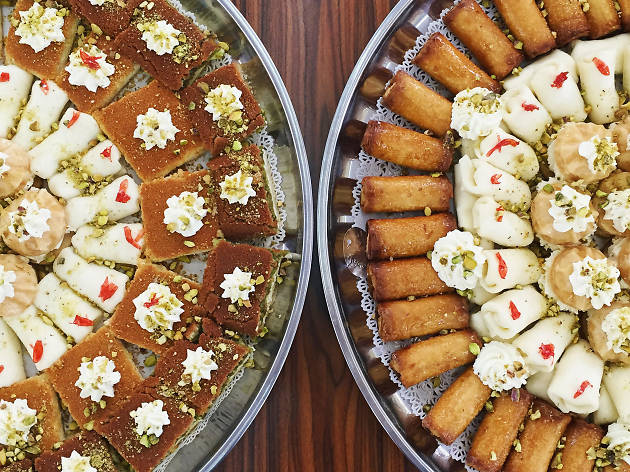 Although it's possible that some history and disaster buffs know Granville best as the site of Australia's most deadly train accident (83 people died in the 1977 derailment), these days you're far more likely to associate this suburb of Western Sydney with Lebanese food or, depending on your hobbies, sprintcar racing at the Sydney Speedway track. Granville sits partially within Parramatta City and partially within the limits of the Cumberland Council, and if you live here you are more likely to be born overseas than locally, which is what gives Granville its international accent.
Restaurants in Granville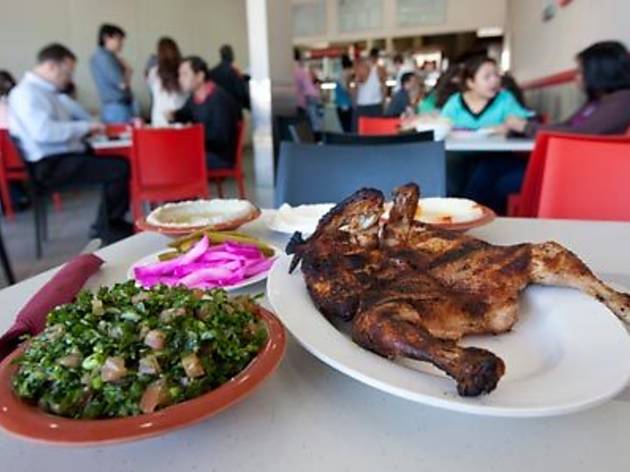 El Jannah
Call it aioli, toum or skordalia, the popularity of garlic sauce extends to multiple countries and cuisines. Perhaps more than the chicken, the garlic sauce at El Jannah is the stuff that will keep you coming back for more. But for now, let's start with the chicken. The eat-in charcoal chicken meal is of Lebanese bread, pickles and garlic sauce along with a quarter ($6.90), half ($10.50) or whole ($19.90) chicken. Middle Eastern hospitality means it's a meal and a half. It might be a by-product of an extremely large charcoal barbecue, but occasionally the chicken can be a little dry. One dunk into the garlic sauce (made to a family recipe) however, and all is forgiven. The 'chicken sandwich' (please don't call it a kebab) is the better bet. It's a feat of engineering to fit the amount of freshly pulled chicken, pickles and tomato they do on a round of Lebanese bread. It ain't food for the shy, that's for sure. The smoky chicken is complemented by pickles in alarming colours (bright green and neon pink), combined with a good whack of garlic sauce. Often at a charcoal chicken joint, vegetarians are left running a distant second. Not so at El Jannah, with freshly fried felafels in the offing – crunchy orbs of chickpea goodness. Ask nicely and they will fry the felafel to order for a 'felafel sandwich' that will leave even hardcore meat eaters satisfied. The chips are write-home good too, sprinkled with a healthy dose of chicken salt. A few years back El Jannah boug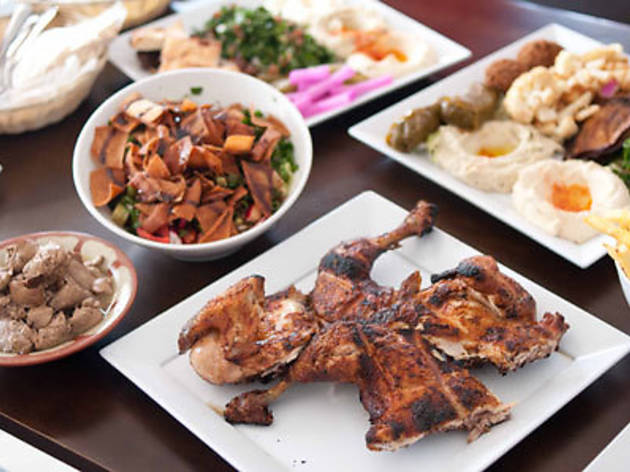 Hawa Charcoal Chicken
Granville might be known as the original home of El Jannah chicken but down the road you'll also find Hawa, slick with red and black uniformed staff and the motto "in taste we trust". There's a huge dining area here, with stacks of benches and booths inside plus chairs and tables on the street. You can smell it as soon you hit the main street of Granville. That's the scent of chicken skin charring to a smoky crisp as fat drips and sizzles onto glowing charcoal below. Endless racks of flattened chooks spin around and around on a spit. This is barbecue chicken, Lebanese-style. Garlic sauce is mandatory. The crowd is a happy mix of families, teenagers and blokes. No one bats an eyelid at the soccer players hoeing into an entire chicken each. Construction work down the back indicates there'll be a kids play area opening soon. A whole chook will set you back $20, but once you factor in the free sides, it easily translates to a family-sized meal. You'll score rounds of soft Lebanese bread, salty pickled cucumber, lurid pink pickled turnips and thick and fluffy toum (that addictive Lebangarlic sauce). Mix, pick and graze in any order you please. Dunk the chicken in garlic sauce. Don't forget to order chips. Dip those in the garlic sauce as well. Bliss. And if you're skint, take-away chicken is half the price. Charcoal chicken might rule the roost here but you can also dig into skewers of kefta spiced lamb mince, shish lamb skewers and shish tawok marinated chicken, jammed
Dessert cafés in Granville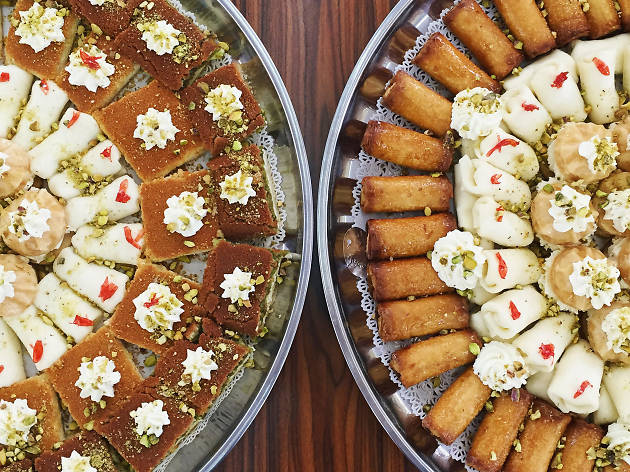 El Sweetie Sweet Shop and Tea Salon
Both of the big, late night dessert shops in Granville sit conveniently close to each of the chicken shops, so if you're eating at Hawa, El Sweetie is closer. Bars and pubs may not have a huge draw out here, but sugar pulls crowds to this café and sweets shop where you can buy nutty, syrupy, spiced cakes, refreshing frappes, strange yoghurt cocktails that are more like a trifle than a drink, and coffee. You might want to consider booking as it's extremely popular to while away an evening here.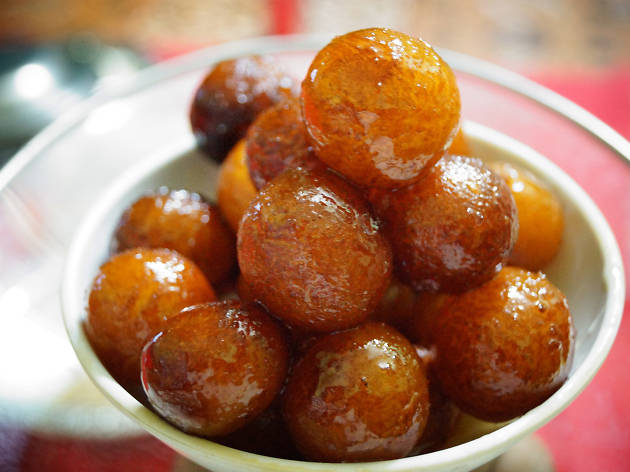 Abla's Pastries
If you're dieting or just generally lack will power, do not even think about walking into Abla's Pastries. This late-night Lebanese cake shop is an Aladdin's Cave of sugary treats. In the long gleaming glass counter that runs along one side of the expansive shop you'll find semolina cakes, baklava in every shape and size, pastries filled with pistachios, almonds and cashews, cakes topped with soft meringue and ladies fingers. Behind the counter is where they keep the sugared almonds and on the left are whole cakes, ice cream and the coffee machine. You could save yourself some time by buying one of the ready made gift boxes wrapped in colourful cellophane, but choosing is half the fun.
Bakeries in Granville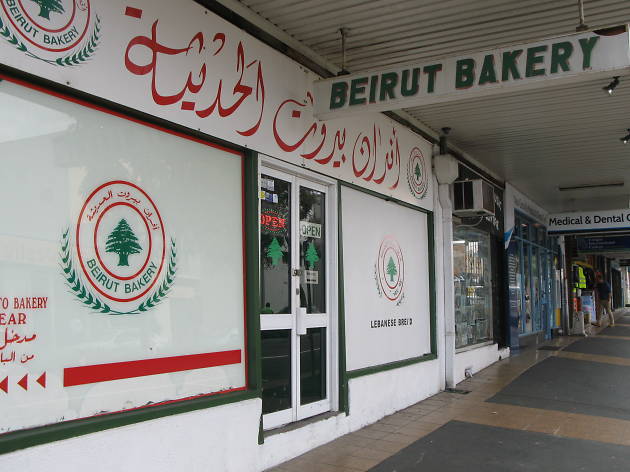 Beirut Bakery
No, the bakery isn't closed – the shop-front is just very misleading. You need to pop up the driveway and around the back to the little counter window where you can pick up some of the freshest Lebanese bread in Sydney. That's all they do here – thin, soft, round pieces of bread bagged up and just aching to be wrapped around some charcoal chicken and pickles, a few hot falafel and humous, or even turned into pizza bases for those who have yet to master fresh dough.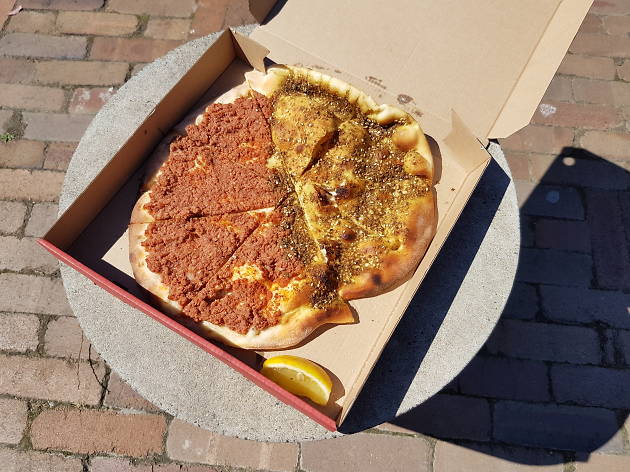 Mina Bakery
If you need a quick snack make Mina Bakery your first port of call. For two bucks you can get a crisp based thin pizza topped with za'atar and oregano that comes alive with a squirt of lemon. If you want to upgrade you can get a half and half with lamb, cheese or veggies for $5.