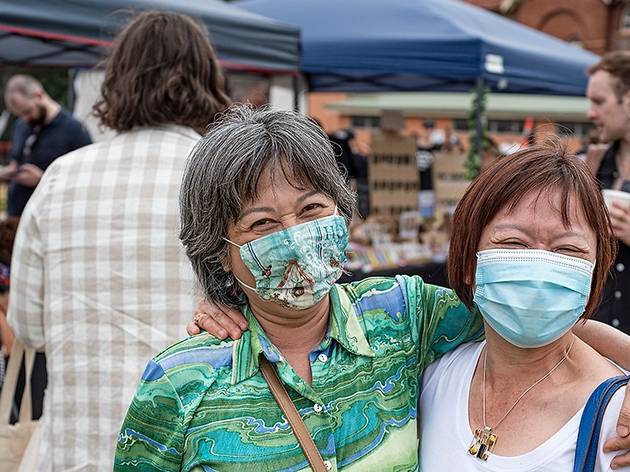 1/2
Photograph: Sydney Vegan Market/Don Urban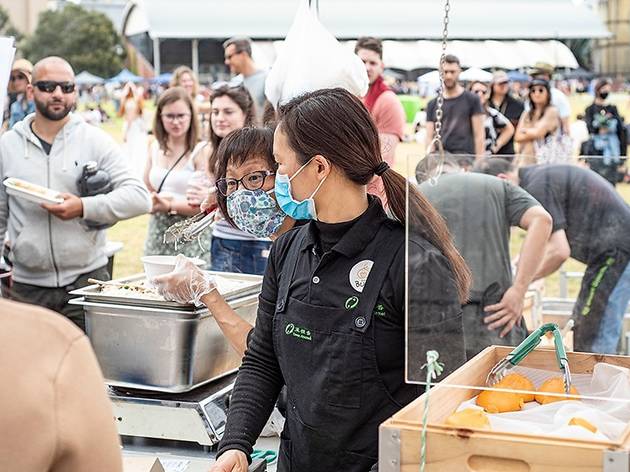 2/2
Photograph: Sydney Vegan Market/Don Urban
How Sydney Vegan Market pulled off a major post-lockdown event without hurting the environment
The monthly market is seeing more than 5,000 visitors, and no single-use plastic
In post-lockdown Sydney, despite the gradual march to open back up, major events and public gatherings are still tricky territory. Even the ever-popular open-air exhibition Sculpture by the Sea has been called off this year. In spite of all the challenges inherent in planning large events during unprecedented times, the popular Sydney Vegan Market relaunched in October after an eight-month hiatus, successfully hosting a physically distanced event with a top capacity of 5,600 visitors with 100 volunteers, almost 90 vendors, and live music at the Entertainment Quarter in Moore Park.
Not only are Sydney Vegan Market's post-lockdown events turning the crowds, safely, they're also doing it in an environmentally conscious way. Single-use plastic is banned at all Sydney Vegan Markets, with waste being composted and turned into soil after the event. This is an impressive feat, considering that plastic waste like single-use gloves has been making more common and unchecked appearances under the latest health and safety measures.
With the Market returning to usual monthly programming from Sunday, November 15, we spoke to Vegan NSW's markets manager, Jones (pictured below), about how they pulled it off.
"The biggest challenge was ensuring that we did all we could to follow the rules set by the government, and ensuring that our attendees easily understood what they needed to do. But of course, the no dancing and no hugging rules were the hardest," they say. With live musicians and DJs pumping tunes throughout the day, the fluoro-clad army of volunteers had to stop people from dancing, which is currently banned at public gatherings.
Photograph: Sydney Vegan Market/Don Urban
Merriment is an interesting thing to contain. Sydney Vegan Market has a cult following among people seeking cruelty-free food and products, as well as those with allergies and dietary preferences. While the Market's founder, Vegan NSW, has continued to engage its audience online and set up a digital marketplace during lockdown, the inclusive, educational, and some would say spiritual energy at the IRL events is its major drawcard.
To make social distancing possible at the return markets without smothering the vibes those who come to markets know and love, they negotiated for a far larger space – 25,000 square metres – and designed a circular layout with 1.5 metres between each vendor. For the most part, visitors browsed clockwise around the stalls, lining up behind the stalls to wait for orders, and wandering to the centre of the field to settle in for a picnic.
Sydney Vegan Markets (and all Vegan NSW markets) have also been single-use-plastic free from the beginning. "We take it very seriously and as vegans who are aware of the environmental impacts of animal agriculture, we knew that we wanted our markets and community to leave as little footprint as possible. We all know that plastic sucks and we do all that we can to avoid it," says Jones.
Photograph: Sydney Vegan Market/Don Urban.
Market organisers have also carried clear messaging to attendees that they can and should BYO containers, cutlery, bottles, cups and straws, with safety measures for this now in place. "Seeing the food spreads that people post after the market with a bunch of ragtag Tupperware is so cool! We are very keen to continue this and believe that it's possible."
Any packaging provided by food stalls at the markets must be compostable, and Jones explains that they've partnered with a commercial composting group, ORG (Organic Recycling Group), to turn the market's other waste into usable compost.
"Soil is a dwindling commodity, and regenerative practices are what is needed to ensure the earth's health, and while compostable products do break down in landfill, there is a better way to manage it," they explain. After each market day, ORG "swoops in with their trucks" and takes the waste to a facility in Port Kembla to be treated. "...thus creating a circular economy, or as I like to say: a person buys a burger at the market, they put the burger box in a green composting bin, the burger box goes off to get turned into soil, that soil grows more burgers! In October we sent almost 10,000 litres of waste to Port Kembla. That's a huge amount of waste that would have been added to landfill."
Photograph: Sydney Vegan Market/Don Urban
Jones says the biggest achievement of the return to IRL events is successfully bringing the vegan community back together: "Walking around on the day (when I could catch a breath!) and seeing people I hadn't seen in months, watching small business owners run off their feet doing what they do best, seeing happy kids running around, and dogs galore. What an absolute honour."

Sydney Vegan Market occurs on the third Sunday of every month at the Entertainment Quarter, Moore Park. The next market is on November 22. Find out more here.
There are more great markets back on in Sydney
Whether it's the promise of brekky pho or the racks of vintage threads that gets you out of bed in the morning, these are the markets that we've been itching to get back to, with their local produce, creative wares and delicious snacks.
Best selling Time Out Offers