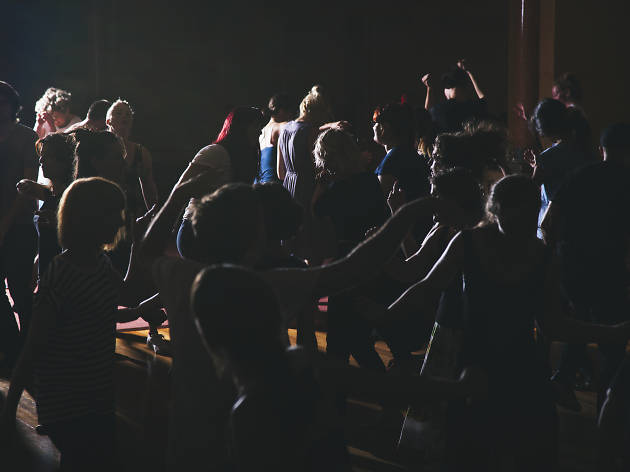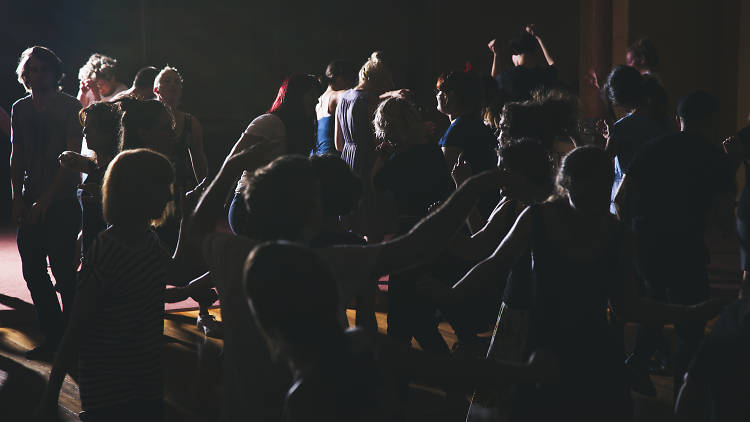 Time Out says
Work up a sweat in this weekly dance party in the dark
There are no nightclubs at Bondi Beach, but on Monday night at around 8.30pm you'd be forgiven for thinking there was a secret, sweaty rave taking place at the Pavilion as hundreds of drenched, red-faced partygoers emerge from the Seagull Room on the second floor. It's a weekly ritual for locals who want to work up a sweat after work and shake off that feeling of always being on show (an ailment particular to those who live in a suburb of such beautiful people).
This is No Lights No Lycra – the weekly, one-hour dance class that takes place in the dark. And we mean dark! It's pitch black in the room. Our arms are stretched out in front of us so we don't collide with another dancer, and splintered light shows chairs stacked around the speakers to make sure we don't cause any serious damage to the sound system.
"It is dark enough that people lose their inhibitions," says Ash Maher, 27, one of the founders of NLNL Sydney. "We tape the blinds to the wall, especially in summer. And we're going to start bringing black tape because even people's FitBits give off light."
Maher and her friend Jodie Fisher, 26, started running NLNL classes in Newtown four years ago, and their Bondi nights around two-and-a-half years ago. "They're both the same concept, but the nights have their own characters," says Maher. "People love to pump out the big tunes here, and in Newtown they love the '80s songs."
Ash and Jodie put in hours each week working on the playlists for their nights. They make sure it's a new playlist for both locations, so that you can experience something new if you want to dance twice a week, and they make sure they don't play the same song twice in any three month period. "We like to think anyone can walk into that room and hear at least one song they connect with, we try to get '80s, '90s, a girly tune, big high energy tunes..."
On the night we visited they played a bit of Kylie, Destiny's Child, the Presets, DJ Sammy and Kanye. We could make out a trio of girls dancing in a circle, a couple salsa dancing in the middle and a group testing out some contemporary dance styles. We guess there are 100 people in the room, all sopping wet with sweat (it's 40 degrees and the fans are broken) but all you can hear is cheering and clapping.
"The darkness allows people to lose themselves, but having the music loud enough that people can truly get lost in it is what it's all about. It also means people can't chat. We've had moments when, out of nowhere, it erupts and people make primal noises. When it's dark, you're anyone in there!"
Details
Venue name:
Bondi Pavilion
Address:
Queen Elizabeth Dr
Bondi
Sydney
2026

Price:
$10
Dates And Times
Users say