Premiere: an Immersive Dining Experience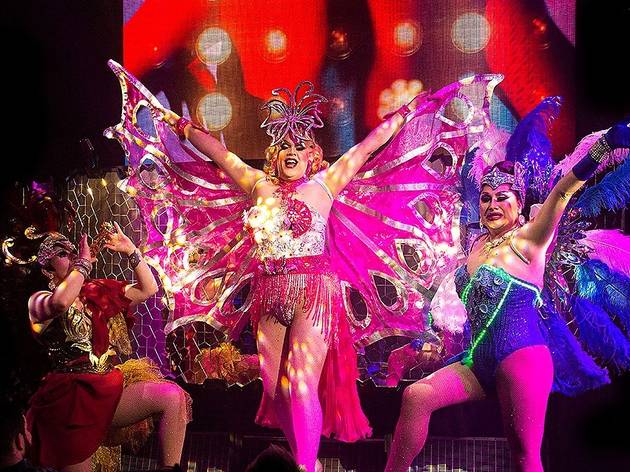 1/6
Photograph: Supplied/Universal/Bruno Lozich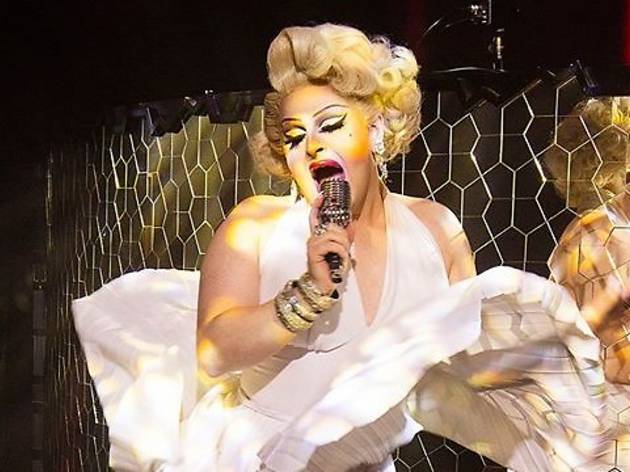 2/6
Photograph: Supplied/Universal/Bruno Lozich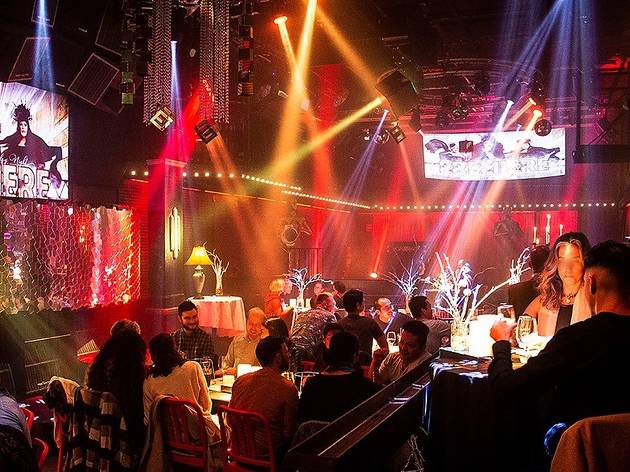 3/6
Photograph: Supplied/Universal/Bruno Lozich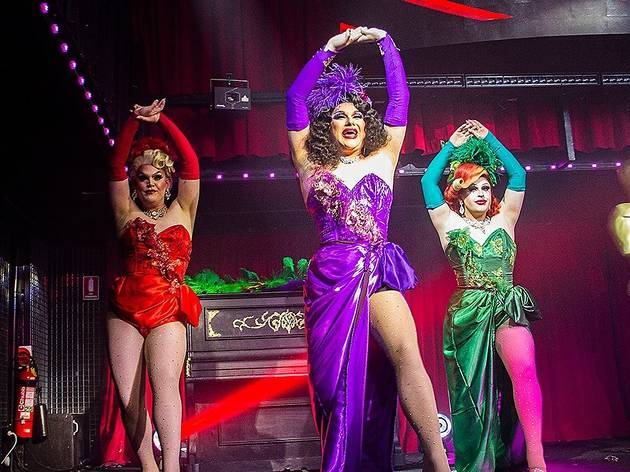 4/6
Photograph: Supplied/Universal/Bruno Lozich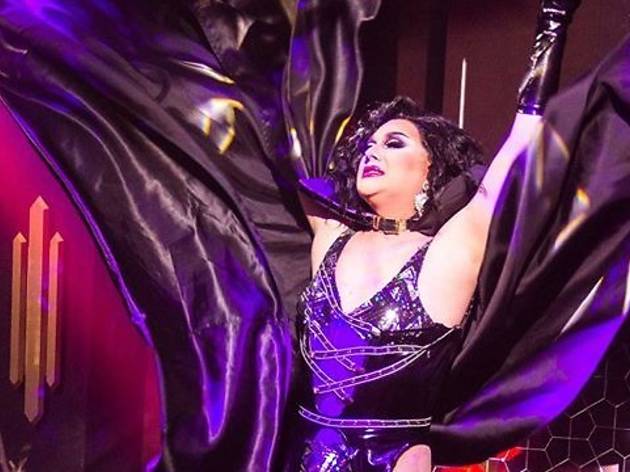 5/6
Photograph: Supplied/Universal/Bruno Lozich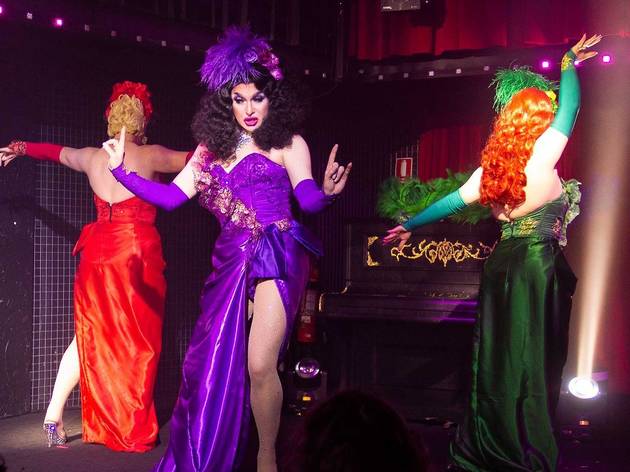 6/6
Photograph: Supplied/Universal/Bruno Lozich
Time Out says
Universal and Belloccio bring drag back to Oxford Street with a glamorous night out
It's a little bit fancy, a little bit saucy, and a whole lot of fabulousness. There's a brand-new dinner and show in town, and it's a Premiere, darling.
Oxford Street stalwart Universal is back in business, with a luxe new offering that brings the best of Sydney's most colourful street to the plate. However, you won't find the usual club nights and sweaty dancefloors upstairs. Premiere is an immersive dining experience featuring performances from some of the city's most seasoned drag queens served up with a gourmet three-course dinner and bottomless bevvies. Time Out went to see how all that jazz plays out.
Firstly, let's talk about the show. Starring Charisma Belle, Carmen Geddit and Hannah Conda, the evening features numbers inspired by cult classics and Hollywood hits. Premiere feels like a mixed bag of performances that every drag queen worth her salt dreams of. From Gypsy (the Bette Midler one from 1993) to The Wizard of Oz to The Rocky Horror Picture Show.
The club space adapts surprisingly well to create a restaurant setting that encompasses the perfect sense of glamour and sex. Party lights pierce through the darkness to bounce off reflective decorations and illuminate well-dressed tables topped with arrangements of glitter-encrusted twigs (I'm told the branches were picked from trees outside, and under the brooding slivers of spotlight it looks far less arts and crafts than it sounds).
The service is downright excellent; our wine glasses and water glasses are always full. All three dishes are delicious, from the antipasto board through to the chocolate mousse, including those that come to my vegetarian dinner companion.
The food is dished up by the team from Belloccio, a modern Greek and Italian fusion restaurant that has filled the bellies of the beautiful folk of Oxford Street for the better part of a decade. Early on in the lockdowns, the restaurant fell on hardship and was kicked out of its premises. Within two days, the team were serving out of the kitchen at Universal. Since taking over the venue in July 2018, the Universal team had not yet found the right fit for its massive industrial kitchen, which was occasionally used as a dressing room by drag queens.
The entire Premiere dining experience was pulled together in just nine days after the 50-person capacity for venues in New South Wales was greenlit. The team were determined to get as many staff and performers as possible back into work, and with typical club nights off the cards for some time yet, they had to adapt. Universal's licensee Dillon Shaw worked with his second-in-charge Johnny Smith, Jesse Lawson from GAYM Entertainment, Bellocio's, and local drag matriarch Charisma Belle to hatch a plan.
With Charisma as head queen and choreographer, she has created a delightful night of entertainment with Hannah Conda and Carmen Geddit. Throughout the evening the queens appear from balcony platforms, shimmying down stairwells, even draped over a piano under a spotlight as you work your way through the courses. We miss club nights, but there's something great about being able to see these performers when you haven't been on your feet all night, your shoes are starting to pinch and you're craning your neck to get a glimpse from behind a tall guy filming the whole thing for his Instagram story. Seated comfortably at a table as waitstaff top up your glass and ask you how your evening is going – this really is the optimal way to take in a drag show. Having drag entertainment earlier on in the night, and outside of a typical hectic club environment, makes it more accessible to more kinds of people (if it is within their budget, of course), and it would be great to see this become an ongoing tradition.
Premiere is not only a great story of the ingenuity of the hospitality industry and the Oxford Street queer community during challenging times – it is also a damn good night out. Things aren't quite back to usual, of course. Numbers for each evening are strictly capped, so you should book ahead and be prepared to sign over your details upon entry. There's no getting up from your table unless you're going to the bar or the toilet (yes, even if you spot friends at another table) and the performers promise to keep 1.5 metres from all diners and not to touch you (sorry). Before or after your designated dinner seating, we recommend grabbing a cocktail in the bar downstairs (can't beat the novelty of that one with a rubber ducky floating in it, even if you can't bump up against anyone on the dancefloor).
Premiere is on every Friday and Saturday night at 8pm for a two-hour sitting, including a three-course set menu. The "Dine" package includes the dinner and show for $79, and the "Premiere" packages includes all of that with bottomless bubbles, wine and cocktails for $129. Make a booking over here.
Want more entertainment in the flesh? We've rounded up where to see live comedy, cabaret, burlesque and drag shows in Sydney, right now.



Time Out's Love Local campaign is supporting local food, drink and culture businesses in Sydney. Find out how you can help save the places that make our city great.
---
Details
Best selling Time Out Offers